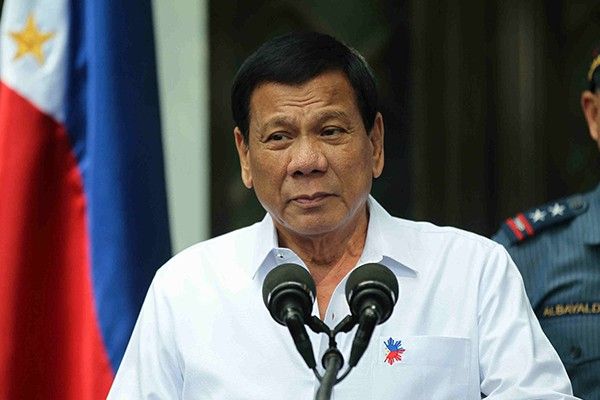 Section 12 of Article VII of the 1987 Constitution provides that "[i]n case of serious illness of the President, the public shall be informed of the state of his health."
Simeon Celi Jr./Presidential Photo, File
Palace denies rumors on Duterte's health: He's fine
MANILA, Philippines (Updated 1:09 p.m.) — Malacañang has denied a claim by Communist Party of the Philippines founding chairman Jose Maria Sison that President Rodrigo Duterte is in a coma.
Presidential spokesperson Harry Roque on Monday stressed that Duterte is healthy. "Contrary to what Joma Sison said, the president is fine and well in Davao participating in Kadayawan [Festival]," Roque said, adding that the president is due to have a public appearance on Tuesday.
Roque also dismissed Sison's claim since the communist leader, he said, "does not know what he's talking about."
The palace spokesman added that Sison could not possibly know anything about the president's health as Sison is in the Netherlands.
"Stop wishing him ill as far as his health is concerned," Roque said adding that rumors only give strength to the president.
The presidential spokesperson also said that the president's supposedly shaky hands are just a sign of his anger towards corruption.
No medical bulletin
Asked on whether the Palace should release a medical bulletin of the chief executive, Roque replied that Duterte's public appearances should address rumors that his health is failing.
"What other document do you want?" Roque said. "I don't see any reason why people... I don't even understand why Joma Sison said that he is in coma."
The spokesperson also stressed that the president has told the public that he was given a clean bill of health.
"So, that's actually making public the results of his medical tests," Roque claimed.
Section 12 of Article VII of the 1987 Constitution provides that "[i]n case of serious illness of the president, the public shall be informed of the state of his health."
Past presidents asked about their health too
Speculation and public comment on the president's health are not exlusive to the Duterte administration.
President Benigno Aquino III was told to get a check up for his frequent coughing, and was even advised in 2012 to go on regular vacations because of the stress of the job.
In 2009, the Palace disclosed that President Gloria Macapagal-Arroyo had biopsies done on lumps found on her breast and groin. They were found to have been benign.
She was hospitalized two times in July 2006, also prompting speculations on her health.
Ferdinand Marcos, who was president of the Philippines for more than two decades, was also the subject of rumors that he was seriously ill. These rumors were vigorously denied.
In a GMA News report in 2006, Ilocos Norte Rep. Imee Marcos, now provincial governor, said that the family had kept information of the illness from the public.
"He didn't deserve to be confined in his room and make do with the limited facilities of the Palace. His attending doctors can't even bring in the basic medical equipment because of paranoia," the report quotes Marcos as saying. She made the disclosure in the context of urging Arroyo to disclose the status of her health.
A few weeks ago, Malacañang denied rumors that the president was rushed to the hospital due to an illness.
Roque asked the public to stop spreading such news as these could constitute a crime.