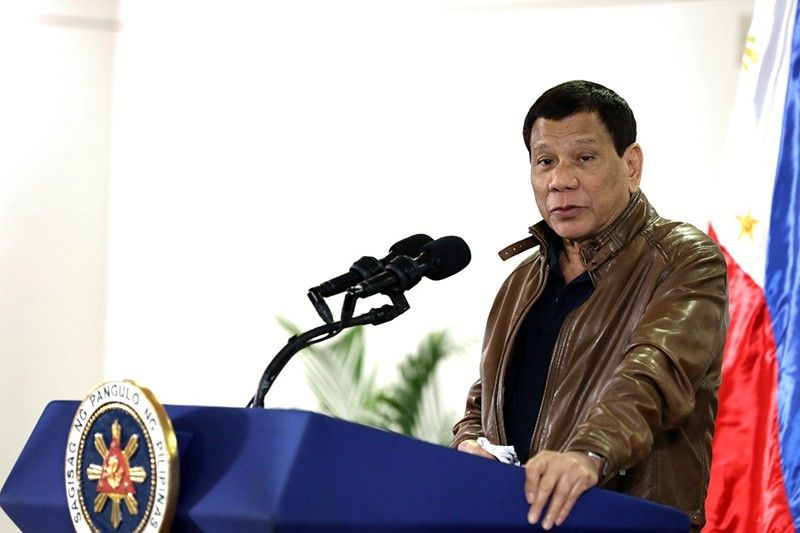 President Rodrigo Duterte during his arrival speech at the Francisco Bangoy International Airport in Davao City on January 26, 2018, announces that the heads of state and government from members countries of the Association of Southeast Asian Nations (ASEAN) as well as India have reaffirmed their commitment to work together in fighting terrorism.
Simeon Celi Jr./Presidential Photo
Duterte mellows down on ABS-CBN
(philstar.com) - August 15, 2018 - 5:43pm
MANILA, Philippines — President Rodrigo Duterte has mellowed down on broadcast giant ABS-CBN, whose franchise he had threatened to block after accusing its owners of swindling and favoring his political rivals.
Duterte said he was hurt when the network reported about the allegations of Sen. Antonio Trillanes IV that he has billions in hidden wealth during the election season.
He also claimed that ABS-CBN did not air his political advertisement but did not return the money he paid for the air time.
"Minsan sinobrahan (Sometimes the reports went so far) I will not say I am sorry but you should understand me. 'Yung placement ko na hindi natuloy, tapos nababoy pa ako. Billions and billions sabi raw ng... Hindi naman totoo (The placement did not push through and I was maligned. They claimed I had billions. It's not true)," the president said during a dinner with members of the Kapisanan ng mga Brodkaster sa Pilipinas in Malacañang last Tuesday.
Duterte also recalled that ABS-CBN had aired a negative ad that featured children who questioned his capabilities as a leader, something that he said was against the law.
But Duterte, who cursed former ABS-CBN Chairman Gabby Lopez a number of times in his previous speeches, is now ready to move on from the issue.
"That was really hurting. Sometimes, I blurt it out but I've learned to live with it, actually. Sometimes, I become temperamental. But let's just understand each other, and let it pass. I said because let no man with no sin cast the first stone," the president said.
Duterte has accused ABS-CBN of peddling "garbage" stories that defame him and has called Lopez a "swindler" for not returning his advertisement money even if his television commercials did not air. He had also threatened to file a criminal case against the Lopez family for their alleged failure to pay billions it owed the state-run Development Bank of the Philippines.
Earlier this month, Duterte said he was not in favor of renewing the franchise of ABS-CBN, which would expire in 2020. He had called the owners of the network "thieves" who trick small people.
"Now, ABS-CBN, their franchise is due for renewal. They sent emissaries to me. They sent Gabby (Lopez) away because nothing will happen. I will not talk to you, but I will also never intervene. But if I had my way, I would not give it back to you," the president said in a speech in Bukidnon last August 3.
House Bill 4349, which aims to renew the ABS-CBN's franchise for 25 years is still pending at the committee level. — Alexis Romero