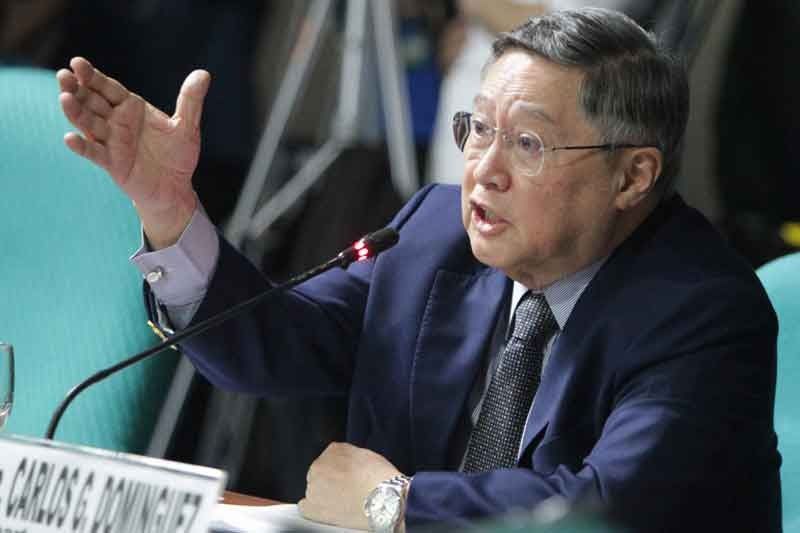 The National Economic and Development Authority warned that the shift could cost the administration additional expenses amounting to as much as P131 billion in the first year of transition.
Geremy Pintolo
DOF chief: Call to sack econ managers won't enrich federalism discourse
'We never stated that we are against federalism'
MANILA, Philippines — Finance Secretary Carlos Dominguez III on Friday maintained that the draft federal Constitution crafted by a consultative committee, or Concom, has "ambiguous and unclear" provisions on revenue and spending assignment.
That was after a charter reviewer urged President Rodrigo Duterte to fire Dominguez and the government's chief economist for warning against the potential fiscal risks of the proposed shift to federalism.
In hundreds of hours of speeches, Duterte has boldly declared the Philippines must overhaul the 1987 Constitution and shift to a federal system of government to address the country's widening wealth gap and empower regional governments.
The president last month approved the draft federal constitution. The members of the Concom, whom Duterte appointed, proposed that federated regions be given a share of not less than 50 percent of all national taxes.
But in a recent television interview, Socioeconomic Planning Secretary Ernesto Pernia stressed that while federalism could unlock economic benefits, it could also spell disaster for some regions not prepared for such a transition and "wreak havoc" on the country's balance sheet.
Meanwhile, Dominguez told lawmakers earlier this week that while the economic team has no official position yet regarding federalism, the revamp can end up to be a "fiscal nightmare" if not managed correctly.
"As we pointed out earlier, we never stated that we are against federalism. Rather, with respect to the fiscal provisions of the proposed Constitution, there are ambiguous provisions on revenue assignment and there are no provisions on expenditure assignment," Dominguez said in a statement.
"There are, likewise, principles on revenue sharing that do not appear to be well studied," he added.
Dominguez then responded to remarks made by committee member and San Beda Graduate School of Law Dean Father Ranhilio Aquino, who called on Duterte to sack him and Pernia for their criticisms on the draft federal charter.
"We respect the opinion of Father Aquino, but we believe that such attitude would not enrich the level of discourse on the proposed Constitution," the finance chief said.
"It is our duty and responsibility to point these out and engage in a healthy, level-headed discussion, especially when the possible repercussions could result in dire, irreversible economic consequences," he added.
Malacañang on Thursday said Duterte remains committed to the cause of federalism.
Last month, international debt watcher Moody's Investors Service cautioned that federalism could present downside risks to the country's institutional and fiscal profile.
Dominguez, meanwhile, said based on the fiscal provisions of the draft federal Constitution, the federal government would incur a deficit of 6.7 percent and may result to a credit rating downgrade for the Philippines, which currently enjoys an investment-grade rating.
A lower credit rating would lead to higher interest rates.
To avoid any negative economic consequence and maintain the current deficit target of 3 percent, Dominguez said "the Federal government will have to cut its expenditure program by P560 billion."
"This means the national government may have to lay off 95 percent of its employees, or reduce the funds for the 'Build Build Build' program by 70 percent, or a combination of both," he said.