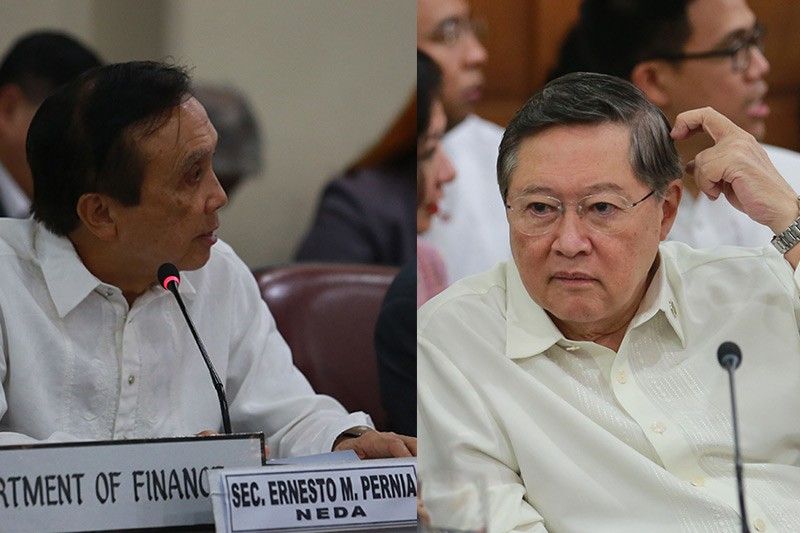 Socioeconomic Planning Secretary Ernesto Pernia and Finance Secretary Sonny Dominguez during a budget hearing for 2019 at Congress on July 31, 2018.
The STAR/Michael Varcas
Sack Pernia, Dominguez if you favor federalism, Con-Com member asks Duterte
(Philstar.com) - August 9, 2018 - 9:28pm
MANILA, Philippines — A member of the Consultative Committee tasked to draft a new constitution called on President Rodrigo Duterte to fire Finance Secretary Carlos Dominguez III and Socioeconomic Planning Secretary Ernesto Pernia over negative statements about the proposed shift to federalism.
"[I]f [Duterte] favors federalism let him sack Dominguez and Pernia or command them to keep their traps shut. Freedom of expression does not apply to Cabinet officials in respect to policy," Con-Com member and San Beda Graduate School of Law Dean Father Ranhilio Aquino said in a Facebook post on Thursday.
Aquino made the statement after the two economic managers raised concern over the potential fiscal risks that might accompany the proposed change in form of government.
Dominguez said he was left confused by the draft charter and would not vote in favor of its ratification. Pernia, on the other hand, said federalism could spell disaster for regions that are unprepared for such a transition and "wreak havoc" on the country's balance sheet.
The Con-Com member also raised the question of whether Duterte himself still supports federalism given two of his Cabinet members' vocal stance against it.
"The way things are going, Dominguez and Pernia may merely be paving the way for a subsequent Presidential announcement that 'I have been advised by my economists that federalism is as bad for our national health as smoking is to a person,'" Aquino said.
"Enough of double-talk. If the President is now cool to federalism let him give the order to abandon the federalist ship. Then all of us fools who wrote the draft and defended it with all our might will know that we have been taken for a ride — for a very expensive ride — but we shall at least have the chance to abandon ship before it is scuttled!"
Malacañang, however, said on Thursday that Duterte remains committed to the cause of federalism.
"Ang unang mensaheng nakuha ko po kay presidente ay naninindigan pa rin sa pederalismo. Sinabi nga po niya sa akin na sa aking press briefing sabihin na talagang committed siya para isulong iyong pederalismo na sinangguni ng Consultative Committee," presidential spokesperson Harry Roque said in an interview over dzRH.