Albayalde welcomes reward for arrest of ex-lawmakers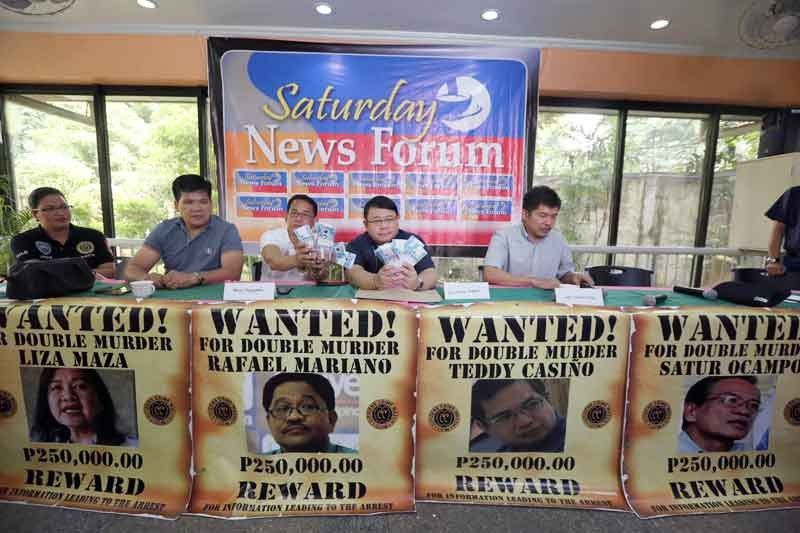 MANILA, Philippines — The Philippine National Police must implement the law without fear or favor, even if this involves politicians, PNP chief Director General Oscar Albayalde said yesterday.
Said the PNP welcomed the reward money offered by a civilian group for the arrest of former lawmakers Satur Ocampo and Teodoro Casiño of Bayan Muna, Liza Maza of Gabriela Women's Party and now National Anti-Poverty Commission lead convenor, Rafael Mariano of Anakpawis, as well as Vicente Cayetano, Delfin Pimentel and Emeterio Antalan.
The seven are wanted for the murder of four prominent personalities affiliated with party-list organizations and militant cause-oriented groups.
Judge Evelyn Atienza Turla of the Regional Trial Court Branch 40 of Palayan City has issued the warrants for their arrest.
"The reward of P1,000,000 for information leading to the arrest of the former lawmakers should encourage would-be informants to provide relevant information on the whereabouts of these wanted persons," Albayalde said.
He clarified that although the reward offer is not officially part of the government reward program, this is not a 'dead or alive' bounty but a mere monetary compensation for information.
"At any rate, I would like to reiterate our appeal to the concerned individuals to turn themselves in and face the issue squarely before the bar of justice. As we speak, tracker teams from the CIDG (Criminal Investigation and Detection Group) and NBI (National Bureau of Investigation) are working on some leads and expect to obtain positive results soon," he added.
Albayalde stressed that the PNP has to implement the law.
"There's no special treatment… This is part of our mandate, we do not discriminate be they politicians or not. We have to serve the warrant," he said, adding that other law enforcement agencies are also helping in the hunt for the suspects.