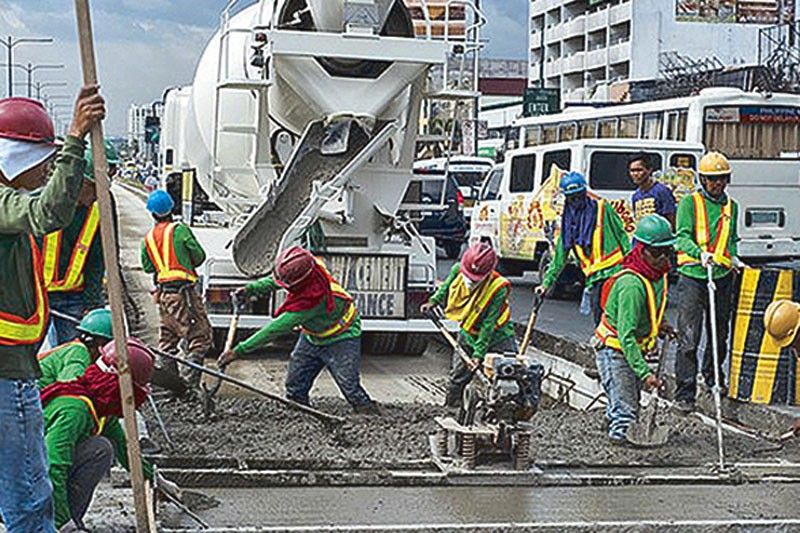 The Philippines is considering implementing three eight-hour shifts in its infrastructure projects to ensure their completion by the time President Duterte steps down in 2022.
File
Round-the-clock construction eyed to speed up infrastructure projects
none (Philstar.com) - August 1, 2018 - 2:16pm
MANILA, Philippines — The Philippines said on Wednesday that it is eyeing 24-hour operations — divided into three shifts — on construction projects to finish them before President Rodrigo Duterte steps down in 2022.
Duterte has vowed to upgrade the country's dilapidated infrastructure through his administration's $180-billion infrastructure program. The government has lined up 75 flagship projects under the aggressive infrastructure plan, seven of which are already under construction.
Duterte's economic managers describe this as the "most ambitious infrastructure program in history."
According to Transportation Secretary Arthur Tugade, the economic cluster of the Cabinet has estimated that 1.8 million direct and indirect jobs would be generated should they adopt the proposed three eight-hour shifts.
"The employment generation of the BBB has two aspects: the employment that comes from the construction of infrastructure, and when the infrastructure is finished. If you're building a train, you have jobs during construction and you would also have jobs when the train is completed," Tugade told reporters in Filipino in a briefing at the presidential palace.
The promise to have round-the-clock work in construction sites however is not new as this was made as early as the first few months of the Duterte administration.
"This is so we could make all major roads and major projects in time," Budget Secretary Benjamin Diokno told reporters
in a briefing in July 2016
.
Data from the Department of Finance show 10 of the 75 flagship infrastructure projects of the Duterte administration are set for implementation in the latter half of this year.
Silvestre Bello III, Labor secretary, attributed the increase in net employment of 625,000 jobs to construction, which generated 468,000 jobs under the "Build, Build, Build" program.
'Good batting average'
Last week, Socioeconomic Planning Secretary Ernesto Pernia defended the pace at which Duterte's ambitious infrastructure program was being implemented amid concerns that shovels were yet to be moved and the cranes weren't up yet.
He said the Duterte administration managed to implement 43 out of the 75 big-ticket infrastructure projects in just two years, which he said was a "a pretty good batting average."
The government counts budgeting, financing, detailed engineering and procurement of a project as implementation.
Asked if the president was satisfied with the speed of the Build, Build, Build's implementation, Pernia replied: "I guess so."
"You know an example is in the previous administration. Many projects were delayed by up to three years... two and a half years... one year. So this time we are trying to minimize those delays," the government's chief economist said.— Philstar.com intern Christian de Lano Deiparine