Striking workers started violence, NutriAsia says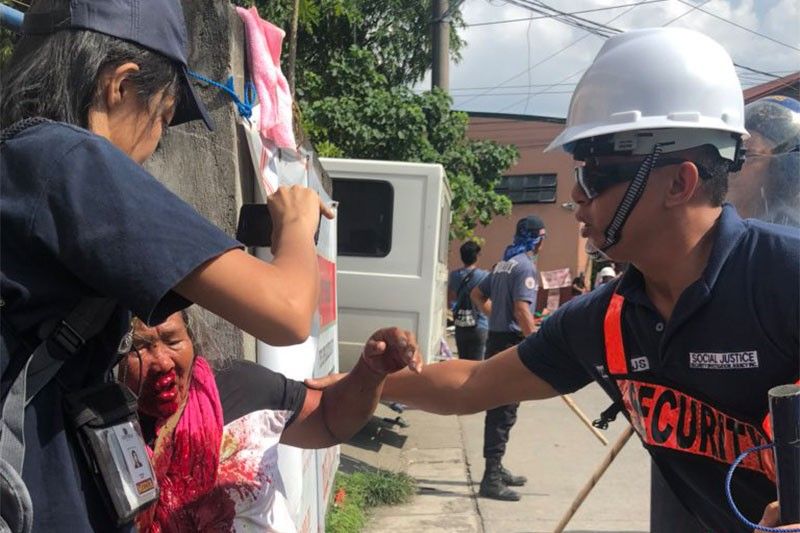 MANILA, Philippines — Condiments giant NutriAsia blamed protesting workers for initiating violence at the company's factory in Marilao, Bulacan on Monday afternoon after what protesters say was an ecumenical mass.
The violent dispersal of NutriAsia workers and supporters left several protesters, supporters and journalists injured.
In a statement released Monday evening, the company said that around 200 employees of B-Mirk, NutriAsia's toll packer, allegedly "fired a shot in the air and started to hurl rocks at police and guards tasked to maintain peace and order in the area."
EARLIER: Protesters of NutriAsia were dispersed by the police after asserting their right for living wages, benefits and livelihood. Several workers, supporters and youth activists were injured and captured during the violent dispersal. #NutriasiaWorkersStrike pic.twitter.com/tBtuMbUC4v

— CEGP (@CEGPhils) June 14, 2018
Tweets by supporters and by those covering the strike showed a mass and a program being held before the dispersal.
The incident came three days after the Department of Labor and Employment ordered the toll packer's employees to return to work.
"It is unfortunate that the strikers staged a violent attack while a DOLE-led mediation meeting among stakeholders, including the union organizer, was at the same time ongoing with the objective of seeking a peaceful settlement for the strikers," NutriAsia said in its statement.
The condiments company also claimed that the "agressive actions" of the protesters violated the writ of preliminary injunction that a Malolos court issued on July 26.
The Regional Trial Court in Malolos ordered the independent workers' union "and all the other persons acting under its authority, direction or control, during the pendency of this case, to desist and restrain from obstructing the ingress to and egress from the company plant located at 904 Angeles Road MIS 3 Lambakin, Marilao, Bulacan of NutriAsia Inc. Marilao or obstruct thoroughfares leading thereto, including but limited to Dayap Road."
RELATED: DOLE: NutriAsia must regularize 80 workers
Ecumenical mass with NutriAsia workers, photo taken moments before the violent demolition of the picketline by police & factory guards. Four of pur correspondents have reportedly been arrested and can't be contacted yet. Details to follow. #NutriAsiaWorkersStrike pic.twitter.com/pvN3nEbqAU

— Altermidya (@Altermidya) July 30, 2018
Dispersal reaps condemnation
Groups and individuals have condemned the violent dispersal of NutriAsia workers, who were holding a picket due to the company's refusal to regularize workers. Security personnel and police forces dispersed the workers and their supporters on strike after an ecumenical mass was held outside the factory in Marilao, Bulacan.
At least 19 NutriAsia workers and supporters were arrested, according to the College Editors Guild of the Philippines.
Rep. Carlos Zarate (Bayan Muna party-list) said that NutriAsia management and the police personnel who participated in the violent dispersal should be held accountable.
Rep. Sarah Elago (Kabataan party-list) denounced "police violence and brutality" and demanded the release of those arrested.
"KMU condemns the continuing violence against the workers of NutriAsia, who have been on strike due to the management's refusal to implement a DOLE order for the regularization of contractual workers," labor group Kilusang Mayo Uno said.
KMU also called on the Duterte administration to "implement its own meager restrictions on the illegal practice of contractualization, instead of siding with management and harming the workers in their legitimate protest."
President Rodrigo Duterte, in his State of the Nation Address last week, called on Congress to pass a law banning labor contractualization. He said that he had done as much as he could on his campaign promise to end contractual labor but that it is now up to Congress to amend the Labor Code.
Journalists, students arrested
Among those were arrested was University of the Philippines student Jon Bonifacio, a member of UP Scientia, the official publication of the UP College of Science.
Eizadora Yu, associate dean of the UP College of Science, said that Bonifacio is a model student and a candidate for summa cum laude next year.
"Until now we do not have any news on the situation of Jon and we are worried about his security and life. We strongly condemn the arrest of Jon and we ask the he be freed immediately," Yu said in a statement.
The UP Molecular Biology and Biotechnology Society condemns the violent dispersal of the NutriAsia workers' protest and the illegal detainment of youth leaders and campus journalists, including one of our members, former CSSC councilor and Scientia journalist Jon Bonifacio. pic.twitter.com/h3Tn4U2hyG

— UP MBBS (@upmbbs) July 30, 2018
AlterMidya, a network of alternative media organizations, said its correspondents Hiyasmin Saturay, Eric Tandoc, Avon Ang, and student intern Psalty Caluza were among those arrested.
"Rosemarie Alcaraz, a correspondent for Nueva-Ecija based Radyo Natin Guimba, who was capturing video footage, was pushed by a security guard into the ranks of workers. While trapped inside the picketline, she was hit on the head with rattan sticks by NutriAsia guards. A policeman also hit her camera, a Canon 70D, with a truncheon," it also said.
"Such an assault violates freedom of the press and the public's right to know. The PNP must immediately release these journalists," it also said.
The National Union of Journalists of the Philippines likewise condemned the violence, denouncing company security for supposedly "deliberately targeting journalists and the Bulacan police not only for failing to prevent or stop this outrage from happening but, even worse, arresting five colleagues, making false claims about them, and then preventing other journalists from inquiring after them and covering their detention." — Patricia Lourdes Viray