Violent dispersal of NutriAsia workers draws wide condemnation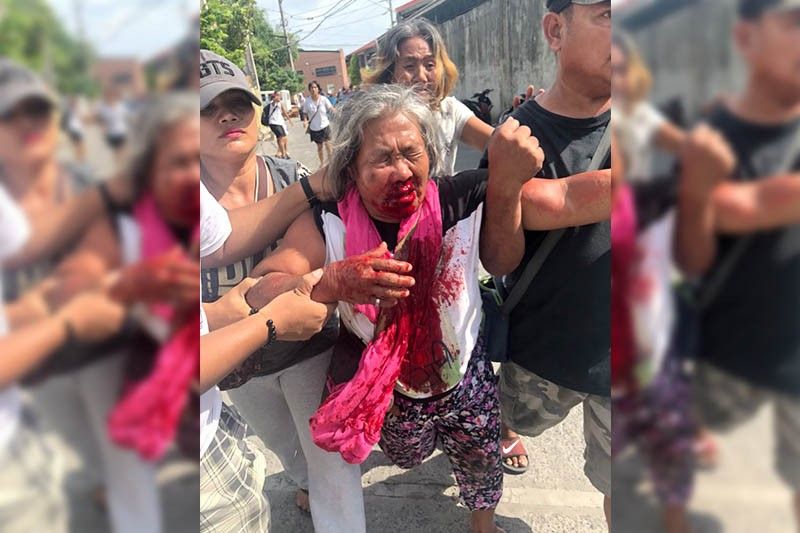 MANILA, Philippines (Updated 9:39 p.m.) — Groups and individuals were outraged by the violent dispersal of NutriAsia workers and their supporters, who went on strike due to the condiments distributor's refusal to regularize workers Monday.
According to an alert from rights group Karapatan and labor group Kilusang Mayo Uno, around 300 NutriAsia workers and their supporters were violently dispersed by the company's security personnel and police forces after an ecumenical mass was held outside NutriAsia's factory in Marilao, Bulacan.
"Scores were injured, while many others remain missing," the groups said.
NutriAsia, however, issued a statement also Monday saying violence began around 2:45 p.m. when someone "fired a shot" and "started to hurl rocks" from the side of the 200 workers of Toll Packer BMirk on strike and their supporters.
NutriAsia added that protesters violated a Malolos court injunction issued last Thursday, July 26, ordering the independent workers' union not to obstruct entry and exit ways of the company's plant in Marilao, Bulacan.
A photo of an elderly woman injured during the dispersal is making rounds online, enraging social media users and prompting them to boycott NutriAsia, which manufactures popular condiments.
At least 19 NutriAsia workers and supporters were also arrested, according to the College Editors Guild of the Philippines.
The violence against NutriAsia workers received wide condemnation.
Bayan Muna party-list Rep. Carlos Zarate said that NutriAsia management and the police personnel who participated in the violent dispersal should be held accountable.
Kabataan party-list Rep. Sarah Elago denounced "police violence and brutality" and demanded to release those who were arrested.
"KMU condemns the continuing violence against the workers of NutriAsia, who have been on strike due to the management's refusal to implement a DOLE order for the regularization of contractual workers," KMU said.
KMU also called on the Duterte administration to "implement its own meager restrictions on the illegal practice of contractualization, instead of siding with management and harming the workers in their legitimate protest."
The Palace said in May that a complete ban on contractual labor could only be done through Congress.
The National Union of Journalists of the Philippines also denounced the attack as two of journalists were assaulted and threatened by NutriAsia security guards and Bulacan police.
"The assault on and the possible apprehension of our colleagues is a clear attack on press freedom and highlights the increasing dangers journalists face," NUJP said.
Last month, NutriaAsia workers protesting "unjust" termination and years of unfair labor practices were also violently dispersed.
Early in July, the Department of Labor and Employment ordered the company to regularize 80 workers.
In a compliance order issued by DOLE Calabarzon chief Zenaida Angara-Campita in February, NutriAsia and its three contractors—Alternative Network Resources Unlimited Multipurpose Cooperative, Serbiz Multi-Purpose Cooperative, and B-Mirk Enterprises Corporation—were directed to regularize 914 of their workers.
The order came after DOLE found that NutriAsia and its contractors were violating labor laws and general labor standards, and engaging in labor-only contracting activities.
— Gaea Katreena Cabico