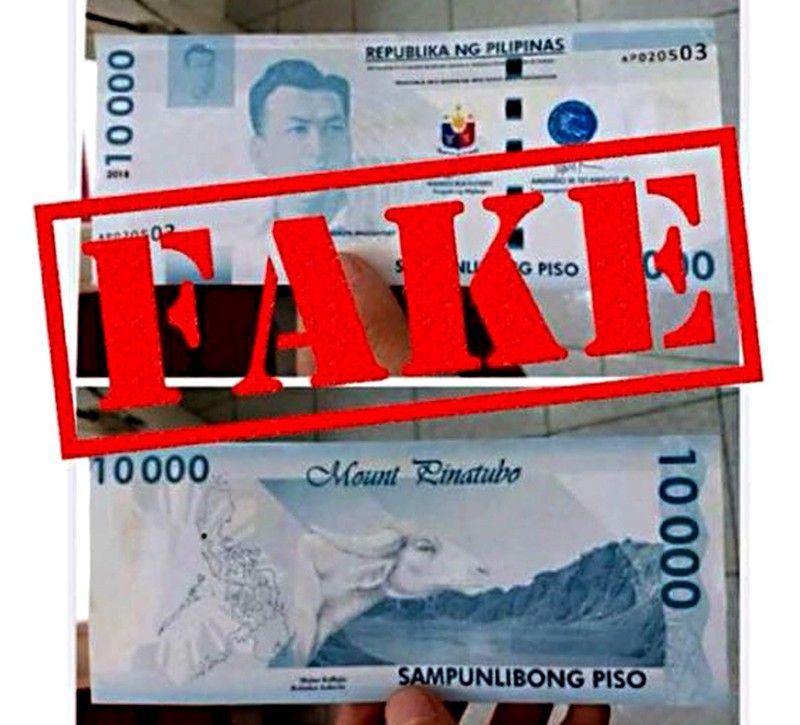 The Bangko Sentral ng Pilipinas announced it has not issued any P10,000 banknote following posts of its release on social media. The ficticious banknote features former president Ramon Magsaysay in front and Mount Pinatubo at the back.
BSP warns public vs fake P10,000 bills
MANILA, Philippines — The public has been warned about the fake P10,000 bill that has been posted on social media, particularly Facebook.
In an advisory issued on Friday, the Bangko Sentral ng Pilipinas (BSP) said the New Generation Currency (NGC) banknote series currently in circulation is comprised of only six denominations – P1000, P500, P200, P100, P50 and P20.
"The BSP has not produced and issued a P10,000 NGC banknote," the BSP said.
It said that forgery of Philippine banknotes as well as the use or possession of the same is punishable under the law.
"We advise the public to report immediately to the police or National Bureau of Investigation any forgery, use or possession of Philippine banknotes, for appropriate filing of criminal complaint against those persons involved," it added.
The BSP also urged the public to preserve the integrity of Philippine currency through sharing of verified and truthful information.