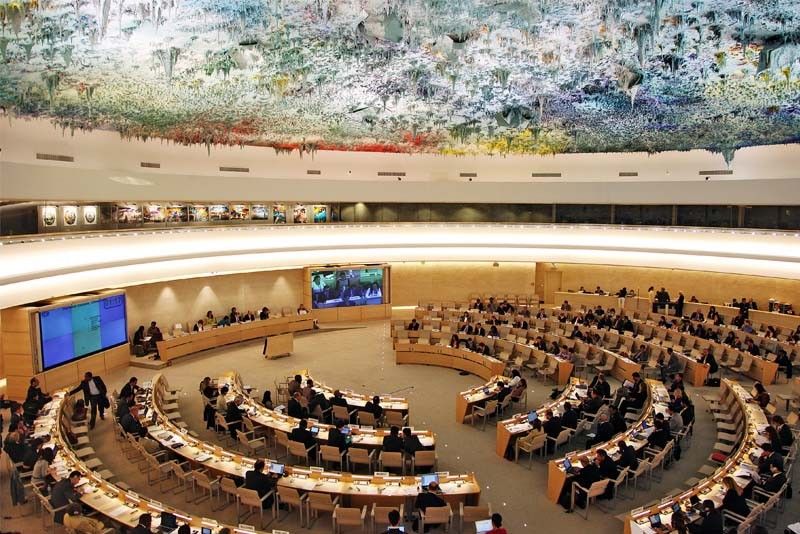 Seat of the United Nations Human Rights Council in Geneva.
UN Brief Photo
38 UN rights council members urge Philippines to stop drug war deaths
MANILA, Philippines — Thirty-eight members of the United Nations Human Rights Council have urged the Philippine government to put an end to alleged rights abuses in its bloody war on drugs and bow to strong calls for an external investigation into the deadly campaign.
"We urge the government of the Philippines to take all necessary measures to bring killings associated with the campaign against illegal drugs to an end and cooperate with the international community to investigate all related deaths and hold perpetrators accountable," the UNHRC member-states said in a joint statement delivered by Iceland on June 19.
"While acknowledging that drug use in the Philippines is a serious problem, actions to tackle drug abuse must be carried out in full respect of the rule of law and compliance with international human rights obligations," they added.
Philippine President Rodrigo Duterte—who has defied international pressure and vehemently rejected criticisms of his human rights record—stoked alarm for unleashing his signature anti-narcotic drive, which has killed thousands of mostly urban, poor Filipinos.
Human rights monitors and western countries say most of the fatalities in Duterte's brutal public safety project are extrajudicial killings committed by cops taking a frontline role in the lethal campaign and unknown assailants.
The Philippines is a part of the 47-nation global rights body, which has repeatedly condemned the recent spate of killings and called on Philippine authorities to allow the UN to probe the country's human rights situation without preconditions or limitations.
Rights defenders
In the same joint statement, the group of 38 countries reminded the Philippine government that member-states "should lead by example and are expected to uphold the highest standards in the promotion and protection of human rights."
They also expressed concern over the reported harassment of persons exercising their rights to freedom of opinion and expression in the Philippines, including human rights defenders and journalists.
"If needed, the Council may take further steps, including a more formal Council initiative to try and ensure that member states meet their human rights obligations," they added.
The following countries signed the joint statement: Australia, Austria, Belgium, Bulgaria, Canada, Croatia, Cyprus, Czech Republic, Denmark, Estonia, Finland, France, Georgia, Germany, Greece, Iceland, Ireland, Italy, Latvia, Liechtenstein, Lithuania, Luxembourg, Malta, Macedonia, Montenegro, Netherlands, New Zealand, Poland, Portugal, Romania, Slovakia, Slovenia, Spain, Sweden, Switzerland, Ukraine, United Kingdom and the United States.
Early this year, Iceland's foreign minister welcomed the International Criminal Court's announcement that it will conduct a preliminary examination into the killings linked to the Philippines' drug war.