Lacson: Despite DAP indictment, it's clear Aquino did not pocket money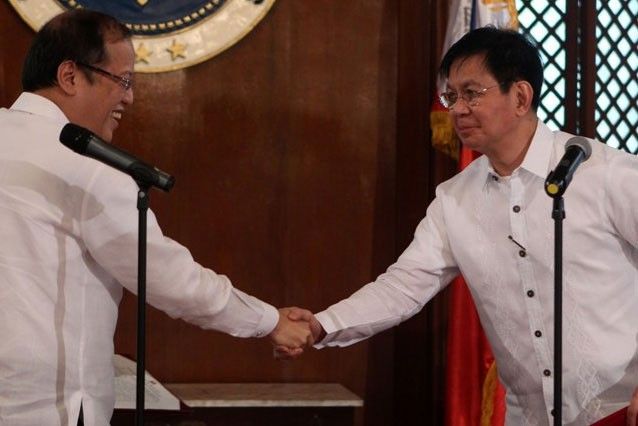 MANILA, Philippines — Despite being indicted by the ombudsman in connection with the controversial Development Acceleration Program, it is clear that former President Benigno Aquino III did not pocket any money from the program, Sen. Panfilo "Ping" Lacson said on Wednesday.
According to Lacson, this is the reason the former leader was charged with usurpation of legislative powers and not violation of the Anti-Graft and Corrupt Practices Act.
Lacson said that the question on Aquino's culpability would largely depend on the documents and paper trail that ombudsman investigators had gathered to prove their case.
"What is clear, though, is that former President Aquino did not pocket any DAP money, hence the case filed is for usurpation of legislative powers and not violation of the Anti-Graft and Corrupt Practices Act," Lacson said in a statement he released just hours after the Ombudsman decision was announced.
On Wednesday, Ombudsman Conchita Carpio Morales, just weeks before retiring, found probable cause to indict Aquino for usurpation of legislative powers in the implementation of the DAP.
The ombudsman said that it found probable cause to indict Aquino for the issuance of National Budget Circular 541, which authorized the P72-billion DAP. The office also rejected the appeal of former Budget Secretary Florencio Abad, basically affirming his indictment last year for the cases.
Renato Reyes, secretary general of national democratic umbrella group Bayan, welcomed the ombudsman's findings and said that they hoped that this would result in true accountability in this issue.
Reyes, one of the individuals who filed the case against former Aquino government officials, said, "We would have preferred that our motion for reconsideration be granted in full, with malversation included in the charges, but we welcome the new findings just the same."
"We intend to see it through to its logical conclusion so that justice may be served. The people reject pork barrel corruption in all its forms. DAP should never be allowed to happen again," Reyes added.
Abigail Valte, a spokesperson for the former president, said that they were yet to receive a copy of the decision.
"We're quite curious to study how the Office arrived at a reversal of its previous decision finding no liability on the part of former President Aquino," she said.
Last year, the anti-graft office found probable cause to charge Abad with Article 239 or the Usurpation of Legislative Powers of the Revised Penal Code for issuing NBC 541.
In 2014, the Supreme Court declared DAP as unconstitutional, saying that the proactice of withrawing unobligated allotments from implementing agencies and their declaration as savings prior to the end of the fiscal year and cross-border transfers of savings is illegal.