Morales indicts Aquino over DAP weeks before retirement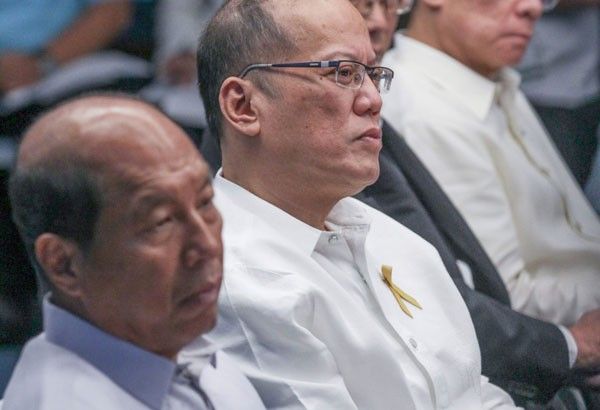 MANILA, Philippines — Accusing the former president of encroaching on the powers of Congress, Ombudsman Conchita Carpio Morales on Wednesday found probable cause to indict Benigno Aquino III for usurpation of legislative powers over the implementation of the controversial Disbursement Acceleration Program.
In a press release, the Office of the Ombudsman said that it found "probable cause" to indict Aquino for the issuance of National Budget Circular 541, which authorized the P72-billion DAP.
The former president is yet to comment on this indictment.
In a resolution dated May 22, 2018 and approved by Morales on June 14, a special panel of prosecutors partially granted the motion for reconsideration filed by complainants Carlos Isagani Zarate, Renato Reyes, Benjamin Valbuena, Dante LA Jimenez, Mae Paner, Antonio Flores, Gloria Arellano and Bonifacio Carmona Jr.
"A re-evaluation of the case establishes that the individual actions of respondent Aquino and respondent-movant Abad showed a joint purpose and design to encroach on the powers of Congress by expanding the meaning of savings to fund programs, activities and projects under the DAP," the May 22 resolution said.
The panel also rejected the motion for reconsideration filed by former Budget Secretary Florencio "Butch" Abad and affirmed his earlier indictment for the same offense and administrative liability.
"Abad's act of issuing NBC 541 cannot be viewed in a vacuum. The evidence on record shows that an exchange of memoranda between [Aquino] and [Abad] precipitated its issuance. Verily, without the approval of the said memoranda by respondent Aquino, NBC 541 would not have been issued," the ombudsman resolution said.
The ombudsman argued that Aquino specified through marginal notes his "unqualified approval" of the grant of omnibus authority to consolidate 2012 savings or unutilized balances and realignment and the grant of authority to withdraw ubobligated balances of government agencies for slow-moving projects as of June 30, 2012 and their realignment.
The prosecutors said that Aquino should have reviewed each item in the memorandum before signifying his approval.
"An examination of the Memorandum would show that respondent Aquino made marginal notes on several expenditure items and on the approval page. Such marginal notes show meaningful discussion between respondents and not mere reliance of a superior on a subordinate," they said in the resolution.
The prosecutors said that Aquino's approval prompted the issuance of NBC 541.
The ombudsman last year cleared Aquino of charges related to the implementation of DAP from 2011 to 2013.
The anti-graft office found probable cause to charge Abad with Article 239 or the Usurpation of Legislative Powers of the Revised Penal Code for issuing NBC 541.
The Supreme Court declared in 2014 the practice of withdrawing unobligated allotments from implementing agencies and their declaration as savings prior to the end of the fiscal year and cross-border transfers of the savings of the Executive department to augment the appropriations of offices outside of it.