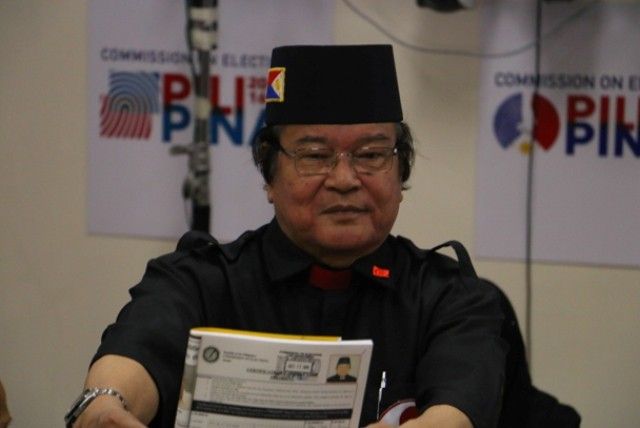 Elly Pamatong filed what he called a quo warranto petition Wednesday, asking the high court to declare the presidency of Rodrigo Duterte null and void.
Philstar.com/Efigenio Toledo IV
Suspended lawyer Pamatong files quo warranto vs Duterte
MANILA, Philippines — A suspended lawyer filed a quo warranto petition before the Supreme Court, seeking President Rodrigo Duterte's ouster as chief executive on the grounds that his certificate of candidacy during the 2016 presidential elections was "illegal."
Elly Pamatong filed what he called a quo warranto petition Wednesday, asking the high court to declare the presidency of Duterte null and void.
He pointed out that Duterte does not have any constitutional authority to serve as president because the latter's COC was filed late and that it was not approved by the Commission on Elections en banc.
"Rodrigo Duterte ran and was 'elected president' by voters who were not informed of the fact that he was not qualified to run and thereafter, Duterte usurped the presidency without a simulacrum of constitutional authority in flagrant violation of Article 177 of the Revised Penal Code," the petition read.
Duterte was the substitute candidate for former PDP-Laban standard bearer Martin Diño after the latter backed out.
Comelec en banc ruled that the candidacy of Duterte's substitution of Diño was valid and that he did not commit material misrepresentation for the candidacy.
However, Pamatong's quo warranto petition may not prosper.
Rules 66 of the Rules of Court states that those who may only file a quo warranto petition are the solicitor general, public prosecutors and a person claiming the usurped position or public office.
Pamatong, who had been declared a nuisance candidate in the past, declared in a video that he assumed presidency in June 2016, claiming that Duterte's post had supposedly been vacant since June 13.
He has a reputation for stunts such as tossing spikes on Epifanio Delos Santos Avenue in 2004 and was arrested in 2014 over a bombing plot foiled outside the Ninoy Aquino International Airport.
In 2016, the Supreme Court also suspended Pamatong from practicing law for two years for calling a judge "corrupt."
Malacañang on Wednesday said it is confident that the high court "will render the correct and wise decision."
Last month, the Supreme Court granted the quo warranto petition of Solicitor General Jose Calida against former Chief Justice Maria Lourdes Sereno in a landmark ruling.