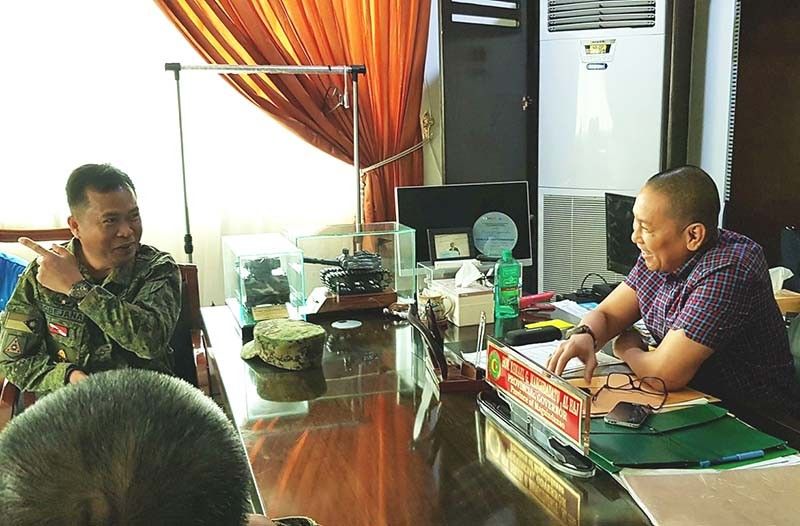 Gen. Cirilito Sobejana paid Maguindanao Gov. Esmael Mangudadatu an official visit Tuesday, his first as commander of the 6th Infantry Division.
Philstar.com/John Unson
New 6th ID commander, Maguindanao gov't to step up cooperation for peace
(Philstar.com) - June 6, 2018 - 12:00pm
MAGUINDANAO, Philippines — The new chief of the Army's 6th Infantry Division was admitted member of the Maguindanao peace council to ensure cohesion in addressing religious extremism plaguing parts of the province.
The Maguindanao provincial government has current socio-economic, health and education programs meant to weaken the influence of local militant blocs fomenting hatred to the police, the military and to non-Muslims.
Gen. Cirilito Sobejana, who assumed commander of 6th ID only last May 26, and the chairman of the Maguindanao provincial peace and order council, Gov. Esmael Mangudadatu, met in Buluan town Tuesday and discussed how they can cooperate in addressing peace and security issues via diplomatic interventions.
It was Sobejana's first official visit to the office of Mangudadatu in Buluan, capital town of Maguindanao, located in the second district of the province.
Mangudadatu said after their meeting that he will let Sobejana sit as member of the PPOC, a multi-sectoral group focused on solving domestic peace and security problems.
"The 6th ID is keen on securing the surrender of more militants out there. We in the PPOC support that initiative. We are ready to provide humanitarian assistance to Islamic State-inspired militants wishing to return to the fold of law," said Mangudadatu, presiding chairperson of the PPOC.
The 6th ID had worked out the surrender last month of 11 members of the outlawed Bangsamoro Islamic Freedom Fighters, just three weeks after four bombers from the same group yielded to the division and pledged allegiance to the government.
The BIFF, which uses the black Islamic State flag, has small groups holding out in isolated areas in Maguindanao.
Sobejana said he will sustain the backchannel efforts, meant to hasten the return of violent religious extremists to mainstream society, that were pioneered by his predecessors, Generals Arnel Dela Vega and Carlito Galvez Jr.
Galvez, now chief of the Armed Forces, and Dela Vega, who got to the helm of the Western Mindanao Command in May, had both served as commander of the 6th ID.
They both embarked on local programs complementing Malacañang's peace process with Moro sectors as they served as 6th ID commander one after another.
"I'm grateful to the office of the provincial governor of Maguindanao for the cordial reception extended to me during my first official visit there," Sobejana said via text message Wednesday.
Sobejana and Mangudadatu have also agreed to cooperate in resolving amicably vendetta clan feuds involving local clans to complement the normalization agenda of the peace efforts of the Moro Islamic Liberation Front and President Rodrigo Duterte.