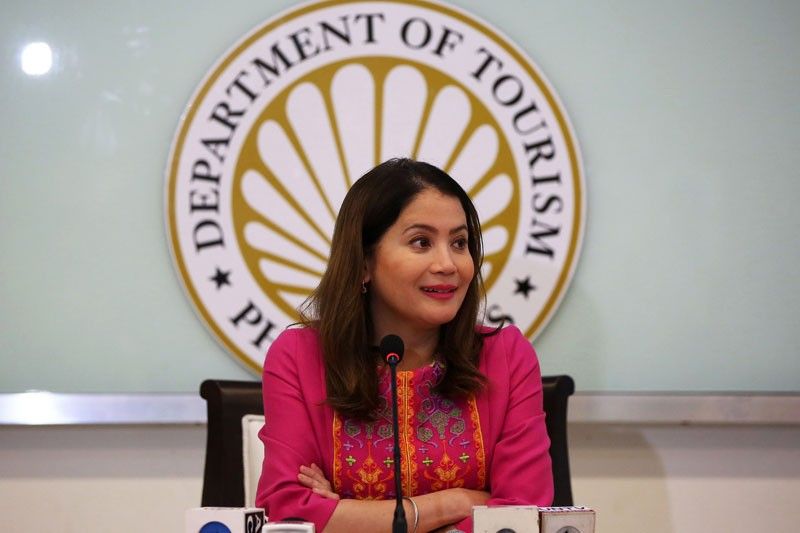 In a television interview Tuesday evening, Puyat said Undersecretary Benito Bengzon Jr. would retain his position.
Miguel de Guzman
Tourism chief retains only one undersecretary
MANILA, Philippines — Newly installed Tourism Secretary Bernadette Romulo-Puyat said she is keeping one of the incumbent undersecretaries of the Department of Tourism and appointing a new DOT official.
In a television interview Tuesday evening, Puyat said Undersecretary Benito Bengzon Jr. would retain his position.
She earlier ordered all undersecretaries and assistant secretaries to file their courtesy resignation to give her the chance to better perform her mandate.
"The one that will definitely stay is Undersecretary Bong Bengzon. He's a career official. He's been there for 32 to 33 years, so definitely he will stay," Puyat said.
She also announced that she would appoint as undersecretary Art Boncato Jr., a former official of the DOT and incumbent assistant secretary of the Department of Trade and Industry.
Boncato previously served as a DOT regional director for Davao during the Aquino administration. He was also assistant secretary to former tourism secretary Ramon Jimenez.
"I only met him last Friday and I was very impressed with his credentials. This man already knows the department of tourism inside and out so I offered him the undersecretary post," Puyat said.
The new tourism chief said she is confident that all undersecretaries and assistant secretaries would submit their courtesy resignation.
DOT assistant secretary and spokesman Frederick Alegre submitted his courtesy resignation to President Duterte on Tuesday evening.
"As a result of the recent events at the DOT, I would be honored to give you and the new DOT Secretary, Bernadette Romulo-Puyat, a free hand to determine who would be allowed to continue to serve in the department," Alegre said in his letter addressed to the President.
Asked if the current undersecretary and assistant secretaries are likely to be kept, Romulo-Puyat said, "I will judge their performance first. I will see first what fits my vision, or what I want to do. But who knows, maybe some of them might not want to work with me. We'll see."
Five more top DOT officials resigned yesterday.
Without disclosing their identities, Puyat said five high-ranking officials, which means either assistant secretaries or undersecretaries, have filed their resignations with President Duterte.
But she said their names will be announced on May 21.
Malacañang also released yesterday the appointment papers of Puyat as ad interim secretary of the DOT dated May 11.
President Duterte also appointed undersecretary Karen Jimeno as presidential adviser for disaster resiliency under the Presidential Management Staff.
Jimeno was formerly an undersecretary at the Department of Public Works and Highways.
The President also appointed Benjamin Palmero as member of the board of directors of the PNOC Renewables Corp.
The Palace also announced the appointment of Abdullah Mama-o from May 1 to Oct. 31 this year as special envoy to Kuwait.
Mama-o has been credited for the backchannel efforts with the Gulf nation that led to the signing of memorandum of understanding for the welfare of Filipino workers there.
Undecided
Puyat is still undecided on whether or not she would retain Tourism Promotions Board (TPB) head Cesar Montano amid allegations hurled at him.
She said that she is open to hear the side of Montano about the controversial P80 million that he allegedly paid in full to a certain Linda Legaspi to mount the "Buhay Carinderia" project even if it has yet to start.
Puyat's statement came after she was asked if she would keep Montano in the DOT.
She added that she will not make assumptions on Montano's alleged anomalous transactions with the "Buhay Carinderia" project, but pointed out that she took the allegations seriously.
She called for a meeting with Montano yesterday afternoon at the DOT, but reporters were barred from entering the agency.
The supposed meeting of Puyat and Montano at the DOT yesterday afternoon was moved to an undisclosed venue after the DOT chief decided to make it private.
Reporters waited at the DOT after Puyat announced that she wants to meet with Montano for him to defend himself on the allegations hurled against him about the P80-million "Buhay Carinderia" project.
"It was me, I decided to move to another venue, not here kasi I want it to be private," Puyat told reporters.
Pressed about the reports that Montano has also tendered his resignation, Puyat said that she was not aware of the report.
"I have to ask him magkano ba talaga yung (how much is the) project, kung nagka-bidding ba ( if there was bidding) through proper process, ano ang (what's the) agreement and bakit (why) P80 million, hindi pa nagsisumula ay nagbigay ka na (you have not yet started and you already paid)," she said.
"I took it seriously since I was appointed as DOT secretary, marami talagang nagsusumbong sa mga nangyayari, pero (there are many reports of anomalies but) you have to know kung paninira lang or kung totoo (if this is true)," Puyat said.
But she explained that Montano's tenure will end as soon as members of the TPB elect new officers.
Employees of the DOT warmly welcomed Puyat, who immediately issued a memorandum asking for the resignation of top executives of the agency.
But she said all career officials are exempted from the order.
Puyat has also asked for the resignation of assistant secretaries Maria Lourdes Japson, Daniel Mercado, Eden Josephine David and Arlene Mancao, but the officials have yet to issue their statements about it as of yesterday afternoon.
She also urged assistant secretaries Kat de Castro, Alma Rita Jimenez, Marco Bautista and Tony La Viña to resign. La Viña was just appointed last April 24, during Teo's administration.
The assistant secretaries have not yet issued any statement as far as Puyat's memo is concerned.
Finance Secretary Carlos Dominguez III has sworn into office Antonio Joselito Lambino as the new assistant secretary of the Strategy, Economics, and Results Group (SERG) of the Department of Finance (DOF). – With Mary Grace Padin, Robertzon Ramirez, Christina Mendez