Philippines, US marines hold drills near Scarborough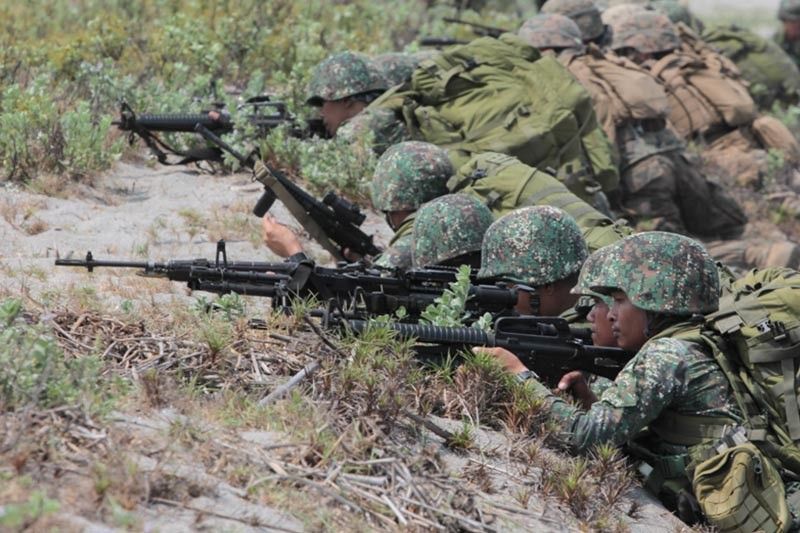 ZAMBALES, Philippines — Philippine and American marines on Wednesday conducted joint amphibious landing exercises at the Naval Education and Training Command in San Antonio, Zambales as part of the 2018 Balikatan exercise.
Incidentally, the training was held at the naval base 124 nautical miles from Scarborough or Panatag Shoal.
It should be noted that the Philippines' conflict with China started when Beijing seized Scarborough Shoal, which is well within Manila's exclusive economic zone.
The Philippine military, however, clarified that the exercises were meant to focus on military-to-military cooperation.
"It has nothing to do with anything else... We focus on the training objectives and attaining the task that they are required to complete for the training module of the Balikatan exercise," Philippine exercise director Lt. Gen. Emmanuel Salamat told reporters.
The amphibious exercise will also serve as training for the Philippine marines as they are set to acquire similar vehicles next year.
During the exercise on Wednesday, three amphibious assault vehicles from the US marines were used in a combat simulation, along with Philippine Navy's BRP Alcaraz and BRP Davao del Sur.
According to Salamat, the Philippine Marine Corps will acquire the same type of amphibious vehicle for next year.
Assault amphibious vehicles of the US marines have arrived on shore. @PhilstarNews pic.twitter.com/W2RcEEJ2cy

— Patricia Lourdes Viray (@patriciaviray) May 9, 2018
The amphibious exercise was also meant to train both forces to practice interoperability in such type of environment or conflict area.
"This can happen anywhere in the Philippines especially in Mindanao so we have a lot of areas. We are an island nation that's why we need to improve our capabilities on amphibious (environment)," Salamat said.
This year's joint military exercises between the Philippines and the US is the biggest so far under the administration of President Rodrigo Duterte.
WATCH: Philippines, US troops conduct amphibious landing exercise in Zambales, which is 220 kilometers from Scarborough Shoal. #Balikatan2018 @PhilstarNews pic.twitter.com/inBnW7A7yn

— Patricia Lourdes Viray (@patriciaviray) May 9, 2018
Last year's military exercises focused on humanitarian assistance and disaster preparedness. This year, the Philippines and US troops would focus on counterterrorism and mutual defense.
The Philippine military earlier said that lessons learned from the Marawi siege would be incorporated in the Balikatan exercises. The American troops had offered assistance, such as real-time intelligence, while their Filipino counterparts were fighting for the liberation of Marawi City last year.