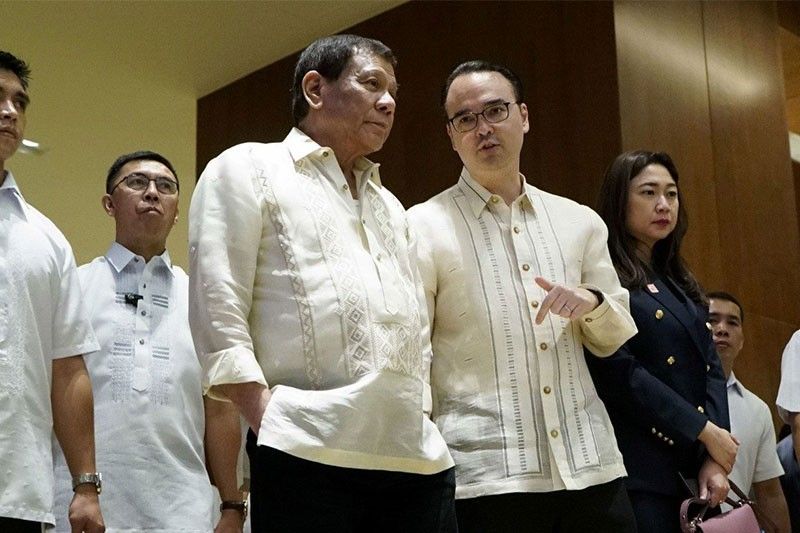 President Rodrigo Roa Duterte discusses matters with Foreign Affairs Secretary Alan Peter Cayetano on the sidelines of Metrobank's 55th Anniversary celebration at the Grand Hyatt Manila in Taguig City on September 5, 2017. Also in the photo is Taguig City Mayor Maria Laarni Cayetano.
Presidential Photo/King Rodriguez
Palace: Duterte not taking blame for Cayetano over Kuwait row
MANILA, Philippines — President Rodrigo Duterte is not taking the blame for anyone in connection to the diplomatic quarrel with Kuwait, Malacañang said Monday.
"He's not taking the blame for anyone. He is president," presidential spokesperson Harry Roque said in a press briefing.
The Kuwaiti government had expelled Philippine Ambassador Renato Villa, declared the Filipino envoy persona non grata and had recalled Kuwaiti Ambassador Saleh Ahmad Althwaikh to his capital.
As Duterte announces that the deployment ban of Filipino workers to Kuwait remains, it is unclear whether the memorandum of understanding between the Philippines and Kuwait would be signed.
The Philippine Embassy in Kuwait was accused of violating state laws and the Vienna Convention of Diplomatic Relations for conducting rescue operations for distressed Filipino domestic workers.
The Kuwaiti government was further angered when a video showing how embassy officials rescued Filipino workers went viral. The video was released by the Department of Foreign Affairs, which Cayetano heads.
'I trust Cayetano will take care of these matters'
"If anything goes wrong there, I should be the one to blame. Just like what happened in Kuwait. I'm the head of government. And they're finding faults supposedly committed by (Foreign Affairs Secretary Alan) Cayetano. No. It's me," the president said Sunday.
"That is just his way, 'The buck stops with me so blame me for whatever is necessary but the bottomline is we cannot afford another (Joanna) Demafelis.' It is the duty of the state to protect our nationals," Roque said.
Roque stressed that Cayetano already apologized to the Kuwaiti envoy over the misunderstanding on the rescues.
"I trust that Secretary Cayetano will take care of these matters but it's unnecessary to discuss these things because there are more important matters to attend to at this stage," Roque said.
Kuwaiti Ambassador Saleh, however, had returned to his home country immediately after his government dismissed his Filipino counterpart.
"The president is just saying, 'We will not fight you. We will respect however you will react but the Filpinos who want to come home, please come home. And we are only asking Kuwait to treat Filipinos well while we haven't flown them home yet," the president's spokesman said.
According to Roque, Duterte is eyeing to use the P4.8-billion that China pledged to the Philippines as travel funds for the OFWs in Kuwait who want to go home.
The fund was supposed to be used for infrastructure projects in the Philippines but China did not specify where the grant should be used so the president can use it wherever he wants, Roque added.
Meanwhile, the Kuwaiti government continues to reject any breach of sovereignty, referring to the diplomatic conflict with Manila.
Kuwaiti Deputy Foreign Minister Khaled Al-Jarallah said that the Gulf state "would act decisively against any relevant attempt."