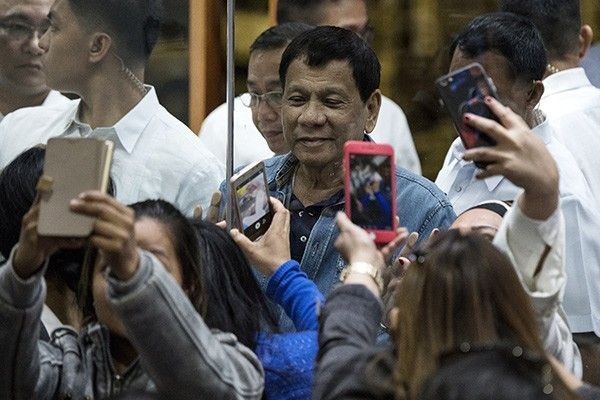 President Rodrigo Duterte poses for a selfie through a glass wall for overseas Filipino workers that arrived in Manila from Kuwait at Manila International Airport on February 13, 2018. The president said Sunday that the ban on OFW deployment to Kuwait is now permanent.
Noel Celis/AFP, file
Duterte: Ban on OFW deployments to Kuwait now permanent
MANILA, Philippines — President Rodrigo Duterte has made the ban on the deployment of new migrant workers to Kuwait permanent following a tense diplomatic row over the rescue of distressed Filipinos by the Philippine Embassy.
Duterte said he would ask other countries, including China, to accommodate workers to be affected by the policy and vowed to provide for the needs of those who would come home from Kuwait.
"The ban stays permanently. There will be no more recruitment for — especially domestic helpers. Wala na (no more)," the president told reporters in Davao City upon his arrival from Singapore on Sunday.
"The money is there. If it has not been remitted to the National Treasury, I can always use emergency fund. To me, it's a calamity... If my countrymen are suffering, I would use it. If you want, I would steal money from the central bank. But they (workers) have to come home," he added.
READ: Duterte to OFWs in Kuwait: Come home
'Calamity fund'
There is P19.8 billion in the National Disaster Risk and Reduction Management Fund in the 2018 national budget.
The fund, according to the General Appropriations Act, is "for aid, relief and rehabilitation services to communities/areas affected by man-made and natural calamities, and repair and reconstruction of permanent structures, including other capital expenditures for disaster operation, and rehabilitation activities."
Of that fund, P10 billion has been allocated to the Marawi Recovery, Rehabilitation and Reconstruction Program in the battle-scarred capital of Lanao del Sur.
Another P4.5 billion is reserved for the repair and reconstruction of structures "including Capital Expenditures for Pre-disaster Operations, Rehabilitation and Other Related Activities."
The Palace has also said that P2 billion from the calamity fund will be spent to assist workers displaced by the six-month closure of Boracay island, which has been shut to tourists and non-residents since April 26. A state of calamity was declared over the island's three barangays, where rehabilitation of environmental damage will be done.
Other labor markets
It is not clear whether the Philippine government would still push for a bilateral agreement seeking to improve the working conditions of about 10,000 Filipino workers in Kuwait. Officials were eyeing to sign the agreement before the Muslim holy month of Ramadan, which starts on May 15.
"We can always appeal to the other nations for a concession. And you know what, however you look at China, I consider China a friend," the president said, citing Beijing's promise to hire about 100,000 Filipino teachers.
"Many countries today are suffering from the shortage of human beings. They do not want to give birth. Just like the Japanese, they do not want to give birth. It seems that the Filipinos are the only ones who are fond of children."
Last February, Duterte announced a ban on the deployment of Filipino workers to Kuwait following reports that some workers in the Gulf state were maltreated by their employers.
The president announced the ban days after the discovery of the body of 29-year old Filipina worker Joanna Demafelis inside a freezer in Al Shaab district.
A Kuwaiti court has sentenced Demafelis' employers to death but Philippine officials had insisted that the ban would only be lifted once a deal protecting the rights of Filipino workers is signed.
Last week, videos showing Philippine embassy staff rescuing Filipino workers from their employers, prompting the Kuwaiti government to expel Philippine Ambassador Pedro Villa.
The Kuwaiti government views the rescue operation as an affront to its sovereignty but the Philippines insists that it was a "rightful exercise" of its duty to protect its citizens abroad.
Duterte: I take full responsibility
Duterte took responsibility for the diplomatic squabble and insisted that he has no bitterness toward Kuwait.
"If anything goes wrong there, I should be the one to blame. Just like what happened in Kuwait. I'm the head of government. And they're finding faults supposedly committed by (Foreign Affairs Secretary Alan) Cayetano. No. It's me," the president said.
"So once again, I would like to restate to everybody, especially to the Kuwaiti government. There's no bitterness in our hearts for after all. At one time, we were also there to help you. There are a lot of, thousands maybe of Filipinos, whose lives were lifted from poverty because of the work that you have. We realize
that," he added.
"If my countrymen are a burden to you or if you do not like the way they are acting now, maybe it's the culture and your response also. We adjust to one another but I will withdraw all the Filipinos there. We will not ask any help from you. We will spend for their return."
Duterte said he is sure that Villa would be given another position.
READ: 'Ranking DFA exec authorized rescue of distressed OFWs'