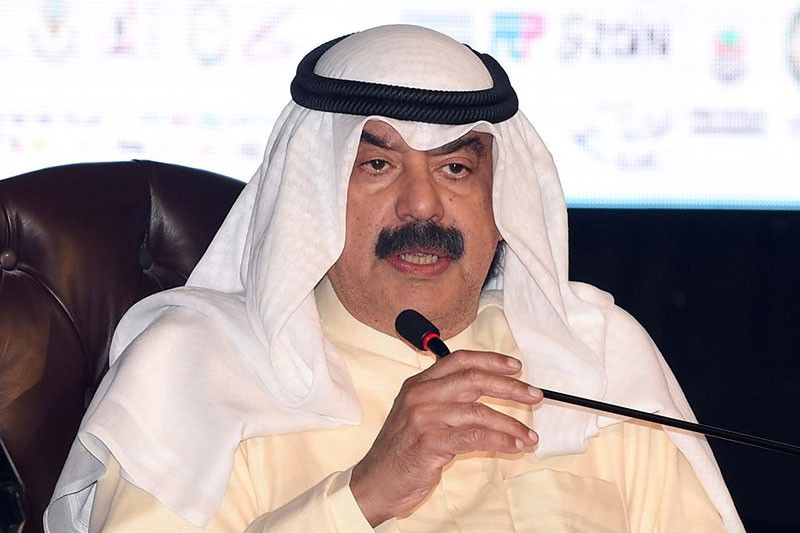 Kuwait Deputy Foreign Minister Khaled Al-Jarallah said that Kuwait is willing to cooperate with the Philippines to explore all means to resolve labor issues.
KUNA
Kuwait rejects sovereignty breach amid diplomatic row with Philippines
MANILA, Philippines — Kuwait stressed its opposition against any breach of sovereignty in connection to a diplomatic conflict with the Philippines.
"Kuwait rejects any breach against its sovereignty or laws and would act decisively against any relevant attempt," Kuwaiti Deputy Foreign Minister Khaled Al-Jarallah said, according to a report from state-run Kuwait News Agency (KUNA).
President Rodrigo Duterte earlier declared that the ban on overseas Filipino worker deployment to the Gulf state would be permanent.
"The ban stays permanently. There will be no more recruitment, especially for domestic helpers," Duterte said on Sunday upon arriving from Singapore.
The president's announcement came days after the Kuwaiti government declared Philippine Ambassador Renato Villa persona non grata and recalled Kuwait Ambassador Musaed Saleh Ahmad Althwaikh.
Philippine Embassy officials were accused of violating domestic laws and the Vienna Convention for Diplomatic Relations upon conducting rescue operations for distressed Filipino workers.
In reaction to Duterte's remarks, Al-Jarallah said that Kuwait was ready to work with the Philippines to address labor issues.
"Kuwait is keen on maintaining safety and rights of all expatriates including the Filipino community, within the labor laws of the country, which have been praised by international human rights agencies," KUNA reported.
The Kuwaiti official also said that the country shares Duterte's desire to maintain the relations between the two countries, which goes back to the Gulf War in the early 1990s.
Citing Manila's support for Kuwait during the Gulf War, Al-Jarallah said that the "historic friendship" between the two countries would help resolve the diplomatic issue.
Following Duterte's declaration, it remains unclear whether the Philippines would still pursue a bilateral agreement with Kuwait which seeks to improve the working conditions of Filipino workers.
The Philippines implemented the deployment ban in February following reports that some workers in Kuwait were being maltreated by their employers.
Duterte announced the ban days after the discovery of Filipina worker Joanna Demafelis inside a freezer at an apartment in Kuwait. A Kuwaiti court has sentenced Demafelis' employers to death.
More than 260,000 Filipinos are working in Kuwait, majority of them as domestic helpers.