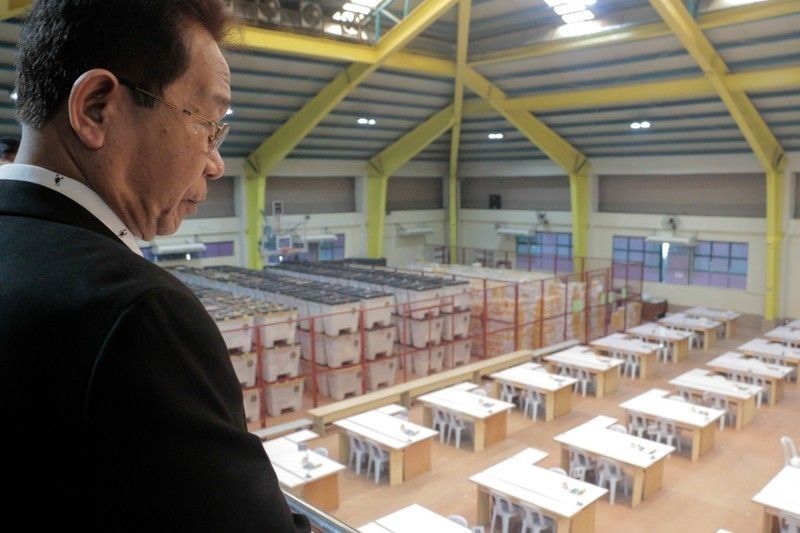 In this photo taken on March 27, Presidential Electoral Tribunal AdHoc committee member, Edgar Aricheta, oversees the venue for the ballot recount.
Philstar.com/Efigenio Toledo IV
PET tells Marcos, Comelec: Answer Robredo plea on vote shading threshold
MANILA, Philippines — The Presidential Electoral Tribunal on Tuesday has ordered the Commission on Elections and former Sen. Ferdinand "Bongbong" Marcos Jr. to answer Vice President Leni Robredo's appeal on the shading threshold in the vote recount.
The Supreme Court en banc, sitting as the PET, gave the Comelec and Marcos 10 days to comment on Robredo's motion for reconsideration on the tribunal's resolution that it will use the 50-percent threshold to determine a vote's validity, SC spokesperson Theodore Te said in a press statement.
That means only votes where at least half of the oval beside a candidate's name is shaded will be counted.
Robredo, in an earlier motion, said that the tribunal should apply the 25-percent threshold cited in an earlier Comelec resolution.
The tribunal junked Robredo's earlier motion on April 10, saying it is "not aware of any Comelec resolution that states the applicability of 25-percent threshold."
Robredo sought to reverse the ruling in a motion for reconsideration she personally filed on April 19.
She said that failure to apply the lower threshold would disenfranchise votes with 25-percent shaded ovals that were already counted by the vote counting machines and confirmed by random manual audit committee.
"The physical count is now running inconsistent with the results based on the Election Returns, Statement of Votes by Precinct, Ballot Images and the Voter's Verifiable Audit Paper Trial (VVPAT)... This misleads the Honorable Tribunal into believing that the VCM failed to accurately read and count the ballots," her motion read in part.
Based on a STAR report, unnamed sources said that the vice president already lost about 5,000 votes due to the threshold rule.
Marcos' camp earlier slammed Robredo for "casting aspersions meant to debase PET's integrity" with her motion for reconsideration. Lawyer Vic Rodriguez, spokesperson for Marcos, said that the vice president is "trying to change the rules in the middle of the game."
Marcos, in his protest, contested the results in a total of 132,446 precincts in 39,221 clustered precincts covering 27 provinces and cities. He sought for a recount in Camarines Sur, Iloilo and Negros Oriental covering a total of 5,418 clustered precincts. The recount started on April 2.
RELATED: Robredo tells PET: No 'sensitive' info revealed by camp | Marcos: Statements on recount just observations, not prejudgment