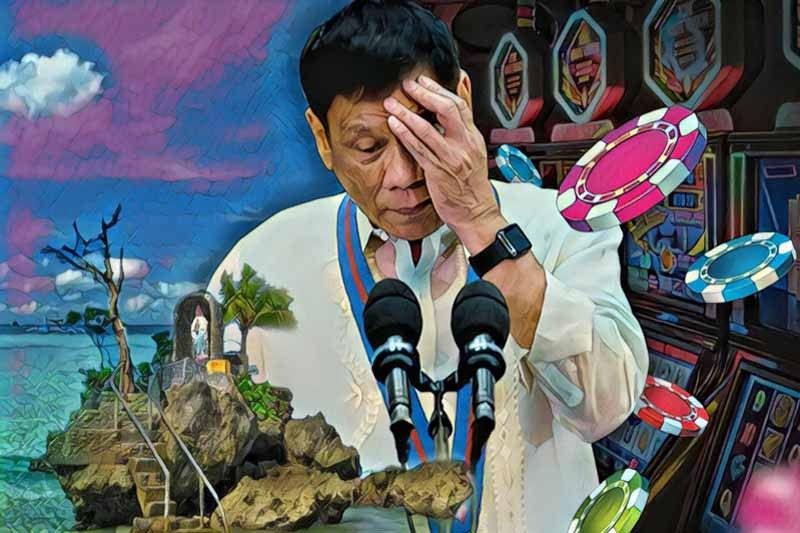 President Rodrigo Duterte said there is no plan to build a casino on the world-famous island of Boracay.
Artwork by Philstar.com/Jonathan Asuncion
To build or not to build: Contradictory statements on Boracay casino plan
MANILA, Philippines — A plan to construct an entertainment complex on Boracay island that was floated late last year has been met with opposition and skepticism amid conflicting statements on whether it will push through or not.
The highest official of the land himself, President Rodrigo Duterte, last April 9 said no casinos would be allowed on the island, which is set to be closed to tourists on April 26.
"There are no plans for a casino. That's enough, because it's too much. There's a casino here, casino there," Duterte said in Filipino at a press conference held before his departure for the Boao Forum for Asia in Hainan, China.
Instead, Duterte said, Boracay will be turned into an area for land reform then distributed to farmers.
Presidential spokesperson Harry Roque echoed this statement, saying Duterte just wants to return the island to regular people. He clarified that Boracay is not for sale.
Whether or not the area is ideal for farming, Roque said, "the point of the president is he wants to return Boracay to the ordinary people, not to the rich resort owners."
"He wants the future generations to benefit from the beauty of Boracay, not just the rich," Roque said in a Palace press briefing held in Boracay on Tuesday.
In October 2008, the Supreme Court affirmed President Gloria Macapagal Arroyo's Proclamation 1064, classifying Boracay as both forest and agricultural land. The proclamation states that the 400 hectares of the island is reserved forestland for "protection purposes" and 628.96 hectares of which is agricultural land that are alienable and disposable.
Casino project in Boracay no more, DOT says
A week after Duterte and the Palace made the statements that the provisional license for the Boracay casino project is void, the Department of Tourism said Galaxy Entertainment would no longer pursue the project there.
Tourism Assistant Secretary Frederick Alegre said Galaxy is "now looking for another venue."
"And that's very much welcome, Secretary [Wanda] Teo answered that—interagency task force is happy that they're looking," Alegre said.
"And when they find, then they just have to go through the process of accreditation and securing, again a new PAGCOR temporary or a provisional authority, and the whole process will have to repeat. But that's a welcome news, that they're looking for another venue," he added.
Local partner says casino plan still a go
Galaxy's Filipino partner Leisure & Resorts World Corp., however, denied the DOT's pronouncement. The Benitez-led gaming firm said it "continues to be in talks with its partner Galaxy Entertainment."
"Both parties have not reached any final decision regarding its planned Boracay resort project. Following protocol, no change in plans or project location would be made without prior consultation and agreement with Pagcor," Leisure & Resorts World said in a statement.
"Contrary to claims that Galaxy has abandoned its planned Boracay project, no such announcement has been made nor communicated with Pagcor," it added.
DOT backtracks
Following the denial from Leisure & Resorts World Corp, Alegre clarified that he was just asked if the abandonment plan was true. He said if it were, it would be a welcome development.
During the press conference, however, the officials were asked if the casino plan is pushing through and his reply was that the gaming firm is eying a new location.
Alegre said the tourism agency has not yet received any request for permits from Galaxy or its local partner.
The casino project on Boracay became controversial in March as it was announced amid proposals to close the island down. The timing prompted speculations that the closure would be made to pave way for construction of the casino because the president previously met with the executives of Galaxy.
On April 4, Duterte approved the proposal to close Boracay for six months for environmental rehabilitation.
What Pagcor, DENR say
On March 20, Philippine Amusement and Gaming Corp. granted a provisional license for Galaxy's casino project.
Pagcor Chairperson Andrea Domingo, who was present during a courtesy call to Duterte by Galaxy executives in December, said the gaming firm assured the president that they will protect the environment.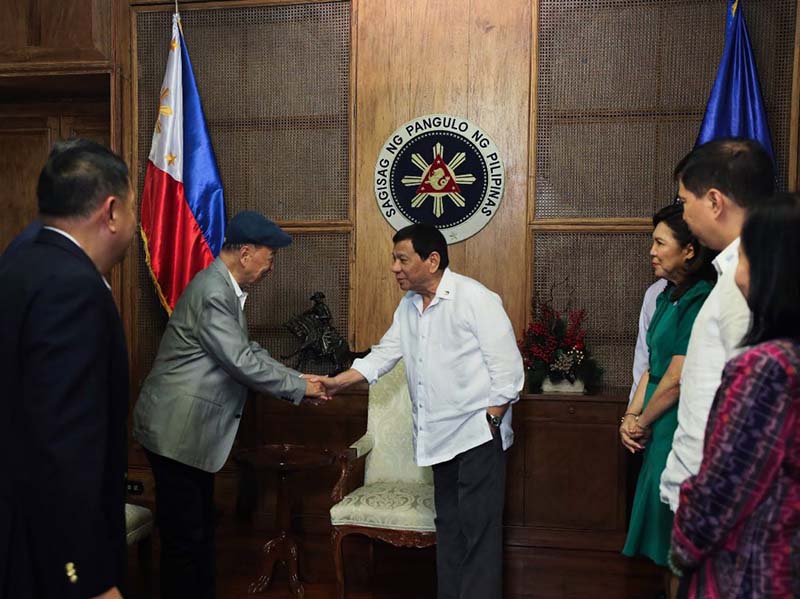 President Rodrigo Duterte greets Galaxy Entertainment Group Limited Chairman Dr. Lui Che Woo who paid a courtesy call on the president in Malacañan Palace on Dec. 6, 2017. Presidential photo/Ace Morandante
The government gaming regulatory body also clarified that the provisional license "is only the start of a very long and tedious process of compliance that every integrated-resort operator must go through before they can be issued by Pagcor a Notice to Commence Casino Operations and eventually, a regular casino gaming license."
Domingo denied Alegre's earlier claims, saying Galaxy did not report any plan to abandon its proposed integrated resort in Boracay.
Meanwhile, an official from Department of Natural and Environment Resources, the agency that spearheads the Boracay environmental cleanup, also said the casino project had a low chance of getting approved.
Maria Paz Luna, DENR officer-in-charge undersecretary for Manila Bay concerns and related water concerns, said DENR Secretary Roy Cimatu plans to use the island's "carrying capacity" to determine if the casino project would be vetoed or approved.
Roque previously defended the Pagcor's grant of the provisional permit for the project. He said that "an establishment as big as this casino will probably be required to have not just a [Sewage Treatment Plant], but the water recycling treatment facility."
He also said "the size (of the casino) will not matter for as long as the necessary infrastructure are there."
No objection from LGUs
Despite opposition to the casino project, Rowen Aguirre, Municipal Executive Assistant for Boracay Affairs, said there is no objection from the local government units of Boracay.
Aguirre said the Sangguniang Bayan, which acts as the legislative body of the municipal government, just issued an endorsement or certificate of no objection for the casino operation. He said the endorsement is the first step to secure a license from Pagcor.
The Boracay official clarified that there is no construction being done yet in the island and that casino operation and hotel or resort permit is separate from the endorsement he mentioned.
Casino location near tourist spots in Boracay
Leisure & Resorts World Corp. has already acquired 23 hectares of land in Sitio Sugod, Barangay Manoc-Manoc, Boracay, where the casino project was supposedly going to be built.
Manoc-Manoc village is approximately 3.7 kilometers, 3.6 km and 2.4 km, away from Station 1, 2 and 3, respectively. The three stations are the main locations of resorts and commercial establishments on the island and where tourists usually flock.
The casino project of Galaxy and Leisure & Resorts World is estimated to cost $500 million and is expected to bring in at least $100 million in annual revenues if it pushes through.
The gaming area in the planned integrated resort is expected to not exceed the 7.5 percent of its floor area "at all times" based on the project's footprint.
Aguirre said the proposed location of the casino project has no developments or commercial establishment yet as it is mostly a residential area.
It is not clear whether a new casino by Resorts World supposedly operational in three months will still open at Megaworld Corp.'s Savoy Hotel in Boracay, according to Domingo. The Pagcor chair earlier said the application for this resort started in 2014 and had been previously approved.
READ: What we know so far: Boracay casino projects amid concerns for 'cesspool' island