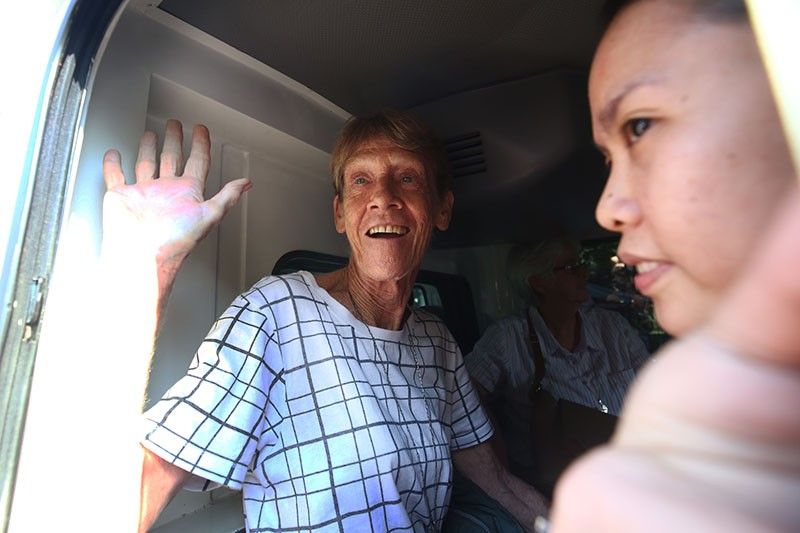 President Duterte said that he ordered the detention of Patricia Fox, 71, for her supposed vocal criticism of the government.
The STAR/Miguel De Guzman
Duterte says he ordered Immigration to investigate Australian nun
MANILA, Philippines — President Rodrigo Duterte on Wednesday blasted an Australian nun for her supposed vocal criticism of the government and said that he was the one who ordered the Bureau of Immigration to detain her.
Particia Fox, 71, an Australian nun who has been advocating land reform and rights of farmers in the Philippines, was detained from Monday to Tuesday for her supposed violations of an immigration order banning the involvement of foreign nationals in the partisan activities and political assemblies.
Duterte said that the only reason Fox was released was she was not caught in the act of berating the government.
Bureau of Immigration lawyers, in a two-page note with recommendation to Immigration Commissioner Jaime Morente prior to her release, said that "while Fox was alleged to have taken part in protest actions by farmers in the past, she was not doing so at the time when BI operatives served her the mission order."
The Philippine leader made the statement after Fox, in a television interview, said that the military might be behind her detention at the office of the Bureau of Immigration.
"It was not the military who arrested the Catholic nun. It was upon my orders implemented by the Bureau of Immigration, and I take full responsibility, legal or otherwise, for this incident," Duterte said during his remarks at the turnover ceremony at the Armed Forces of the Philippines in Camp Aguinaldo.
"I ordered her investigated... not arrested, for a disorderly conduct," the president said.
According to a Law professor who agreed to give input on condition of anonymity, as a general rule, arrests can only be made if a judge has issued a warrant after a criminal case has been filed or if a crime is committed in the presence of law enforcement. In which case, an inquest proceeding must be held immediately to determine if charges should be filed.
The Immigration commissioner, who is under the authority of the president, has a unique power to issue warrants against a foreigner who violates immigration law, the professor said.
'Foreigners have no rights to criticize us'
The president said that he was used to being criticized as he has been a politician for several decades and would not mind being attacked by a Filipino.
"You are entitled really to criticize. Freedom of expression is unlimited, and it goes for everybody," the president said.
"You don't have the right to criticize us. You can come here to enjoy all the sights," he said of foreigners.
Duterte's tirade came just hours after presidential spokesperson Harry Roque said in a television interview that an apology might be in order following the detention of Fox, which he said could have been a mistake.
Fox was not the only foreigner who recently had problems with Immigration officials.
Over the weekend, Giacomo Filibeck, an official of the Party of European Socialists, was denied entry in Cebu.
He had been put on an immigration blacklist for being in a delegation of European legislators and activists that criticized the government for its bloody crackdown on illegal drugs in late 2017.
Filibeck was invited to the country by Akbayan and was supposed to attend its congress in Cebu.
'Criticize Australia, Church instead'
Duterte also told Fox to criticize the Australian government's handling of its refugee crisis.
"You, nun, why don't you criticize your own government, the way you handle the refugees, hungry and dying, and you throw them back to the open sea," the president said.
The Australian government maintains a hardline policy on immigration and pays offshore centers in nearby nations such as Papua New Guinea and Nauru to prevent asylum seekers to make their way to the mainland by boat.
Duterte also said that Fox should also help the Catholic Church address the problems it faced such as "adulterous priests," malpractices and homosexuality.
He also said that the Philippines could survive without money from foreign governments as he stressed that he would not allow these nations to impose their values on the country.
"Eat your money. You can have your money. We will survive. The Philippines is not a grazing land," he said.