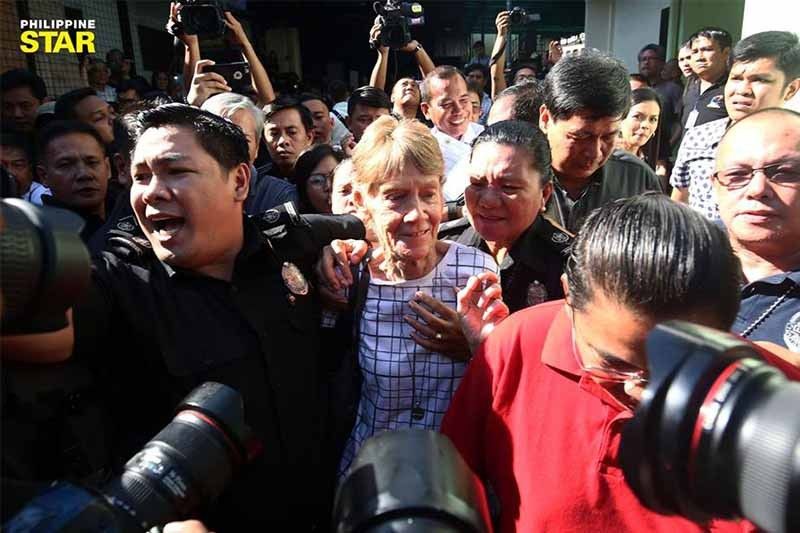 The Palace said on Wednesday that apologies may be in order for the detention of an Australian nun, 71, for her supposed partisan activities.
The STAR/Miguel De Guzman
Palace: Detention of Australian nun may have been a mistake
MANILA, Philippines — The Bureau of Immigration may have committed a mistake in detaining an Australian nun for her supposed partisan activities in the country, the Palace said on Wednesday, as it doubled down on the government's decision to deny a European socialist entry to the Philippines.
Patricia Fox, a 71-year-old Australian nun and advocate of land reform and peasant rights, was detained from Monday to Tuesday for her supposed violations of an immigration order banning foreign participation in any partisan activity and assembly.
"It seems that there was a mistake in the case of Sister Fox and maybe apologies are in order because she was immediately released by CID (Commission on Immigration and Deportation, an old name for the BI). CID also commits mistakes," he said in Filipino in a television interview on Wednesday morning.
.@immigrationPH says it respects the apology statement of presidential spox @attyharryroque on the arrest of Sister Patricia Anne Fox but will no longer issue statements because a case is already pending before their office. | @EZMacairan

— Philstar.com (@PhilstarNews) April 18, 2018
The bureau, on Wednesday afternoon, said it will no longer issue statements on a pending case.
Filibeck deportation warranted
Roque however said that the situation of Giacomo Filibeck, an official of the Party of European Socialists who was prevented from entering the country over the weekend, was different.
The presidential spokesman said that Filibeck was dabbling in the country's politics when he tried to attend a congress by Akbayan in Cebu.
In an interview with the state-run radio station, President Duterte's spokesman also had advice for the European socialist: "Whoever you are! Block the bombs in Syria because you are a socialist. Stay true to your ideology."
Roque also underscored the right of a country to deny foreigners entry to their territory.
Despite an Immigration ban on foreign participation in political activities, several officials of the Communist Party of China joined the anniversary celebration of the ruling PDP-Laban party in February this year.
The guests of honor for the event were Sheng Chuanliang, Communist Party of China Vice Minister Giu Yeshou and Zhao Jianhua, Beijing's envoy to the Philippines.
There was also a briefing given to party-members and guests on the life and thoughts of Xi Jinping, the Chinese president.
The Commission on Human Rights meanwhile said that foreign nationals could participate in peaceful assemblies as long as they do not threaten national security, public safety and order and the morals and freedoms of others.