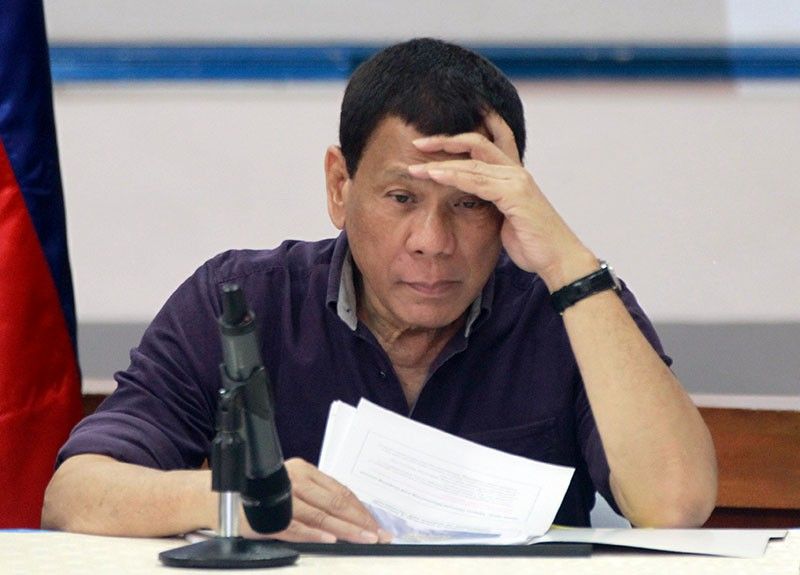 President Rodrigo Duterte did not name the officials but said they were among his longtime supporters.
KJ Rosales
Shame on you: Duterte fires more execs; labor usec out
DAVAO CITY, Philippines — True to his promise of ridding government of corruption, President Duterte has fired a new set of officials over allegations of graft.
"You know, I'm very sad to inform you that as of last week I fired another set of officials," the President said during the mass oath-taking of newly appointed officials at Malacañang yesterday afternoon.
The President did not name the officials but said they were among his longtime supporters.
This developed as Labor Undersecretary Dominador Say announced yesterday that he had resigned.
Say said he submitted his letter of resignation to Duterte on April 9 to spare Labor Secretary Silvestre Bello from accusations of being soft on management in the contractualization controversy.
In his letter, Say thanked Duterte for the opportunity to serve in government.
Last week, reliable sources said Say was next on Duterte's chopping block following the departure of Vitaliano Aguirre II as justice secretary.
"Eh nakakahiya (It's shameful). But you know as supporters, early on, even during my mayorship days, they were already around and yet they f*** around. Alam ninyo ang ayaw kong mahiya (I don't like to be shamed)," the President said.
Aguirre was the last Cabinet member to have resigned from his post amid talks that the President had lost trust in him.
The President has already fired more than a dozen high-ranking officials since he took office in June 2016, including former interior secretary Mike Sueno and former National Irrigation Administration chief Peter Laviña.
Yesterday, the President asked that media coverage of the oath taking be cut while he continued his talk with the newly appointed officials. The President hinted on who he has fired lately.
Duterte lamented that those who egged him to run for President were the ones who have been engaging in illegal activities after their appointment to office.
"Sige na mayor, tumakbo ka na kasi wala na tayong ibang kandidato na (Please, mayor, run because we don't have a candidate) – to repair the nation, to rehabilitate everything and to stop corruption blah blah blah and blah blah blah," Duterte said.
The President said he thought those who were convincing him to run were after the betterment of the country and would not commit any corruption.
"Ayaw ko kasi mawalaan ang aking kapwa tao ko (I don't want to lose people I trust). I don't want to nurture something that I would be suspicious of anybody in front of me. Ayaw ko sana 'yung mawalaan ako ng bilib sa kaibigan o kakilala (I don't want to lose confidence in friends). I hate it because I know you – they meant well," he added.
"But along the way, may papasok talaga na kalokohan (they commit wrongdoing) ang p***," he said.
The President said it would have been better if these people did not go to him and urge him to run in the May 2016 presidential polls.
"My lamentation is, "p***** i** ka bakit ka pumunta sa akin noon na ganoon? (Why did you come to me)?" Nagpapa-corny lang pala tayong lahat dito kasi kung sinabi lang ninyo ng ganoon, had you told me it's either hindi ako tumakbo or hindi ko kayo tinanggap (We're being corny now. Had you told me about this, I wouldn't have run or accepted)," the President added.
At the start of his speech, however, the President urged the newly sworn in officials to resist the temptation of corruption while in government.
"Remember, you are pledging your commitment to ethical and honorable behavior as government officials. You are committing to do something that is larger than yourselves," he told the latest batch of appointees.
Duterte stressed that they need to remain steadfast in finding better ways to serve the people to the best of their abilities.
"Let us therefore motivate all of you and to all our citizens and contribute to sustainable development and lasting peace," he said.
Duterte said he would give his full support in advancing the nation's common good.
"May this occasion renew our dedication in achieving a truly prosperous and more robust society. I ask all of you to continue demonstrating solidarity and active participation in our shared task of building our nation," the Chief Executive said.
Meanwhile, amid accusations that the Department of Labor and Employment (DOLE) favors management on the issue of contractualization, one of the undersecretaries of the department has resigned from his post.
After serving the Duterte administration for almost two years, undersecretary Dominador Say said he submitted his letter of resignation to the President last March 9.
Say said he decided to leave DOLE to spare Secretary Silvestre Bello III of accusations that he is pro-management.
"We have been reading (reports) that the Secretary is being a softie to management, but that is not true. I decided to step back to give the secretary elbow room," Say said.
On the issue of contractualization, Say claimed Bello listens to undersecretary Joel Maglunsod and to him.
At the start of the year, Say said, Bello ordered them to facilitate the regularization of 300,000 contractual workers this year.
"I won't be standing in the way for the Secretary to meet this target, as 300,000 is not a small number," he said.
As a lawyer, Say said, he abides by the law that allows contractual employment, thus he is accused of favoring management.
"My approach is purely legal. I am not pro-management because I came from the labor sector," he said, having been a member of Associated Labor Unions-Trade Union Congress of the Philippines.
Say said he decided to leave public service to resume his career in the private sector. He thanked President Duterte for giving him the opportunity to serve the labor sector. – With Christina Mendez, Mayen Jaymalin