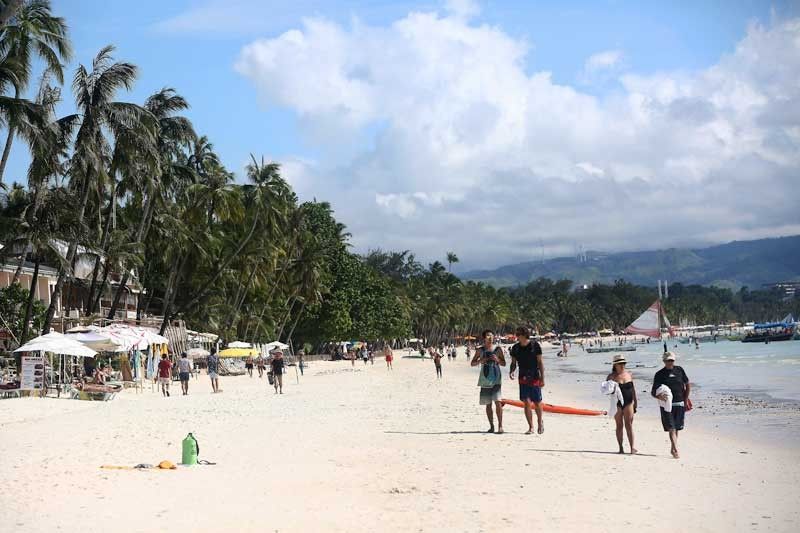 A masterplan to redevelop Boracay into a livable and greener community will be finalized after its rehabilitation, Teo said.
Miguel De Guzman
Shorter Boracay closure eyed
MANILA, Philippines — The Department of Tourism (DOT) is looking to shorten the closure period for Boracay to four months from six, but the number of visitors allowed when it reopens will be slashed, Tourism Secretary Wanda Teo said yesterday.
A masterplan to redevelop Boracay into a livable and greener community will be finalized after its rehabilitation, Teo said.
"I think we can do it in four months. That's why we wanted total closure, for us to do it fast," she said in an interview with ANC.
President Duterte had said Boracay had turned into a "cesspool" due to pollution.
When it is reopened, Teo said the number of visitors to Boracay, which a decade ago was found to be capable of accommodating only about 25,000, will be limited. The number of people on the island now goes as high as 75,000, she said.
The environment department is undertaking a study to determine the island's "carrying capacity," she said.
Teo expects foregone revenues from the shutdown to be at "around P7 billion" or even lower if the closure period is shortened to four months, she said.
However, even after the six-month closure order on Boracay Island is lifted, tourism-related activities in several areas will be limited once they are declared as critical habitat (CH) zone by the Department of Environment and Natural Resources (DENR).
In a press conference yesterday afternoon, Environment Secretary Roy Cimatu said his office is now finalizing an order declaring 750.96 hectares of forest and coastal lands in Boracay as a CH zone for endemic and threatened species.
Cimatu said the measure particularly aims to promote the breeding of marine turtles, fruit bats or flying foxes, puka shells and marine corals, the numbers of which, he said, have significantly declined due to high tourist activity in the area.
Cimatu said he intends to sign the order by next week, to be followed by the crafting of CH management plan with the stakeholders.
President Duterte earlier followed the recommendation of the interagency task force composed of the DOT, the DENR and the Department of the Interior and Local Government to begin the six-month closure of Boracay on April 26.
"If we do it during the habagat season, rainy, we won't be able to do anything. That's why we wanted to do it this summer so that work will be faster," Teo said.
But Philippine Tour Operators Association Inc. president Cesar Cruz earlier said tour operators had requested for the closure to be moved to June, after the peak season for tourists.
Teo earlier acknowledged that the closure of the island will impact the country's tourist arrivals target, which is why the DOT is pushing for a faster rehabilitation of the island.
Under the National Tourism Development Plan, the DOT is expecting tourist arrivals to hit 7.4 million this year.
But tourism stakeholders said Boracay will lose an estimated 700,000 bookings amounting to P30 billion, as air carriers are adjusting and cancelling flights to Caticlan and Kalibo in Aklan due to the six-month closure.
Tourism Congress of the Philippines president Jojo Clemente said air carriers will be compelled to cancel bookings from May to October, affecting thousands of domestic and foreign travelers.
But National Economic and Development Authority (NEDA) National Policy and Planning Staff director Reynaldo Cancio said even if the closure of the island reaches six months, this will not greatly affect the economy.
NEDA officer-in-charge Rosemarie Edillon said they have already submitted their proposal, analysis and recommendations on the Boracay issue to the Office of the President, but are not at liberty to discuss the details.
Meanwhile, the militant Makabayan bloc has filed a resolution in the House of Representatives to investigate reports that a $500-million casino and resort will be constructed in the island.
Duterte has rejected the supposed plan to build a casino in Boracay, saying he will put the property under land reform for distribution to farmers.
House Minority Leader Danilo Suarez meanwhile told reporters he knew it was like an accident waiting to happen for Boracay.
"The minority is pleased that the Boracay problem is now being addressed. We took this position on Boracay in 2016," the Quezon congressman told a news conference at the House last Tuesday. He said he foresaw the problem from way back.
For its part, the Department of Labor and Employment (DOLE) is holding job fairs for the thousands of workers likely to be displaced with the closure of Boracay.
As this developed, the police regional office has appealed for the cooperation of business owners, employees and residents of the island, after its meeting with the Regional Peace and Order Council last Wednesday. – With Mayen Jaymalin, Jennifer Rendon, Delon Porcalla, Mary Grace Padin, Reuters
Related video: