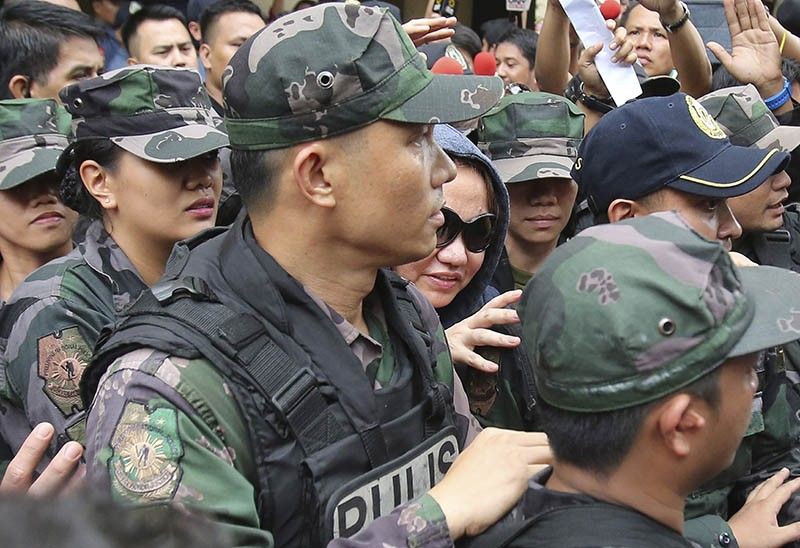 In this June 26, 2014 photo, Janet Lim Napoles, center in sunglasses, a wealthy businesswoman at the center of a scam to divert funds for government anti-poverty projects and who allegedly gave kickbacks to senators using those funds, is escorted under tight security after attending her arraignment at the Sandiganbayan anti-graft court in Quezon City, Philippines.
AP/Aaron Favila
Shock, anger, disbelief as DOJ makes Napoles a witness
Justice Secretary Vitaliano Aguirre II is in hot water. The Department of Justice made two unpopular decisions this week.
Neither the opposition nor some of President Duterte's allies support the moves.
MANILA, Philippines – Mere days after 'self-confessed drug lord' Kerwin Espinosa and top drug suspect Peter Lim were acquitted in a controversial resolution, the Department of Justice admitted to another surprise move Friday morning, revealing that suspected mastermind of the pork barrel scam Janet Lim-Napoles under Provisional Admission last February 27.
Justice Secretary Vitaliano Aguirre II confirmed Napoles' status to Philstar.com, qualifying the move as a 'provisional admission' as she was not yet physically under the program.
Aguirre added that additional security and physical needs could be provided if requested by Napoles.
Opposition in outcry
Several personalities and organizations in and out of the government have reacted to the move.
The Kabataan party-list made a harsh observation, saying President Rodrigo Duterte is "not only tolerant of drug lords but as protector, worst and most ironic of all."
"Duterte should know better that declaring Napoles as state witness will not make him escape liability. While the Aquino administration should also be held liable for its corrupt practices, Duterte's attempt to divert attention by reviving the issue will not successfully make him escape liability. If anything, it only proves that he is no different from the past corrupt and fascist administrations."
Senator Bam Aquino also voiced his displeasure. The Liberal Party senator on his official website decried the DOJ's recent moves.
"We'd like to remind the DOJ that their mandate is to enact justice for the Filipino people, not to protect drug lords and criminal masterminds.For the ordinary Filipino to have any hope for justice, the DOJ must stop perpetrating the culture of impunity in our country and begin upholding the rule of law."
He also criticized Aguirre, whom he urged to resign to give way to a credible and capable Justice Secretary.
Actress Agot Isidro, a staunch critic of the administration, on her Twitter account also slammed the DOJ's recent actions.
"The cases of Peter Lim, Kerwin et al. were dismissed. Janet Napoles is now under the Witness Protection Program. You call that Justice? How could that be?"
Week of surprises
The announcement on Napoles' transfer to the Witness Protection Program comes just three days after the Task Force on Anti-illegal Drugs recommended the dropping of charges against drug suspects Kerwin Espinosa and Peter Lim in a 41-page resolution.
One of the most notable responses to the resolution came from Duterte's ally, Senator Richard Gordon, who called the decision "terrible."
Duterte himself expressed his disappointment after the DOJ released the resolution, which was approved by acting Prosecutor Jorge Catalan Jr. He called for the resolution appealed and reviewed, leading Secretary Aguirre to form a new panel to oversee its review.