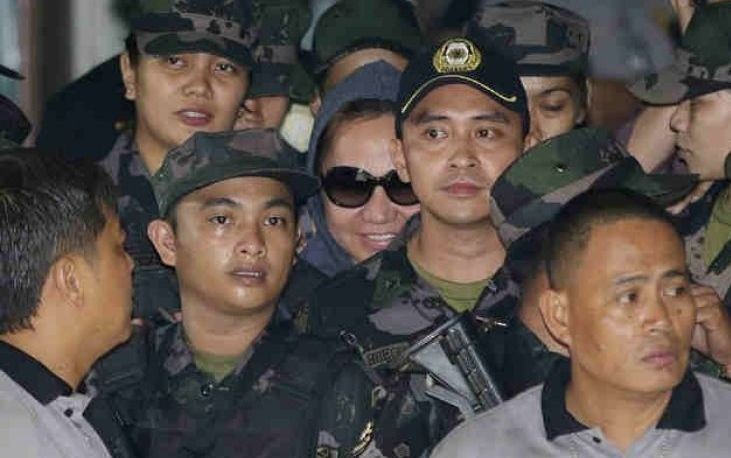 Fate of Janet Lim Napoles under Duterte government
LATEST UPDATE: March 20, 2019 - 12:23pm
LOCATION:
+ Follow Story
March 20, 2019
The Sandiganbayan's 5th Division has allowed former Sen. Jinggoy Estrada and alleged pork barrel scam mastermind Janet Lim-Napoles to seek the dismissal of their plunder case without presenting any counter-evidence, The STAR's Elizabeth Marcelo reports.
The two have been given 10 days to file their demurrers to evidence. A demurrer seeks the dismissal of the case based solely on the supposed weak evidence of the prosecution.
Estrada was allowed bail in 2017 and left detention at the Philippine National Police Custodial Center after paying bail of P1 million (P330,000 for the plunder case and P30,000 each for 11 counts of graft).
The anti graft-court court last December acquitted former Sen. Bong Revilla, in his pork barrel-related plunder case but convicted Napoles and Revilla's aide Richard Cambe.
December 28, 2018
The Sandiganbayan denies Janet Napoles' motion to remain at Camp Bagong Diwa in Taguig while she appeals her plunder conviction and orders her transfer to the Correctional Institution for Women in Mandaluyong City.
The court says Napoles failed to substantiate her claim that her transfer to the women's correctional will put her "life and security" at risk.
Earlier today, Napoles appealed her plunder conviction, saying she and Richard Cambe should have also been acquitted alongside former Sen. Ramon "Bong" Revilla, the primary accused in the case.
Napoles argued that Revilla's acquittal negates the key element of a plunder offense — that the main plunderer, who must be a public officer, amassed an ill-gotten wealth of at least P50 million.
She said she could not be considered as the main plunderer in the case as she is a private individual.
Janet Napoles appeals plunder conviction; says she and Richard Cambe should have also been acquitted just like the primary accused in the case, Ramon "Bong" Revilla Jr. @PhilippineStar pic.twitter.com/agzg91PqP5

— Elizabeth T. Marcelo (@marcelo_beth) December 28, 2018
She added that Cambe, the former aide of Revilla, could not also be the main plunderer as it was not proven that he received at least P50 million in kickbacks or commissions.
— Elizabeth Marcelo
August 2, 2018
Justice Secretary Menardo Guevarra says relatives of alleged pork barrel scam mastermind Janet Lim Napoles who are in the country may be extradited to the United States to face the money laundering charges against them.
In a message to reporters, Guevarra says: "Those (indicted Napoles kin) who are here and not facing charges in Philippines courts may be the subject of a request for extradition; those who are in the US may be immediately arrested."
The Justice chief adds that while Janet may not be extradited to the US due to her pending cases before Philippine courts, others may be extradited to the US.
"We shall continue to extend legal assistance to our US counterparts, including the possible extradition of certain persons who might be found here," Guevarra adds.
May 25, 2018
Alleged mastermind of the multi-billion pork barrel scam Janet Lim-Napoles is no longer under government protection, the Department of Justice says.
In a statement, Justice Secretary Menardo Guevarra says he has issued a letter to Napoles informing her of the termination of her witness protection program coverage effective May 25.
April 10, 2018
The First Division of anti-graft court Sandiganbayan denies the motion of alleged pork barrel scam mastermind Janet Lim Napoles to be transferred out of jail and into a witness protection program safehouse.
The court pointed out that Napoles is "presently under detention for a lawful cause.
March 22, 2018
Abigail Valte, the spokesperson of former President Benigno Aquino III, says alleged pork barrel scam mastermind Janet Lim Napoles has also offered to add names former Justice Secretary Leila de Lima wants to be included on the list.
"She said something to then-Secretary De Lima, this is not verbatim, sinabi niya na: 'Ma'am sino bang gusto niyong ilagay namin sa listahan?' And Secretary De Lima then was very shocked at that statement. Her reply was:'Wala kaming gustong idagdag mo sa listahan. Gusto namin kung sino talaga naka-transaksyon mo,'" Valte says in an interview with ANC.
She raises concerns about Napoles' credibility, saying that she is willing to do anything to get off the hook.
On Wednesday, Justice Secretary Vitaliano Aguirre II said Napoles named new officials involved in the multi-billion pork barrel scam.
He alleged that De Lima failed to reveal the names to cover up their involvement.
Aguirre, however, has not yet revealed who these officials are.
March 20, 2018
Justice Secretary Vitaliano Aguirre II admits that he and Executive Secretary Medialdea were consulted by the camp of pork barrel scam suspect Janet Lim Napoles two weeks ago.
Aguirre claims, however, that what Medialdea gave Napoles' lawyer Stephen David is his opinion, not legal advice.
"Sabi namin, file mo na lang 'yan, bahala na Sandigan," Aguirre says at a press conference.
This is despite Medialdea's earlier denial that he gave Stephen David, Napoles' lawyer, his advice on the suspect's transfer from jail to the DOJ's custody.
March 20, 2018
Executive Secretary Salvador Medialdea denies giving advice to the camp of Janet Lim Napoles.
The denial came after Napoles' lawyer Stephen David revealed yesterday (March 19) that the top Cabinet official gave them legal advice on the suspected pork barrel scam mastermind's transfer from jail to a witness' safehouse.
The Department of Justice admitted late last week that it granted Napoles provisional admission to the Witness Protection Program after she submitted a new sworn statement. Napoles, who is facing plunder charges herself, is seen to testify against officials of the Aquino administration in connection to a so-called scam using the Disbursement Acceleration Program.
The DAP, an allocation for government projects with Congress approval, was a controversial mechanism during the previous administration which the Supreme Court junked as unconstitutional.
March 16, 2018
"What an unbelievable crazy development," says Senate President Koko Pimentel, reacting to the change of status of alleged pork barrel scam mastermind Janet Lim Napoles, the STAR's Paolo Romero reports.
Meanwhile, Rep. Gary Alejano of Magdalo party-list called the Department of Justice's decision "skewed justice."
"The most guilty now becomes the state witness," Alejano says.
Alejano, a vocal critic of Duterte, says the Napoles as state witness would "afford her means to just point and put blame on anyone as has been the habit of this administration."
March 16, 2018
Justice Secretary Vitaliano Aguirre II explains to Philstar.com that while Napoles has been admitted, she is not yet physically under the witness protection program.
Justice Secretary Vitaliano Aguirre II on the provisional admission of Janet Lim-Napoles under DOJ's Witness Protection Program: @PhilstarNews pic.twitter.com/4LlkszhZNw

— Kristine Patag (@kristinepatag) March 16, 2018
March 16, 2018
From "mastermind" to "witness." Janet Lim Napoles, tagged as the brains behind the multibillion peso pork barrel scam has been placed under a provisional witness protection program after executing an affidavit, according to reports citing Justice Secretary Erickson Balmes.
Early last year, President Rodrigo Duterte and his solicitor general, Jose Calida, manifested their opinion that Napoles could be acquitted from the crime of serious illegal detention.
Napoles is also facing counts of graft and plunder for facilitating the transfer of congressional funds to bogus non-government organizations and projects.
She had also accused detained Sen. Leila de Lima of extortion. De Lima is a central opposition figure during the Duterte administration.
The Supreme Court has dismissed a petition by businesswoman Janet Lim-Napoles against the Office of the Ombudsman's finding of probable cause to charge her over her alleged involvement in the Priority Development Assistance Fund Scam. Napoles, convicted in 2015 for illegal detention, is allegedly at the center of a scam where PDAF funds were allegedly released to fake foundations that she created.