SC justices: We asked Sereno to take a leave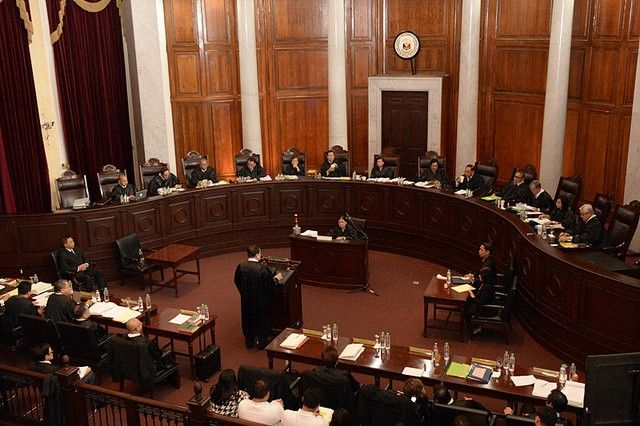 MANILA, Philippines (UPDATED 12:21 p.m.) — Chief Justice Maria Lourdes Sereno was asked by the justices to take an indefinite leave.
The justices of the Supreme Court on Thursday have broken their silence on what transpired in the en banc session on February 27 that prompted Sereno's filing for a leave.
LOOK: Full statement of the Supreme Court justices clarifying reports on Chief Justice Maria Lourdes Sereno's leave. | via @kristinepatag pic.twitter.com/kT2aPMEdXy

— Philstar.com (@PhilstarNews) March 1, 2018
"Thirteen justices present, arrived at the consensus that the chief justice should take an indefinite leave," the justices said in a statement read by SC spokesperson Theodore Te.
The statement bore the signature of 13 justices. Associate Justice Alfred Benjamin Caguioa, however, did not sign the statement as he is currently on leave while Sereno inhibited.
Te said there were "several reasons" mentioned by the justices for asking Sereno to take a leave.
Te added: "After consulting with the two most senior justices, the chief justice herself announced that she was taking an indefinite leave, with the amendment that she start the leave on Thursday."
Reports have cited that the justices' lost trust with Sereno following the developments in the impeachment proceedings against her.
Among the issues raised were her missing Statement of Assets, Liabilities and Net Worth when she applied for the chief justice position in 2012.
Associate Justices Teresita De Castro and Diosdado Peralta, in a hearing at the House of Representatives, said that it was a "grave injustice" when Sereno was included on the list of candidates despite failing to comply with the Judicial and Bar Council's SALN requirement.
READ: Magistrates say Sereno's inclusion on chief justice shortlist an 'injustice'
Contradicting statements damaged SC's integrity
The justices also stressed: "The Chief Justice did not request a rescheduling of her wellness leave."
The justices refuted the statement of the spokespersons of Sereno that said that the chief justice is merely taking a "wellness leave" and advancing her scheduled leave originally scheduled on March 12 to 23 to March 1.
Jojo Lacanilao, one of the spokespersons of Sereno, said that the chief justice opted to take a leave to prepare for the looming impeachment trial at the Senate.
The court en banc said it "regrets the confusion that the announcements and media releases of the spokespersons of the chief justice have caused."
It added that the statement released by the Sereno camp "seriously damaged the integrity of the judiciary and the [SC] in particular."
The National Union of Peoples' Lawyers earlier noted that if the reported confrontation among justices is true, "the losing party is the residual faith of the people unresponsive institutions whose roles are being wilted away, willingly or unwillingly, to de facto authoritarianism."
READ: NUPL: Public trust the real loser in reported Supreme Court spat
Senior Associate Justice Antonio Carpio will serve as the Acting Chief Justice during Sereno's leave.