Chinese welcome Year of the Dog
February 15, 2018 | 12:01am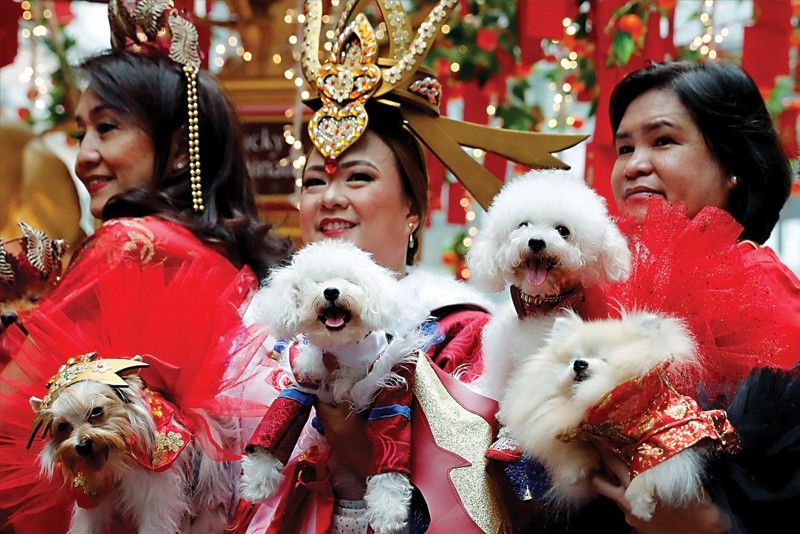 MANILA, Philippines — The Lunar New Year or Spring Festival is the most important holiday in the Chinese calendar. Tomorrow heralds the start of the Year of the Dog, symbol of loyalty, intelligence and honesty.
This year will be governed by the Earth element (the other elements being Metal, Water, Wood and Fire), indicating a more stable and grounded year.
While the Year of the Fire Rooster that ends today had people scrambling for opportunities coming their way, this year they can settle down and work on achieving their plans.
All across the world, Asian, specifically Chinese, communities – and, increasingly, even the local residents – gear up for the red-letter celebration.
In Manila, Binondo is abuzz with activity as bakery workers work overtime making tikoy or nian gao – sweet sticky rice cakes now available in many flavors like ube, cheese or pandan, aside from the traditional brown and white sugar – that are given as gifts or eaten at home during tonight's New Year's Eve dinner.
Nian gao also comes in the form of a fish – specifically koi – fish (yu) being a homonym for excess or leftover, following the adage nian nian yow yu, indicating abundance that will carry over to the next year. This is also the reason why a whole fish – head, tail, bones and all – is always part of the New Year's Eve meal.
The sidewalks of Binondo are crowded with vendors selling trinkets and amulets associated with prosperity and good luck. Prominent among these are rhizomes like ginger and turmeric, their nodes tied with red and gold ribbons. These symbolize wealth or good fortune growing exponentially, and also fertility, but in the light of our booming population, this may or may not be something to be desired.
In places like Hong Kong and Singapore, streets, stores, malls, restaurants, hotels and even offices and schools are decked out in red and gold with symbols of prosperity and the Dog. In one department store in Singapore, a solid gold Snoopy and Woodstock sculpture with total gold weight of 3.8 kilos is up for sale for S$288,000 (about P11,232,000).
Most malls have set up special tiangge areas with stalls selling all kinds of cakes and sweets in special packaging to give as gifts. Prosperity symbols in red and gold abound, and some stores give away free hong bao, red envelopes for the cash gifts that will be given out for the New Year to relatives, friends and employees.
But the giving of hong bao – or ang pao, as we know it here – has gone high tech. In China, digital hong bao can be sent via messaging app WeChat. Last year, 46 million such digital hong baos were sent, and the volume is expected to increase this year.
While the annual great human migration in China – millions upon millions of workers and students clog train and bus stations and airports in a mad rush to make it home for the New Year celebration – still happens, other aspects of the celebration have been modernized. In a bid to curb pollution, fireworks displays in China have gone high tech – drones light up the night sky over major cities like Beijing and Guangzhou with displays, synchronized to music, painting colorful pictures and calligraphy of New Year wishes.
Related video: