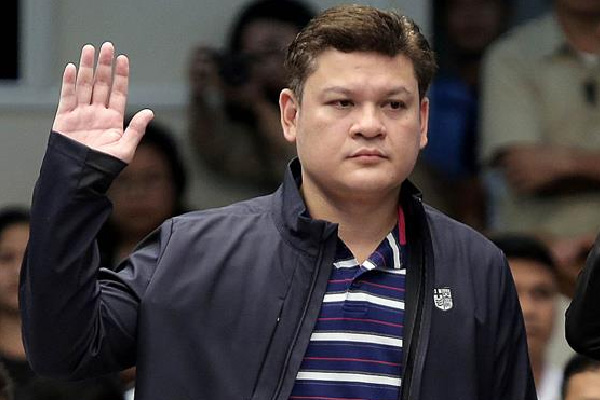 "You are in a position to do what is right. Kung ano lang ang tama sa iyo, gawin mo (Do what you believe is right)," President Duterte said he told his son after Paolo announced his resignation as Davao City vice mayor last Christmas. Senate PRIB/File
President Duterte to son Paolo: Do what you think is right
(The Philippine Star) - December 26, 2017 - 4:00pm
MANILA, Philippines — Paolo Duterte did not resign on orders of his father the President.
"You are in a position to do what is right. Kung ano lang ang tama sa iyo, gawin mo (Do what you believe is right)," President Duterte said he told his son after Paolo announced his resignation as Davao City vice mayor last Christmas.
Asked for comment about the resignation, the President said he had told Paolo, "Let the people decide, but if you think that there is a better way to do it, do what is right."
The President was quick to point out that he never suggested any specific action for his son to take.
"I never suggested any resignation," Duterte said.
Paolo announced his resignation last Dec. 25 during a special session of the city council to declare Davao in a state of calamity after it was struck by floods last Dec. 22 that displaced more than 31,000 of its residents.
The President said Paolo told him about his plan of stepping down on Christmas eve.
"Nagtanong siya kagabi. Doon kami nagkita-kita… 'yung magkapatid, si mayor pati siya. Habang naghihintay kami ng balita, tinanong niya ako (He consulted me last night. We were together, including the mayor, while we waited for the news)," the President told reporters in an interview before dawn yesterday at the Southern Philippines Medical Center in Davao.
Duterte said Paolo may have had enough of the bad press he has been getting, including the controversial pre-debut pictorial of his daughter Isabelle in Malacañang as well as the Senate Blue Ribbon committee's hearing on his alleged involvement in smuggling purportedly facilitated by the so-called Davao group.
"He considers (all this) most unfair to him," the President said.
Paolo, for his part, stressed that certain events in his life led him to step down.
"There are recent unfortunate events in my life that are closely tied to my failed first marriage. These, among others, including the maligning of my reputation in the recent name-dropping incident in the Bureau of Customs smuggling case and the very public squabble with my daughter (led me to resign)," Paolo said in a statement.
Mayor Sara Duterte, Paolo's sister, said the vice mayor was considered on leave as the approval of his resignation has to come from the Office of the President.
Supporting the mayor's position, Department of the Interior and Local Government (DILG) officer-in-charge Catalino Cuy said Paolo's resignation needs presidential approval.
"The Office of the President will have to approve the resignation since Davao City is a highly urbanized city and, by operation of law, the first councilor will take over," Cuy told The STAR, adding that the political party which caused the vacancy in the council can recommend a replacement.
DILG undersecretary for local government Austere Panadero supported Cuy's statement, citing provisions on succession in the Local Government Code.
Presidential legal adviser Salvador Panelo said Paolo is like his father, President Duterte.
"He's very sensitive, just like the father, and he's smart – as a politician, as a public official, and as a family man," Panelo said.
Another Duterte should resign
Following Paolo's resignation, former solicitor general Florin Hilbay said he wished it was another Duterte who stepped down as a "real Christmas gift" to Filipinos.
"There's a real Christmas gift Filipinos deserve: someone else's resignation, for the many unfulfilled promises, failures, avoidable tragedies, dishonesty and culpable violations of the Constitution," Hilbay said in a Twitter post hours after Paolo's resignation.
While Hilbay did not name who he was referring to, it is known that the President could be impeached for culpable violation of the Constitution.
Hilbay is a vocal critic of President Duterte's administration, defending Sen. Leila de Lima in her drug-related cases and petitioning against Duterte's war on drugs before the Supreme Court.
"The resignation shows there is still delicadeza (propriety) in public service. We hope the President will evaluate the resignation with only the good of the city in mind and not political pressure from the opposition," Quezon City Rep. Winston Castelo said.
Parañaque Rep. Gus Tambunting commended the Chief Executive's son for making his decision based on delicadeza.
"I respect the decision of vice mayor Duterte. It is his prerogative if he believes his resignation is in the best interest of his family. Let the legal succession take its course so the functioning of Davao City will not be stalled," Tambunting said.
The younger Duterte's resignation didn't sit well with members of the opposition bloc, as expected.
"It will not divert from the fact that while the Duterte family claims that they are poor and simple, Isabelle showed the opposite through an ostentatious display of wealth and power," Rep. Gary Alejano of party-list Magdalo pointed out.
"It will not mitigate the suffering and death of the people of Davao and other places due to flooding and fire. They need all the support from all of us, especially from the concerned agencies of government," he added.
"Or is he preempting an ombudsman decision on his corruption case?" Alejano, a close ally of opposition Sen. Antonio Trillanes IV, remarked.
Alejano was joined by Reps. Antonio Tinio and France Castro of party-list Alliance of Concerned Teachers, who both belong to the militant and left-leaning Makabayan bloc composed of seven lawmakers.
"Removing himself from public office will not make questions on his alleged links to the Davao group and the smuggled P6.4-billion shabu shipment go away," said Tiñio.
"He should have resigned when he was first linked to the Davao group and the smuggling of the P6.4-billion shabu. But resignation or not, this should not guarantee that he is free from answering the allegations regarding his participation in illegal activities and his accountability for them, should any be found," Castro maintained. – Edu Punay, Cecille Suerte Felipe, Delon Porcalla