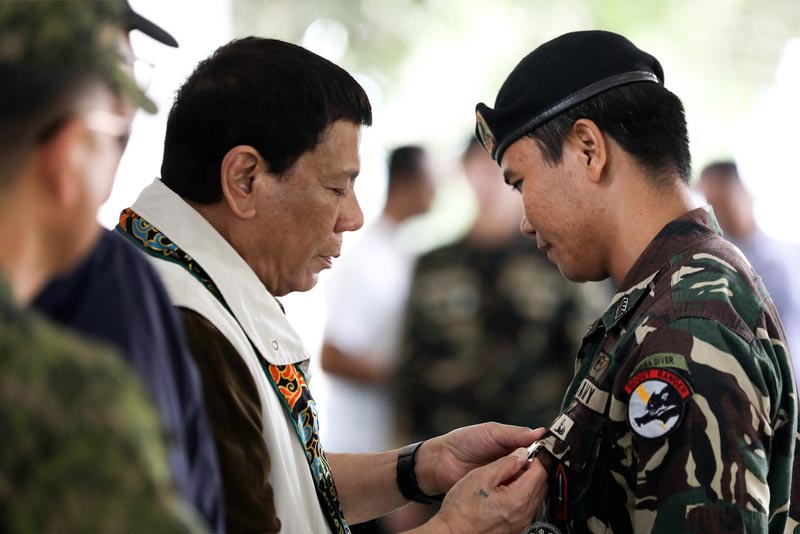 President Rodrigo Duterte confers the Order of Lapu-Lapu award on one of the troops who contributed to the successful liberation of Marawi City from the terrorists during his visit at Camp General Teodulfo Bautista in Barangay Bus-Bus, Jolo, Sulu on December 1, 2017. Also in the photo are Armed Forces of the Philippines (AFP) Chief of Staff General Rey Guerrero, Defense Secretary Delfin Lorenzana, and Special Assistant to the President Christopher Lawrence Go. Presidential Photo/Simeon Celi Jr., File
Duterte: I offered to resign, again, if pay rise of soldiers not enacted
MANILA, Philippines — President Rodrigo Duterte revealed Wednesday that he threatened to resign, again, if Congress would not approve a pay rise for the country's uniformed personnel, a major plank of his campaign platform when he ran for the presidency last year.
Duterte said that he told lawmakers to prioritize his promise to uniformed personnel that he would double their salaries over the government's first package of tax reform needed by the administration to fund its ambitious infrastructure program and social services.
He said that he would step down if this promise was not fulfilled as a "matter of principle."
"Because I promised you that I will double your salary, I told them, 'Prioritize my promise because if this will not pass I will resign as a matter of principle," the president said in his speech during the Armed Forces' 82 anniversary celebration in its headquarters in Quezon City.
The president said he made the pronouncement in early part of 2017 when Congress was "in quandary" whether to prioritize the tax reform bill or his promised pay rise.
"I told Bong, if I become embarrassed I will resign," he said, referring to Christopher "Bong" Go, his special assistant.
This latest remark demonstrates two tendencies of the president: to talk about how he cares for the military and to offer to step down from office.
Early this month, the president mused how he and the late dictator Ferdinand Marcos supported the military and were "lover of soldiers."
"I'm not bragging. Only two presidents really paid attention to the needs of soldiers. Only I and Marcos," he said in remarks before soldiers who fought in Marawi City.
The president has also shown proclivity in offering to resign under certain conditions.
Just late last month, he said that he would step down if a Constitution that would suit Filipinos' way of life and correct the country's problems would be crafted.
"Maybe it's a dream, but after that, and it's a Constitution that will suit our way of life and correct the evil things there, I will tender my resignation," he said in anti-corruption summit.
READ: Rody dares Sereno, Morales: Let's resign
He also vowed to step down if any if his children dabbled in corrupt activities amid question over the true extent and source of their family's wealth.
However, when his promise to eradicate drugs and crime on the country's streets did not materialize, the president backtracked and said that he did not fully understand the scale of the problem and thus needed more time.
Duterte also thanked the military, the police and other uniformed personnel for their efforts in preventing sympathizers of the Islamic State group from establishing the center of its caliphate in Southeast Asia in Marawi City, scene of the intense five-month battle.
During the speech, Duterte also announced a slew of support for soldiers, both retired and active.
He said that he was providing P50 million month subsidy each for V. Luna Hospital and Veterans Memorial Hospital that would be used for the medicines of both retired and wounded soldiers. He added that he would deliver the fresh funds right after the ceremonies at Camp Aguinaldo.
The president added that the children of soldiers would be able to finish their studies as he urged them to stop worrying about their future.
"Do not worry about your families. Do not kill yourself thinking about what will happen tomorrow," he said.
He also reiterated his support for a social welfare fund for the military which could be financed by the Armed Forces by leasing or entering into joint venture agreements on its camps.