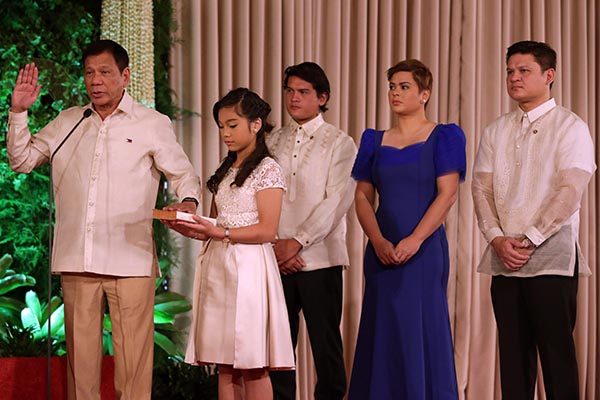 President-elect Rodrigo Roa Duterte takes his Oath of Office as the 16th President of the Republic of the Philippines with his children standing at his back as witnesses. Supreme Court Justice Bienvenido L. Reyes administers his oath. Presidential Photographers Division/Released, file
Duterte repeats: I will resign if any of my children are corrupt
MANILA, Philippines — President Rodrigo Duterte stressed Wednesday that he is ready to resign if any of his children commit corruption after the name of Davao City Vice Mayor Paolo Duterte, his eldest son, was dragged into the smuggling controversy hounding the Bureau of Customs.
Duterte said he does not condone corrupt practices and would not hesitate to fire anyone involved in irregularities.
"Corruption was really one I do not like. Pati 'yung anak ko ngayon, sinasali diyan sa Customs (Even my son is being dragged in the issues involving Customs). I told you before and I'm telling you now again, if any of my children is involved in corruption, I will immediately resign. That, you have my word," the President said.
"I really do not tolerate corruption. Any official who entertains (corrupt practices) with the intervention of any of my sons and daughter, that is enough for me. I will fire you and I will press charges against you and my relative, wherever he is," he added.
"You will have the luxury of seeing me go down. I really do not need this job. I've had enough."
Earlier, an importer said in a House inquiry that people involved in bribery activities at the Customs bureau had been dropping Paolo's name.
Importer Mark Taguba said a certain "Tita Nanie" to whom he was giving P10,000 bribe per container, had told him that the money would go to a "Davao group" headed by the vice mayor.
He admitted though, that, it is possible that Paolo's name was just used to facilitate the entry of the smuggled drugs.
Duterte urged businessmen not to allow themselves to become victims of corrupt officials.
"Do not allow yourselves to be fooled by just a worker of government," the President said.
"If there's corruption, even just a whiff, murahin na ninyo (curse at them)," he added.
Duterte also expressed willingness to step down if he fails to address illegal drugs and terrorism.
"If I cannot control drugs, if I cannot defeat terrorism, you'll have my resignation believe me. Give me a chance to kill them one at a time. It is not easy to commit murder," he said.