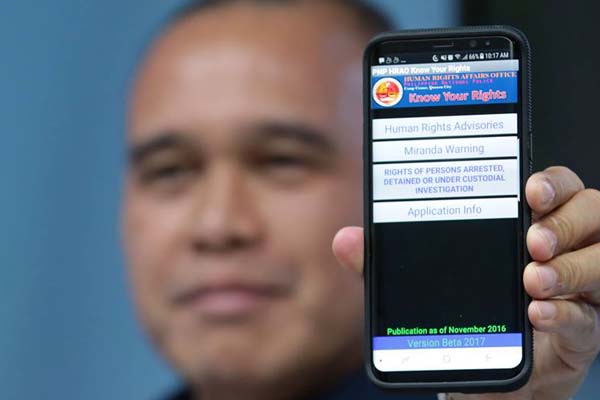 PNP on Monday launched the "Know Your Rights" mobile application, which features human rights advisories such as anti-torture reminders, the Miranda doctrine, conduct on custodial investigation and the implementation of search warrants. Civilians can likewise install the application on their phones so they will be informed what policemen can or cannot do. The STAR/Michael Vargas
PNP Human Rights app 'fixed' to address privacy concerns
(Philstar.com) - December 7, 2017 - 2:50am
MANILA, Philippines — The Philippine National Police "Know your Rights" mobile application no longer needs to pull users' contact logs, photos, and contacts.
Department of Information and Communications Technology Assistant Secretary Allan Cabanlong told Philstar.com that he has advised the PNP Human Rights Office to fix the coding of the application.
A trial download of the mobile application on Thursday showed that it no longer prompts users to give it access to private information.
Cabanlong said that the access prompt was part of the feedback module of the mobile application.
"Applications have a feedback module. It will have to ask permission from the user. If you want to send feedback, you will fill up the form. You are disclosing your identity," Cabanlong explained.
He said that as of Friday night, the feedback module has been fixed.
This, however, means the user will need to send the PNP's Human Rights Affairs Office should they have comments on the application.
The PNP launched the "Know Your Rights" mobile application on Monday. The app, which all police personnel are expected to download and use, features human rights advisories such as anti-torture reminders, the Miranda doctrine, conduct on custodial investigation and the implementation of search warrants.
The public was also encouraged to install the application on their phones to be better informed on police protocol during arrests and searches.
The application is available for Android devices.
READ: Karapatan on PNP's human rights app: 'Perfect example of hypocrisy'
However, some social media users raised concerns that the app asks for access to users' contact logs, photos, and contacts.
They said these pose potential privacy risks for those who download the mobile application.
Cabanlong said that he talked to Chief Superintendent Dennis Siervo of the PNP HRAO on Thursday and asked the office to fix the code of the mobile application.