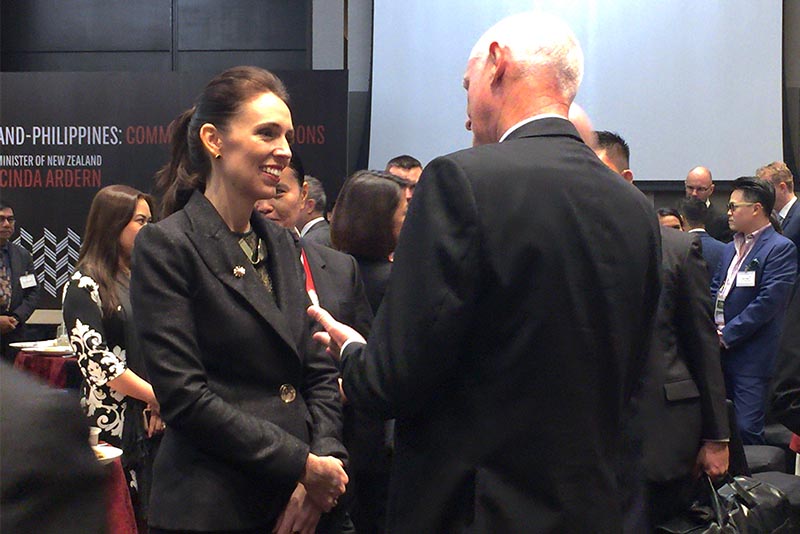 New Zealand Prime Minister Jacinda Ardern speaks with a guest at a breakfast meeting on Tuesday, Nov. 14, 2017 where she witnessed a signing of a tourism agreement, among others, between two corporations that would allow direct flights from Manila to Auckland. Ardern is in Manila for the East Asia Summit and related ASEAN meetings. Philstar.com
Philippines, New Zealand ink deal to improve tertiary education
(philstar.com) - November 15, 2017 - 6:02am
MANILA, Philippines — The Philippines and New Zealand inked a memorandum of cooperation that aims to improve the quality of education in the country.
The agreement was signed during the bilateral meeting of Philippine President Rodrigo Duterte and New Zealand Prime Minister Jacinda Ardern at the Philippine International Convention Center late Tuesday afternoon.
The memorandum of cooperation between the New Zealand Qualification Authority and the Philippines' Commission on Higher Education centers on the "comparative analysis of bachelor degrees between the two countries."
CHED Chair Patricia Licuanan and New Zealand Ambassador to the Philippines David Strachan signed the agreement.
Malacañang has yet to release additional details on the agreement as of posting.
Duterte said this step is "one good development" as it opens the doors for Filipinos to "have access to the equality of education in New Zealand."
New Zealand is among the dialogue partners of the Southeast Asian bloc. The country is host to more than 50,000 Filipinos and is home to a Philippine student population of more than 4,000.
Earlier on Tuesday, Ardern also officiated the signing of a new cooperation agreement allowing nonstop direct flights from Manila to Auckland.
The 37-year-old Ardern, who has taken the seat as prime minister just end of October, announced that the flights would commence in December.
The new flight route would also further enable links between people and businesses in the two countries.
Ardern said New Zealand gets 23,000 visitors from the Philippines annually. The Philippines, meanwhile, welcomes around 29,000 visitors from New Zealand.
Jaime Bautista, president of the Philippine Airlines, signed the memorandum of understanding with Tourism New Zealand CEO Stephen England-Hall at a breakfast meeting on November 14.