Duterte uses SONA time to lash out at media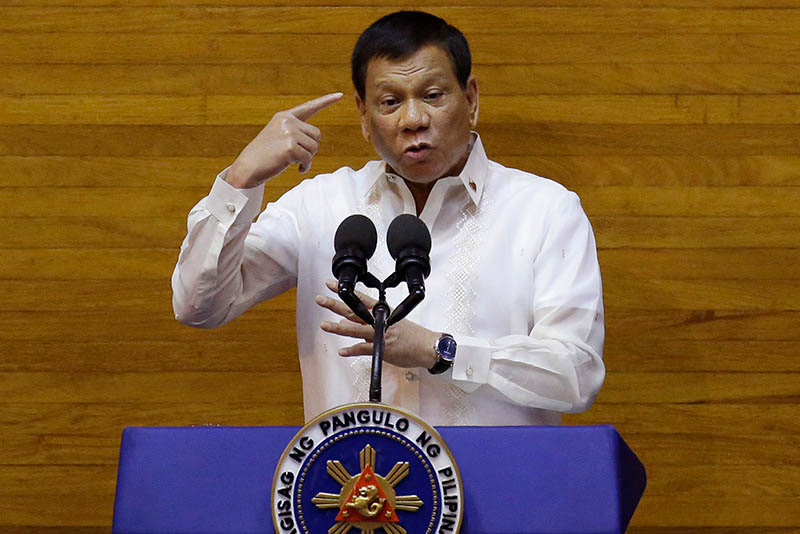 MANILA, Philippines — President Rodrigo Duterte launched on Monday a scathing attack on media organizations that have been critical of his policies and statements.
In his second State of the Nation of Address, the president claimed that online news outlet Rappler is foreign-owned and bragged that he has cursed at other media outfits including television network ABS-CBN .
"When you are a newspaper, you are suppose to be 100-percent Filipino, and yet when you start to pierce their identity, it is fully owned by Americans," he said.
"Have you tried to pierce your identity? And I would lead you to America. Do you know that? And yet the Constitution requires you to be 100-percent media, Filipino. Rappler tried to pierce the identity, and you will end up American ownership," Duterte said.
Duterte reminded that the Constitution requires local news organizations to be 100-percent owned by Filipinos.
Rappler, however, is not a newspaper and while partially financed by foreign grants, is Filipino-owned. This is the first time the president made a public statement against Rappler. ABS-CBN Corp., meanwhile, is part of the Lopez group of companies.
ALSO READ: Rambling 2-hour SONA: Duterte skips key issues
Duterte, in his speech, took a snipe rant to ABS-CBN, which he previously lambasted for allegedly protecting its vested interests and for its alleged bias.
In the middle of talking about the Marawi siege, Duterte lamented how the television station highlighted his order to wipe out terrorists, whom he refer as enemies of state.
"This media lalo na itong ABS kunin lang yang 'kill them.' Yan ang problema niyo kaya minura ko kayo," Duterte said.
"Walang presidente na pinut*ng in* kayo because you are not behaving," he added.
Duterte said that instead of taking prisoners, he ordered the military to kill the terrorists.
"I said kill them in a fight if you have to shoot them, shoot them at the heart or the head. Sabi ko why, because they will be detained here in Marawi. Wala tayong presohan," he added.
Duterte has been hostile to the media, which have been reporting off-color remarks and jokes.