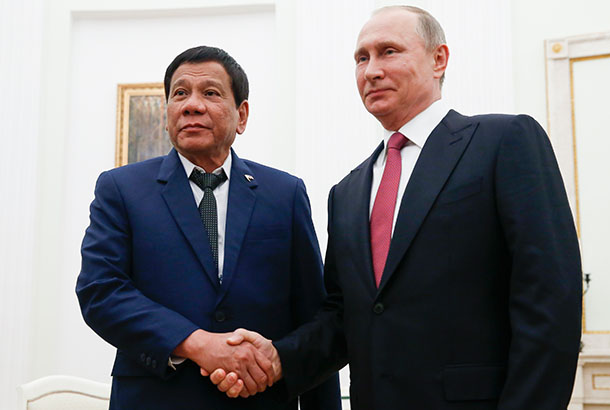 Russian President Vladimir Putin, right, shakes hands with Philippine President Rodrigo Duterte during their meeting at the Kremlin in Moscow, Tuesday, May 23, 2017. Maxim Shemetov/Pool Photo via AP
Duterte: Talks with Russia, China 'most meaningful' at APEC
MANILA, Philippines — For President Rodrigo Duterte, his meetings with Russian President Vladimir Putin and Chinese President Xi Jinping were the most meaningful bilateral talks he had at the Asia Pacific Economic Cooperation Summit in Da Nang, Vietnam.
"I renewed my friendship with President Vladimir Putin of Russia and with President Xi Jinping of China," Duterte said in his arrival speech at the Ninoy Aquino International Airport early Sunday morning.
The president said his talk with Xi lasted for more than two hours and he said he "sees a bright future" for ties between the Philippines and China.
He thanked Xi for giving aid during the five-month-long Marawi crisis.
READ: How other countries helped regain Marawi
"Nothing to do with military. I have stated before and I was not lying, I would not entertain talks about military or anything except that I had to thank Mr. Xi Jinping for the timely and crucial help that he extended to our country when we were fighting the siege of Marawi," Duterte said.
Duterte also considers his meeting with Putin "fruitful", citing that the Russian leader expressed support for his anti-illegal drugs campaign.
"They have extended their open support for us in fighting terrorism and drugs. And almost all of them also have the same problem. So madaling kausapin (They are easy to talk with) because we're… They're also suffering from the same, the scourge with drugs," Duterte said.
The two countries provided military aid during the Marawi crisis by donating military equipment to battle terrorism. China also gave $3 million worth of heavy equipment to be used for recovery, reconstruction and rehabilitation efforts in Marawi City.
READ: Russia donates military equipment to Philippines | China turns over construction equipment for Marawi rehabilitation
'China open to working on Code of Conduct'
Foreign Affairs Secretary Alan Peter Cayetano confirmed Duterte's bilateral talk with Xi. He said the two leaders spoke about the West Philippine Sea and the South China Sea issue and the strengthened relationship of the two countries.
"It's a big honor and it shows the growing and strengthening relationship between the Philippines and its neighbor, particularly China," Cayetano said in a chance interview with reporters.
"It also symbolizes the economic ties and economic development because the premier is in charge of the economy, so it should be a great visit. We're making all the preparations and we're attaching great importance to his visit," he added.
According to Cayetano, the Philippine and Chinese leaders also made assurances regarding the sea dispute. He said the dispute is still present but they have found a way to deal with it.
"I think everyone, not only China and the Philippines, the other claimants... really want South China Sea to be a sea of peace and stability and I think we will move forward on the Code of Conduct," Cayetano said.
"The disputes are still there but I think we have found a way to put that as one part of the relationship, small part of the relationship, which we have to deal with — and then have a bigger part of the relationship, which is cooperation in security, in economics, in education, in anti-poverty," he said.