High-profile lawyers behind Manlaban sa EJK alliance
November 2, 2017 | 9:19am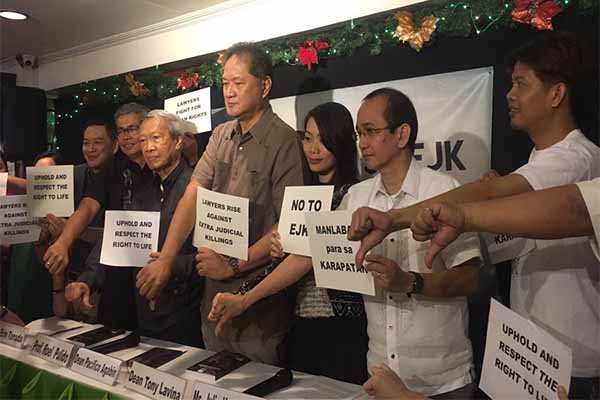 MANILA, Philippines — A group of lawyer-academicians who built their career on providing legal assistance to the poor have banded together to form an alliance amid the rising deaths under the government's bloody drug war.
Mga Manananggol Laban sa Extrajudicial Killings or Manlaban sa EJKs was launched on Thursday, November 2. The group wants to join what they call as "the ever-growing voices of protest against rampant killings" in the administration of President Rodrigo Duterte.
The alliance said that it will be conducting forums, releasing statements and legal opinions on human rights issues, and provide concrete legal assistance to kin of EJK victims.
READ: Human rights should be a concern to all Filipinos - Gascon
Here are the people behind the new alliance of legal professionals:
Pacifico Agabin
Agabin rose to prominence as a constitutional law expert. He taught constitutional law, legal history and legal method in the University of the Philippines College of Law in 2003, where he also served as dean from 1989 to 1995. He then taught, and served as Dean in the College of Law Lyceum of the Philippines University from 2004 to 2009.
Minerva 'June' Ambrosio
Ambrosio head s the Integrated Bar of the Philippines National Center for Legal Aid that provides assistance to abused children and women. She also heads the advocacy group of Child Justice League Inc.
Victoria 'Vickie' Avena
Avena was a longtime private practitioner before she joined the academe. She has been teaching Civil Procedure and Evidence since 1994 at the University of the Philippines College of Law. She is also a lecturer at the UP Law Center Institute on Government and Law Reform.
Roberto Eugenio Cadiz
Cadiz is the focal commissioner for Business and Human Rights; Environment; International Humanitarian Law; Peace; and Sustainable Development Goals at the Commission on Human Rights. He served as the former Executive Director of Libertas, a non-government organization for lawyers, and Pera at Pulitika, an electoral reform consortium.
Atty. Neri Colmenares
Former Bayan Muna Rep. Colmenares made a name for being a human rights lawyer. He is a survivor of human rights violations and abuses during the Martial Law of the late strongman Ferdinand Marcos Sr. During his 12-yr stint at the Lower House of the Congress, Colmenares championed the causes of workers and urban poor.
Jose Manuel 'Chel' Diokno
Diokno is the founding dean of the De La Salle University College of Law, that highlights human rights and legal aid in its law program. He sits as the Chairperson of the Free Legal Assistance Group (FLAG) that has recently filed a petition before the Supreme Court asking it declare the war on drugs as unconstitutional.
Antonio Gabriel 'Tony' La Viña
A veteran human rights and environment lawyer from Mindanao, La Viña currently teaches law, governance and philosophy in several universities inlcuding UP, Ateneo de Manila, Xavier University, La Salle, PUP, Lyceum, San Beda Graduate School of Law and PLM Graduate School of Law. He is a former dean of the Ateneo School of Government.
Ernesto 'Ernest' Maceda Jr.
Maceda currently teachers Constitutional Law. He served as the president of the Philippine Association of Law Schools.
Edre Olalia
Olalia is the president of the National Union of Peoples' Lawyers, the biggest nationwide non-government human rights lawyers' organization that handles cases pro bono. Among its notable pursuits in trial courts are the case of drug mule Mary Jane Veloso and peasant activist Jonas Burgos.
Rachel Pastores
Pastores, a lawyer, is the president of the Public Interest Law Center, a public interest law office founded by Romeo Capulong. She serves as counsel in many cases of political prisoners.
Roberto Rafael 'Roel' Pulido
Among the student leaders during the Marcos martial law rule, Pulido, a lawyer, has gone on to become a law practitioner and faculty member of the University of the Philippines School of Economics. He also sits as the chairman of the Political Law Department of Arellano University School of Law.
Rene Saguisag
The former senator is a known martial law critic, who challenged Duterte's martial law in Mindanao before the Supreme Court.
Lorenzo 'Erin' Tañada III
For Quezon City Rep. Tañada is human rights lawyer who pushes for the establishment of a coco levy trust fund for farmers, freedom of information, fair trade, agricultural development and food security, among others.
Evalyn Ursua
Ursua, a lawyer, represented "Nicole" in the Subic rape case that convicted US Marine L/Cpl. Daniel Smith. She is also one of the petitioners in asking the high court to protect the rights of drug war victims.
Cleto Villacorta III
Judge Villacorta holds his sala at Quezon City. He pushes for the realization of national democratic principles.