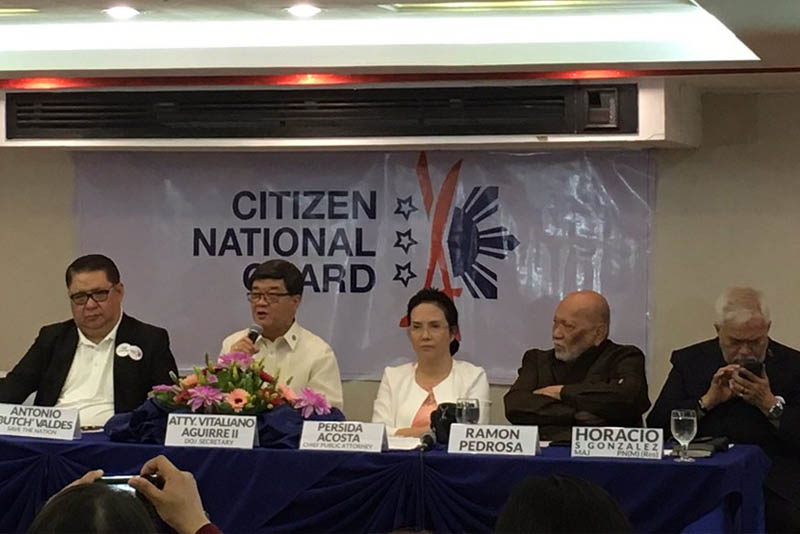 Justice Secretary Vitaliano Aguirre II and chief public attorney Persida Acosta attend the launch of the Citizen National Guard. STAR/Romina Cabrera via Twitter
Aguirre, Acosta just supporters of group vs 'enemies of the state'
(philstar.com) - October 6, 2017 - 2:30am
MANILA, Philippines — Justice Secretary Vitaliano Aguirre II and Public Attorney's Office Chief Persida Acosta clarified that they are not members of the Citizen National Guard, a group formed against "Yellowtards" and other so-called enemies of the state.
The two top Justice officials clarified that they were "just invited" to attend the launch although both pledged support for the CNG's advocacy.
READ: Aguirre, Acosta back new group against state 'enemies'
In a text message, Acosta stressed that the CNG is not a private army.
"(They are) retired soldiers and civilians — they are professionals," she said in Filipino in a text message. She said one of the members of the group is a former member of Congress but gave no names.
Defense Secretary Delfin Lorenzana on Thursday said that he is looking into getting more information on who is in the group.
Military insiders have reportedly expressed fear that the new group could turn out to be a private army.
READ: Alvarez, AFP: No destab moves but...
Citizen National Guard Inc. is registered with the Securities and Exchange Commission as a non-stock corporation and classified under "Activities of Professional Organizations".
Progressive group Makabayang Alyansang Makabayan, or Bayan, has flagged the two Justice officials for "endorsing the formation of a vigilante and reserve officers" under the group.
Bayan Secretary General Renato Reyes stressed: "What is their basis in defining who 'enemies of the state' are? It seems that all critics of the regime are branded enemies of the state."
READ: Group alarmed by creation of 'citizens guard' against enemies of state
The Citizen National Guard said that it aims to protect the government from its perceived enemies, namely:
ISIS-inspired terrorism
Communist Party of the Philippines-New People's Army
Drug cartels
Seditious political opposition (Yellowtards)
Foreign intelligence agencies generation international support for regime change
The term "yellowtard" is thrown around by internet users referring to loyal supporters of the Liberal Party, the political party of Duterte's predecessor, Benigno Aquino III. It is a play between the yellow, the color associated with the moribund party, and retard, which indicates a delay in progress.
It is also a play on "retard", an offensive term used to refer to people with cognitive disabilities.
The label, however, has also been used by Duterte's supporters on any critic of the administration regardless of political allegiances.
President Rodrigo Duterte claimed in a media interview on Wednesday that "yellow" and "red" forces are orchestrating a move to unseat him.
Opposition groups have denied the existence of a supposed conspiracy. They said the government is just bringing it up to divert attention from legitimate issues against the Duterte administration.
READ: CPP: No 'Red-Yellow' conspiracy
Although Justice Secretary Aguirre denies being a member of the CNG, he said that he has formed his own group that is "similar" to the CNG.
Asked to provide more details, the Justice secretary replied: "In due time."