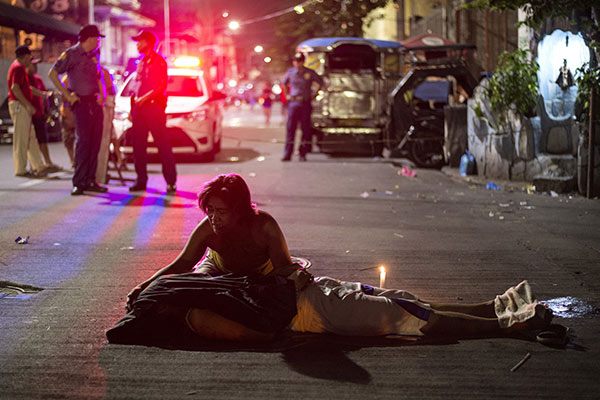 Nanette Castillo grieves next to the dead body of her son Aldrin, an alleged drug user killed by unidentified assailants, in Manila on October 3, 2017. Philippines police officers who want to speak out about "extrajudicial killings and summary executions" in President Rodrigo Duterte's drug war have been offered sanctuary and legal help by the Catholic Church. The Catholic Church, which counts 80 percent of Filipinos as followers, has been one of the leading critics of the drug war and its offer to police on Monday was another step in its efforts to stop the killings.
Noel Celis/AFP
Group alarmed by creation of 'citizens guard' against enemies of state
MANILA, Philippines — Progressive group Bagong Alyansang Makabayan or BAYAN Wednesday slammed Justice Secretary Vitaliano Aguirre and Public Attorney's Office chief Persida Acosta over their show of support to the newly created "Citizens National Guard" which is supposed to protect the government against "yellowtards" and other "enemies of the state."
"Is the DOJ endorsing the formation of a vigilante group of retired and reserve officers under the Citizens National Guard? What is their basis in defining who 'enemies of the state are'? It seems that all critics of the regime are branded enemies of the state," Bayan secretary general Renato Reyes said in a statement sent via text message.
The PAO is an attached agency of the Department of Justice.
On Tuesday, Aguirre and Acosta attended the launching of the Citizen National Guard which supposedly aims to protect the government from its perceived "enemies" identified by the group as the following: ISIS-inspired terrorism, Communist Party of the Philippines-New People's Army, drug cartels, seditious political opposition (Yellowtards) and foreign intelligence agencies generation international support for regime change.
BAYAN said that aside from vagueness of the group's composition what is more alarming is that the groups has the backing of the DOJ.
"This is a dangerous move, as it appears to be an endorsement of armed violence, or a threat thereof, aimed at Duterte critics. That this group has the backing of the DOJ Secretary aims to give it a cloak of legality, no matter how vague the composition and objectives of the group are," Reyes said.
"Given the terrible state of human rights in the Philippines, a government-backed vigilante or para-military group seeking to counter Duterte critics is indeed a cause for concern," he added.
Meanwhile, human rights group Karapatan said the Duterte administration's continued denial of the rampant summary killings and human rights violations in the country already warrants the Philippines' removal as member of the United Nations Human Rights Council.
"If the Duterte administration continues to desperately dismiss the existence of extrajudicial killings and other rights violations, despite overwhelming reports from human rights and people's organizations within the country and concurrence from other governments, its delusional denial is clear proof that it has no qualification nor credibility to be a member of an international human rights body such as the UN Human Rights Council," said Karapatan Secretary General Cristina Palabay
Palabay added that "it is the government's obligation to 'balance' its compliance to international human rights instruments that it has signed and ratified, instead of its constant distortion and redefinition of the rights of peoples to justify its crimes."
Just last month, 39 countries including the United States issued a joint statement expressing their alarm over what they described as the rising "climate of impunity" in the Philippines due to the rising cases of extrajudicial killings in connection with the administration's war on drugs.