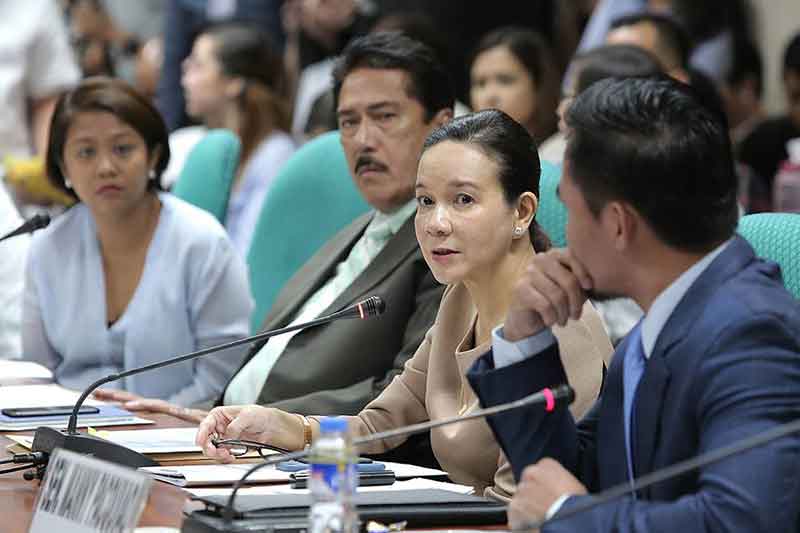 "If fake news is not challenged, it will create lynch mobs out of certain people, turning them into an army of character assassins, who can be unleashed, with just one meme, to destroy an idea, a person, or an institution," Sen. Grace Poe said. Senate PRIB/Alex Nuevaespaña
'Fake news cultivates a culture of lying'
MANILA, Philippines — Sen. Grace Poe on Wednesday expressed concern over the proliferation of misleading news and fake information which, if unchecked, "cultivates a culture of lying."
The Senate Committee on Public Information and Mass Media started an inquiry into the proliferation of fake news and invited officials of the Presidential Communications Operations Office, bloggers and journalists.
"If purveyors are allowed to get away with their lies, they embolden government officials to also lie in order to escape accountability, crush dissent and commit illegal acts with impunity," Poe said in her opening statement.
The senator noted that fake news has become pervasive through the use of so-called bots and trolls, making fake social media accounts swaying public opinion, shaping public discourse, affecting social interaction and influencing government.
"Fake news is the e-version of the budol-budol, which many of our people unable to distinguish fact from fiction fall victims to. It is not even farfetched that in the future fake news can trigger wars," she said.
LIVE: Senate probe into 'fake news'
"If fake news is not challenged, it will create lynch mobs out of certain people turning them into an army of character assassins who can be unleashed with just one meme to destroy an idea, a person or an institution," Poe said.
The Senate hearing seeks to identify the role of the government in addressing the lack of news literacy.
The senator cited Taiwan as an example where children in school are being taught media literacy to help them identify news from hoaxes.
"Should news literacy be required by schools?" Poe asked.
Wrong online behavior can be reflected in real life, the senator said.
"Kung hahayaan natin 'yan baka lumaki ang mga bata ngayon na intolerant sa pananaw ng iba at madaling maniwala sa haka-haka. We need to expose them in a kind of converasation that eduicates and enlightens, that relies on truth and not the kind that respects facts," Poe said.
The senator also suggested that public officials be held accountable for releasing wrong and misleading information.
RELATED: Aguirre faces complaint over 'fake news'
'Oxymoron for lying'
Veteran journalist Ellen Tordesillas of VERA Files said the term "fake news" is an oxymoron for "lies."
Tordesillas, whose team at VERA has been fact checking official statements, said it is government officials who tend to play fast and loose with facts.
"Pag sinabi kasi ng isang opisyal, you quote as accurately as you can. If it is a lie, do you report a lie accurately?" Tordesillas said.
She said that to to help address the problem of fake news, the burden lies on the sources of falsehood.
President Rodrigo Duterte himself has been the subject of fact checks of news agencies for his statements on the drug war and the clash in Marawi City. — with Camille Diola