'Strong' Marawi priest smiles after Maute hostage ordeal ends
September 18, 2017 | 10:33am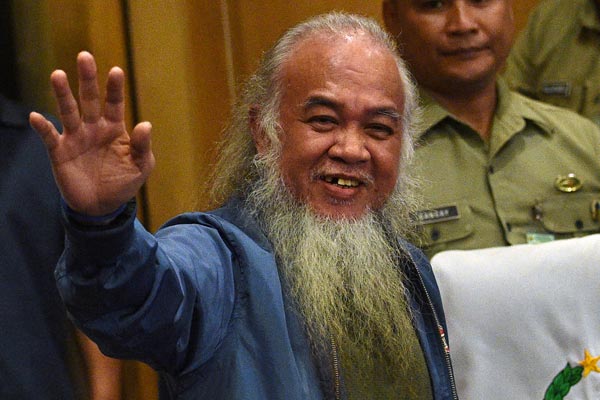 MANILA, Philippines — A Catholic priest kidnapped by ISIS supporters when they seized parts of Marawi City nearly four months ago smiled and declared himself "strong" Monday after escaping.
Father Teresito Suganob called for prayers at a press conference at military headquarters in Manila after he was rescued late on Saturday when the military said it overran the militants' control center inside a mosque in Marawi city.
"Thank you and I pray for you, God bless you all. Pray for me, for my recovery," said Suganob, 51, as he smiled and waved to reporters.
In a jocular mood despite his ordeal, the heavily bearded but apparently well-fed Suganob declared: "I am physically strong and handsome. That's it for now."
More than 850 people have been killed and large parts of Marawi destroyed in the ensuing fighting, which has seen the gunmen defy a US-backed military campaign that has included heavy bombing.
Suganob, a parish priest in Marawi commonly known as "Father Chito", was taken hostage along with about 13 parishioners from a local cathedral on the first day of the fighting.
The militants later released a video showing themselves vandalising the cathedral.
Another video released by his captors in late May showed Suganob standing in the rubble of buildings in Marawi asking President Duterte to withdraw troops and stop the military offensive.
'Prisoners of war'
Suganob said at the time that the gunmen were holding 240 "prisoners of war," including teachers, carpenters and household workers. They were mostly Christians and local tribespeople.
"We want to live another day. We want to live another month," Suganob said in the video as gunfire was heard in the distance.
One escaped hostage later told authorities that Suganob had been forced to serve as a cook for the militants, according to the then-military spokesman Lieutenant Colonel Jo-ar Herrera in early July.
This was one of many reports that the militants were forcing their hostages to work as slaves.
Authorities said the hostages' roles included carrying the gunmen's food and ammunition, serving as stretcher-bearers for their wounded, collecting munitions and even acting as human shields.
Defense Secretary Delfin Lorenzana told reporters that Suganob and another hostage, a 29-year-old male school teacher surnamed Acopio, were able to escape late on Saturday night as the militants pulled out of a mosque following hours of fighting.
"As the intensity of the armed confrontation continued to escalate in favor of our troops and as the terrorists were busy repelling the attack, our troops had the opportunity to snatch Father Chito and Mr Acopio," Lorenzana said.
Lorenzana and military chiefs described Saturday's overrunning of the mosque and another building that had been used by the militants as important victories, and predicted an end to the crisis soon.
"It is close, our soldiers on the ground are saying that we are near to finishing," Lorenzana said.
Nevertheless they conceded many obstacles remained, including improvised explosive devices and secret tunnels where the militants were hiding other hostages.
"The Bato mosque, underneath there are a lot of intricate tunnels and secret chambers so we are actually clearing those chambers and there are hostages in there," military chief Eduardo Año said.
Military spokesman Brigadier General Restituto Padilla said that 673 militants, 47 civilians and 149 soldiers had been killed in the fighting.
He said there were 40 to 60 hostages and that some were still being forced to fight with the gunmen.
There were up to 80 fighters on the IS side but they could include some of the hostages, according to Padilla.