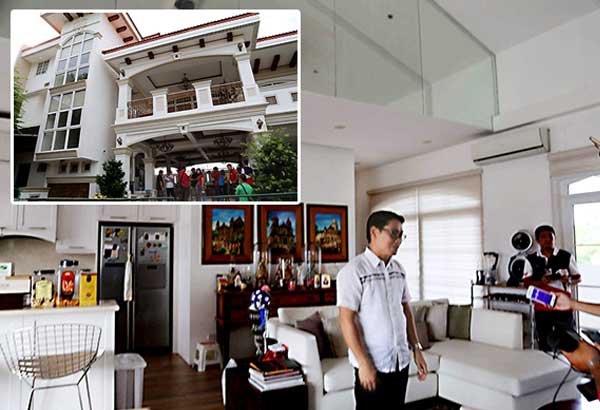 LIFESTYLE CHECK: JV Mabilog, brother of Iloilo City Mayor Jed Patrick Mabilog, talks to reporters at the local official's house in Barangay Tap-oc, Molo district yesterday as media and NBI agents inspect the area outside (inset). JENNIFER RENDON
NBI agents visit Mabilog's house
ILOILO CITY, Philippines – A day after President Duterte ordered a lifestyle check on Iloilo City Mayor Jed Patrick Mabilog, agents of the National Bureau of Investigation (NBI) visited the local official's residence, but the law enforcers were not allowed to enter the house.
Four agents of NBI Region 6 showed up at Mabilog's house at around 3 p.m. yesterday, citing orders from their direct superior, but they were only allowed to enter the compound.
They were accompanied by Ariel Castañeda, Local Economic Enterprise Office (LEEO) head of the Iloilo City goverment.
In the absence of any search warrant and Mabilog's legal counsel, the NBI agents were not allowed to enter the house at Barangay Tap-oc, Molo district.
But they were ushered inside the compound and receiving area of Mabilog's house.
The NBI agents did not insist. They just took pictures of the area and some cars parked inside the compound.
During their visit, there were six cars but Mabilog's brother JV, who later arrived, claimed that only three vehicles belonged to the mayor and his wife.
The agents stayed for about 15 to 20 minutes.
The agents politely told JV that they were leaving and would just return some other time.
When members of the media asked for their names, the agents declined.
JV later told reporters that they fear for their safety.
"We don't want to experience what happened to the other family," he said, apparently referring to the Parojinogs of Ozamiz City.
In a pre-dawn police raid on July 30, 16 people including mayor Reynaldo Parojinog, his wife Susan, brother Misamis Occidental board member Octavio Parojinog Jr. and their sister Mona were killed.
"For us here, we're a simple family who serve the public and the people of Iloilo City. We are inexperienced when it comes to this and of course, we are saddened that despite what we do, there's something like that happening," JV said.
When asked if the mayor already knew of the NBI visit, JV said he would inform him.
The mayor is said to be on an official trip abroad.
JV said the family is already expecting that more government agents might visit Mabilog's house.
"We're expecting everything, especially after his (Duterte's) pronouncement. It seems everybody in the city is involved. Mayor Mabilog, as the head of the city, we expect the worst-case scenario, that's why we are asking for prayers," JV said.
He added that they've been concerned for their safety, especially the possible sudden early morning raids.
"A team might enter and they'll possibly do something as part of their operation," he said.
When asked for their plans, JV said there are volunteer groups who have informed them that they would hold prayer rallies and vigil, which the family welcomes.
JV gave media a tour of the house and insisted that it was far from being a mansion.
While the façade might be imposing from a distance, he said the house is not that big. Its view of the Iloilo River just gave it a glamorous look.
Meanwhile, JV again reiterated that they would be willing to work with Chief Insp. Jovie Espenido, the newly designated officer-in-charge of the Iloilo City Police Office (ICPO).
Espenido was the police chief in Albuera, Leyte when then mayor Rolando Espinosa Sr. was killed in prison along with a fellow inmate.
In Ozamiz City, members of the ruling political family – the Parojinogs – were also killed in a raid when Espenido was appointed police chief of Ozamiz.
Earlier, Mabilog denied that he lives in a palatial house.
"I have nothing to hide. My house, while often described as a palace, is not quite a palace. The land or compound on which our circa 1800s ancestral home stands was inherited and the house was built on a more or less 200-square meter portion. It is not as big as pictures would make it appear. Last year, I opened our doors to the local media for them to see the inside," the mayor said in a statement.
Espenido still in Ozamiz
Espenido is not rushing to his next assignment as head of Iloilo City police since he still has some unfinished business in Ozamiz.
He said they have yet to account for Ricardo Parojinog, brother of slain mayor Parojinog and incumbent councilor of Ozamiz, said to be involved in illegal activities and still at large.
Aside from Ricardo, one of the mayor's nephews and leader of the Martilyo Gang whom he did not identify, remains at large.
"I hope the people will understand that is our focus right now," Espenido.
Espenido said he could not just leave Ozamiz as there is still no replacement for him as city police chief.
"We are also waiting for that. We are waiting," he said.
He did not give a specific date when he will transfer to Iloilo City but said it could be in a matter of weeks. – With Emmanuel Tupas