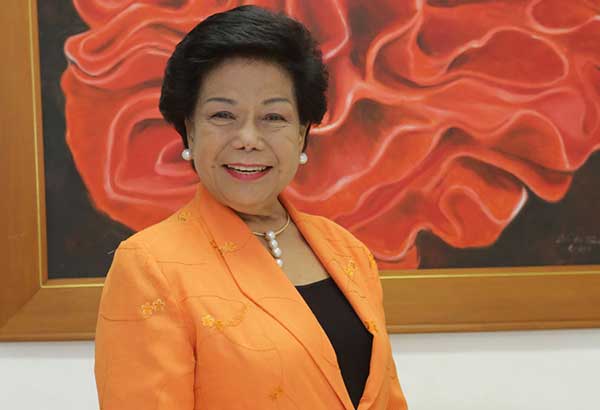 Lilia de Lima is aunt to detained Sen. Leila de Lima, the daughter of the Ramon Magsaysay awardee's brother – a lawyer who had inspired her to take up law. File photo
Lilia de Lima's legacy: Credible, efficient PEZA
(The Philippine Star) - August 30, 2017 - 4:00pm
2017 Ramon Magsaysay Awards
MANILA, Philippines - When Lilia de Lima was appointed to lead the Philippine Economic Zone Authority (PEZA) in 1995 by then president Fidel Ramos, little did she know she would be instrumental in building one of the country's most admired and respected government institutions – a task that would set her on her way to receiving international recognition for it 22 years later.
During her tenure as PEZA's director general, De Lima, a lawyer by profession, not only trimmed the bureaucracy in the agency and rid it of corruption, she also ensured better lives for millions of her fellow Filipinos through major economic investments that have poured in to the country.
This year, De Lima's efforts have paid off big-time: the Ramon Magsaysay Award Foundation has recognized her "unstinting, sustained leadership in building a credible and efficient PEZA, proving that the honest, competent and dedicated work of public servants can, indeed, redound to real economic benefits to millions of Filipinos."
"Overwhelming and humbling," De Lima told The STAR when asked how she felt about her latest accolade in an interview at her office in Malate, Manila a few days after she was informed about her award.
"It gives me goosebumps… It's a very big award!" the Iriga City, Camarines Sur native said, adding that the late president Ramon Magsaysay, from whom the award got its name, epitomized humility, sincerity and selflessness in working for the poor – qualities shared by most awardees.
"(Magsaysay) is one of the most admired. I admire him," she said.
De Lima is one of two recipients of the 2017 Ramon Magsaysay Award from the Philippines, the other being the Philippine Educational Theater Association, the lone organization in the roster. Four other individuals from Indonesia, Japan, Singapore and Sri Lanka will be formally conferred the prestigious award in ceremonies today at the Cultural Center of the Philippines in Pasay City.
PEZA under De Lima: In numbers
De Lima assumed the PEZA leadership at a time corruption increasingly tainted the Philippine economy and endemic poverty wreaked havoc on Filipinos. She retired in June 2016, leaving a legacy she had worked so hard for for 21 years – and it was no small feat.
From the initial 16 PEZA eco-zones she inherited in 1995, the number had gone up to 343 or a remarkable 2,000 percent by 2016. From 331, the number of registered enterprises rose to 3,756.
PEZA under her watch also garnered P3 trillion worth of investments, remitted P16.6 billion in corporate taxes and dividends to the national treasury and paid off the P4.6-billion debt of its predecessor agency. Exports reached $629 billion.
Most significantly, the agency generated 6.3 million jobs, both direct and indirect hires, for Filipinos during her term.
"My organization helps the poor, because always on my mind was to bring in investments. Consequently, when investors come here, they put up their projects, their factories, their IT companies. Then they'll export, and they hire people," she said.
De Lima's firm and steadfast leadership saw PEZA embracing radical changes and implementing such policies as a shift from government-financed to private sector-led eco-zone development, streamlined one-stop 24/7 shop and operation expansion that enticed existing locators despite a volatile global economy then, among others – and all have made the Philippines one of Southeast Asia's top investment destinations.
'Beautiful romance'
She remembered that when she came in, over 1,000 people were working for the agency.
"That's always the problem with government: it is overstaffed. And I have always wanted to work with just a few people," she said, adding that restructuring was among her first orders when she came on board despite knowing she would experience heartaches and lose friends along the way. "I removed more than half of the staff and started a culture of honesty and efficiency."
De Lima was also proud to share that when she left last year, PEZA was the only ISO 9001: 2008 certified government agency for all processes in all its offices.
"In PEZA, there is no red tape, no red carpet treatment. Most importantly, in PEZA there is no graft and corruption," she said of her legacy.
She even considered her stint in PEZA a "beautiful romance."
"And I enjoyed it because I think I made a difference," she said as she reflected on her career. "I cannot solve the problems of the world but if, in my own little area, I can make a difference, then I must make that difference."
Senator's aunt
De Lima is aunt to detained Sen. Leila de Lima, the daughter of the Ramon Magsaysay awardee's brother – a lawyer who had inspired her to take up law.
While practicing private law, De Lima became a delegate to the Constitutional Convention, representing the present third and fourth districts of her province, in 1971-1972. She also ran for Congress but lost.
She has since held various senior positions, from director of the Bureau of Domestic Trade to commissioner of the National Amnesty Commission until she was tapped to take charge in PEZA. She was also a guest lecturer at her alma mater, Manuel L. Quezon University, and the Lyceum of the Philippines for two years.
At present, De Lima serves as concurrent director for Republic Flour Mills, Science Park of the Philippines and Fatima Center for Human Development, a non-government organization of her sister who is a Catholic nun; concurrent independent director for EMS Inc. and IONICs Inc.; and independent advisory to the board of the Rizal Commercial Banking Corporation.