ASEAN ministers argue over national interests at welcome dinner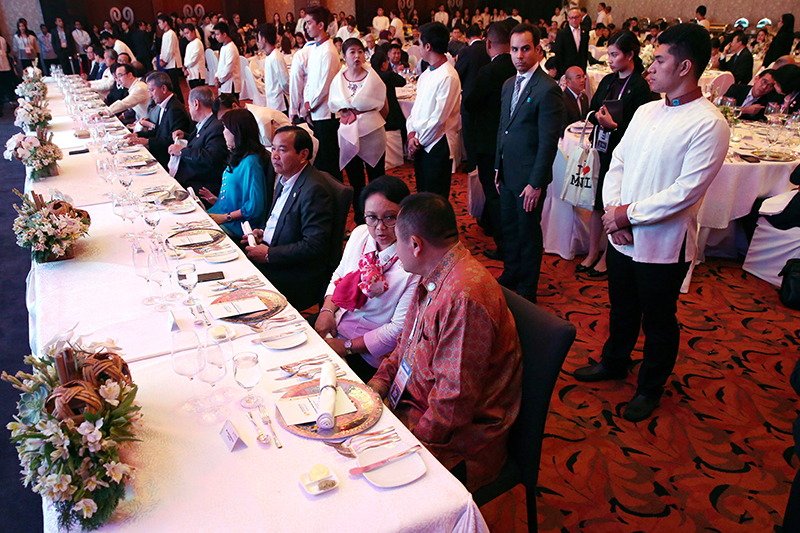 MANILA, Philippines — As the Philippines' top diplomat formally opened the 50th ASEAN Ministerial Meetings in Manila, he revealed that he and his counterparts exchanged arguments the night before.
Foreign Secretary Alan Peter Cayetano hosted a welcome dinner for the ASEAN foreign ministers at the Sofitel Philippine Plaza on Friday evening.
During his opening speech, before his colleagues and the diplomatic corps, Cayetano apologized for his hoarse voice as a result of having to stay up late the previous night.
"In the true ASEAN way, we were able to passionately argue our national interest but at the same time put first the regional interest and come out as friends who have found solutions to very sensitive problems," Cayetano said in his opening speech at the Philippine International Convention Center.
The ASEAN foreign ministers are expected to review the progress and future of the regional bloc and to exchange views on pressing regional and international developments.
In a draft joint communique, the ASEAN foreign ministers expressed grave concerns over the developments in the Korean Peninsula, including North Korea's firing of a ballistic missile.
"Noting that these developments threaten peace and stability in the entire region, we urged the [Democratic People's Republic of Korea] to fully and immediately comply with its obligations under
the relevant [United Nations] Security Council Resolutions," the draft statement read.
The ministers also took note of concerns expressed by some ministers over China's recent activities in the South China Sea.
"We reaffirmed the importance of enhancing mutual trust and confidence, exercising self-restraint in the conduct of activities, pursuing mutually agreed practical maritime areas of cooperation, and avoiding unilateral actions in disputed features that may further complicate the situation in keeping with the principle of peaceful resolution of disputes without resorting to the threat or use of force," the statement read.
The joint communique, however, did not mention militarization in the South China Sea, which was mentioned in the statement last year under the chairmanship of Laos.
The top diplomats, however, welcomed the conclusion of the negotiations on a framework of the Code of Conduct of Parties in the South China Sea. The framework will be adopted during the ASEAN-China Ministerial Meeting on Sunday.
READ: South China Sea code framework skips dispute settlement
On Sunday, the ASEAN ministers will hold meetings with their dialogue partners including Canada, South Korea, Russia, Australia, the European Union, China, New Zealand, the United States and India.
"Through this system of partnership ASEAN has been able to leverage on a strength of its partners to more effectively address issues of common concern across three pillars of cooperation, namely political, economic, and sociocultural," Cayetano said.
RELATED: Tillerson, 26 ministers to attend ASEAN forum in Manila