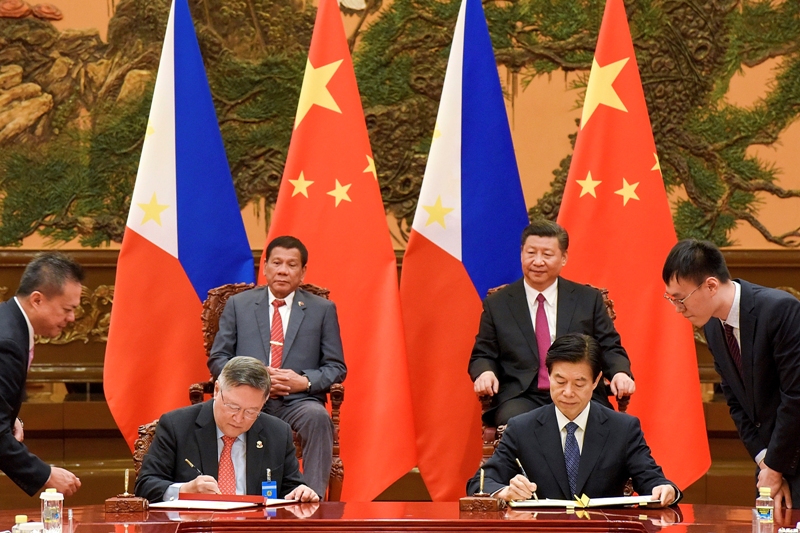 Philippine President Rodrigo Duterte, top left, and Chinese President Xi Jinping, top right, attend a signing ceremony following their bilateral meeting held on the sidelines of the Belt and Road Forum for International Cooperation at the Great Hall of the People in Beijing, Monday, May 15, 2017. Etienne Oliveau/Pool Photo via AP, File
Palace: Philippines, China in dialogue a year after Hague ruling
MANILA, Philippines — The relationship between the Philippines and China have improved a year after the ruling of an international tribunal on the South China Sea dispute, a Malacañang official said Tuesday.
On July 12, 2016, the Permanent Court of Arbitration issued a ruling on the Philippines' arbitration case against China's so-called nine-dash line claim in the South China Sea.
The United Nations-backed tribunal ruled that Beijing violated its commitment under the Convention on the Law of the Sea upon building artificial islands in the Philippines' exclusive economic zone.
China, however, had refused to honor the landmark ruling and insisted that they have indisputable sovereignty over the contested waters.
Last May, the representatives from the Philippines and China conducted its inaugural meeting of their bilateral consultation mechanism to resolve the maritime dispute.
"Philippines and China have reviewed experience on the West Philippine Sea issue, exchanged views and current issues of concern to either side and they have agreed that they will further discuss mutually acceptable approaches," Abella said in televised press briefing.
Abella also noted that both Manila and Beijing expressed their commitment to cooperate and find ways to strengthen trust and confidence on issues related to the disputed waters.
Both sides have agreed to meet again in the second half of 2017, according to Abella.
Meanwhile, Beijing appears to be completing its facilities in three-Manila claimed reefs in the Spratly Islands despite holding direct negotiations with the Philippine government.
RELATED: As it engages Duterte, China keeps building in South China Sea
Washington-based CSIS Asia Maritime Transparency Initiative recently released satellite imagery showing China's new missile shelters, radar and communication facilities on Fiery Cross, Mischief and Subi Reefs.
Gregory Poling, director of the AMTI, said that China seems to be engaging Manila and other Southeast Asian claimants to divert international pressure from the South China Sea.
"This suggests that Beijing wants to keep Manila and the other Southeast Asian governments talking, diverting international pressure, while it finishes its power projection capabilities without interference," Poling said in an exclusive interview with Philstar.com.
READ: Analyst: China diverting int'l pressure while completing facilities in disputed sea