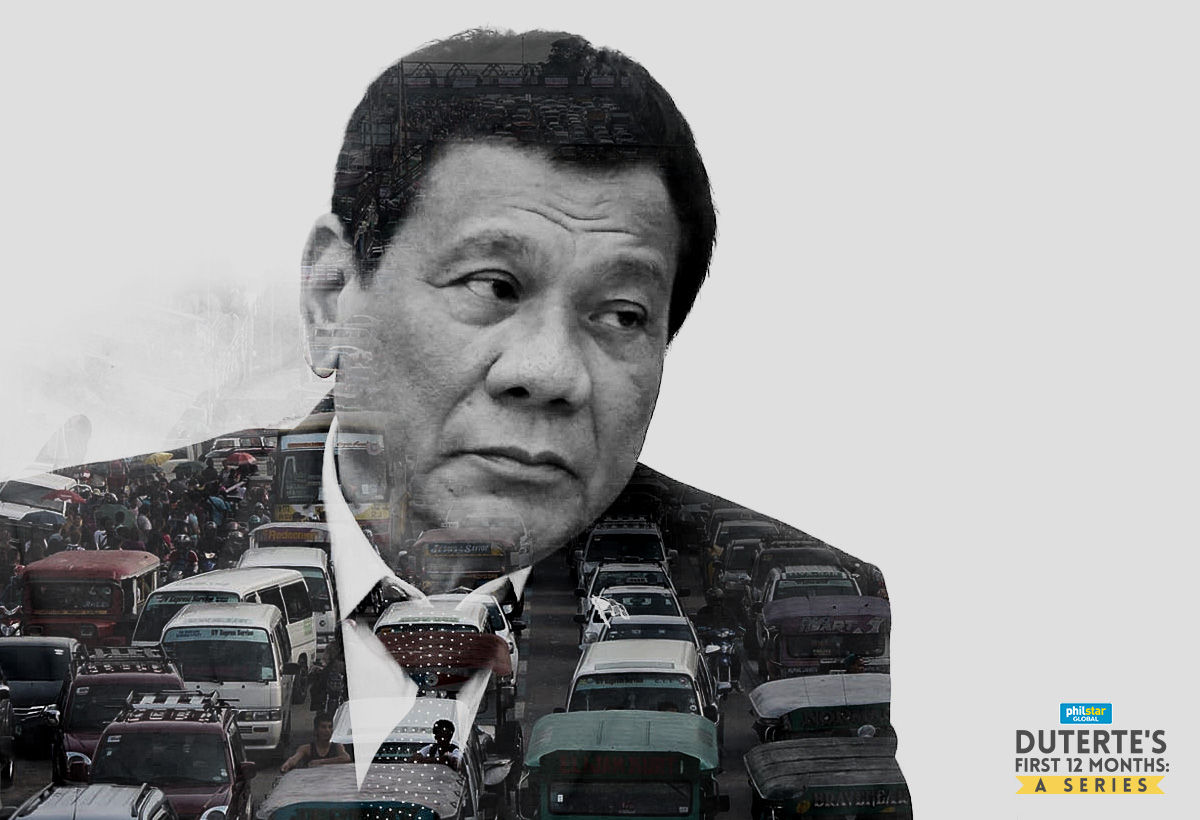 One year into his presidency, President Rodrigo Duterte's transportation and traffic record has been mixed.
A year of battling through traffic and train queues
This piece is a part of a news analysis series on the first 12 months of the Duterte administration.
Marnely Portelo, an English language trainer, wakes up at around four in the morning to prepare for her torturous commute through Metro Manila's choked roads.
She says that her daily trip of more than six hours — three hours each to and from her office in the business district of Ortigas in Pasig City — has not improved since President Rodrigo Duterte assumed the presidency a year ago.
Her experience as well as those of millions of locals who need to brave through Metro Manila's notorious traffic and transportation system has not significantly changed during the first year of Duterte's administration despite its pledge to spend billions of pesos for infrastructure aimed at improving roads, rails and ports.
To be fair, candidate Duterte himself said during the campaign last year that there was no "silver bullet" to these problems, and many of his infrastructure projects, should they come to fruition, will take years before their benefits are felt.
"Usually it should take like at least an hour, but right now because of the heavy traffic, it takes me three hours. So waking up at five, that won't work. So I need to wake up earlier than that because I have to leave the house at five o'clock [to reach our office at 8]," she said in an interview with Philstar.com.
The hours spent on traveling every day have also taken their toll on both her health and her family relationships.
She said that she has experienced difficulties in breathing and physical pain in her back because of the uncomfortable trip she has to endure every work day.
"Of course, because I live with my sister and, usually, I also want to see my nieces and nephews, but I don't have time. I don't have energy, actually," Portelo laments.
"Traveling is really like a battle out there," she says on the phone from her Ortigas office.
No panacea to transportation problem
When he was still campaigning for the presidency, Duterte admitted that there is no panacea to solve Manila's infamous traffic and transportation problem.Duterte admitted that there is no panacea to solve Manila's infamous traffic and transportation problem.
During one of the presidential debates in early 2016, the Davao City mayor said that it would take him around "a year or two to improve" the situation.
He said then that he would build a new rail line in Metro Manila and would ask the Light Rail Transit and Metro Rail Transit to add additional trains to reduce waiting time to five minutes.
If one goes by these promises, Duterte's record has been mixed despite his tough-talking personality that he has used to push forward the other planks of his platform such as his brutal war on drugs.
There has been nothing much to be hopeful about, according to urban and public transportation expert Rene Santiago.
Santiago said that he is doubtful that the government could deliver on its promises to complete infrastructure projects such as capital-intensive railways if it is not able to solve the smaller problem on the supply of motor vehicle plates.
Another bad sign is the high turnover of senior government officials, according to Santiago.
"Not much improvements, nor cause to be hopeful. If it could not solve a simple MV plate supply, how can it deliver on complex capital-intensive railway projects? In less than a year, more than five turnovers of high officials (undersecretaries and agency heads) is a bad indication," Santiago told Philstar.com when asked about the improvements during Duterte's first year.
He added that, so far, the only changes that the administration has been able to implement were to install new people in key government positions, create new promises and reverse the previous government policy on public-private partnerships (PPP).
"What has changed? New names, new promises, new disappointments. Reversals on PPP," he said, referring to the government decision to use what it termed as "hybrid PPP," in which the government would build the projects and let the private sector take over at the latter stages.
Former President Benigno Aquino III remained popular during his term, yet his government's low infrastructure spending contributed to a perception of his incompetence, according to Coronacion. File
Dennis Coronacion, a professor of political science at the University of Santo Tomas, noted several differences between the present and the previous governments' approaches to the transportation issues hounding the country.
Duterte jacked up infrastructure spending to 5.4 percent of the country's gross domestic product in his first year with plans to increase this further to 7.4 percent by 2022, very ambitious compared to the modest P50.185 billion the administration of former President Benigno Aquino III spent on such projects, according to Coronacion.
It was only in 2012 when Aquino pushed infrastructure spending to P439.15 billion from P32.55 billion in 2011. Because of this, the government failed to cope with the pressures of rapid urbanization and demands of higher economic growth, Coronacion said.
The two governments also differed in terms of sources of funding for their infrastructures.
"While former President Aquino relied heavily on private funding for his government's infrastructure projects (under the PPP scheme), the Duterte government has identified a mixture of funding sources including GAA (General Appropriations Act, or the national budget), ODA (Official Development Assistance), PPP, and TBD," Coronacion told Philstar.com in an e-mail interview.
Coronacion said that wider choices for funding could provide the current administration flexibility which could increase its chances of delivering more projects.
"For example, if there are no takers of its PPP projects, the Duterte government may opt for funding from GAA," he said.
The UST professor also sounded optimistic that the current government could transform its "golden age of infrastructure" into a long-term development plan, something the Aquino government failed to do because the implementation of its projects was delayed by some years.
"On the other hand, since the infrastructure projects of President Duterte were unveiled in his first year in office, there is a possibility that his vision of 'golden age of infrastructure' may evolve into a long-term infrastructure development plan," he said.
MRT: Poster boy of transport problems
In this 2014 photo, an MRT-3 train punched through its Taft Ave. station, hurting dozens of its passengers. File
The MRT, which runs along EDSA, has regularly encountered technical glitches that have forced trains to halt and unload passengers in the middle of the line.
It also regularly sees queues of people around its stations and nearby streets.
Once inside MRT trains, people swelter in the heat because of malfunctioning or inadequate air conditioning systems.
Though the 48 Light Rail Vehicles (LRVs) Aquino's administration purchased for P3.8 billion already arrived, the current MRT management has decided not to use them because of several technical and safety issues. Duterte's government has not bared any plans to purchase additional LRVs to improve MRT services.
The Senate has already launched an investigation into reasons the previous government did not ensure that the LRVs were compatible with the MRT system and ready for use.
It had also probed into the faulty maintenance service by several providers since 2012 which had proven to be inadequately financed and incapable of maintaining the busy train line.
The situation on the LRT-1 is much better as its operator has recently completed a P1-billion program to rehabilitate its LRVs. This would result in additional trips and better passenger comfort.
LRT-1's extension to Bacoor, Cavite from Baclaran, Pasay City, which Aquino promised but failed to deliver, is also about to begin and is expected to be finished in 2021.
The government has also unveiled its plans to construct a Mega Manila Subway that would run from Quezon City to Ninoy Aquino International Airport Terminal 3.
The government was also able to resolve the problem on the common station which had delayed its completion by years.
Other railways the government would try to build over the next few years are the Manila-Clark Railway, the Subic-Clark Cargo Railway and the Mindanao Railway.
Santiago said that railways were good in urban areas like Metro Manila. However, their efficacy for inter-provincial routes was questionable since the Philippines was not a big land mass such as the US, India and Europe.
"Their priorities are: rail, rail, rail. [R]ailway is good and necessary for congested urban areas, dubious efficacy in inter-provincial routes. The Philippines is archipelagic with more than 7,000 islands and not a big land mass like USA, India, Europe, China," he said.
Santiago warned: "[The government is] still following same approach on MRT-3 and LRT-2. I see mistakes now happening that will become headaches to the next administration."
Aside from fatally dangerous train lines with leaking roofs, dilapidated jeepneys, buses and contraptions unworthy of sea travel are just some of the daily fare Filipinos have also sadly gotten used to.
Traffic, traffic, traffic!
According to a study, traffic cost Metro Manila residents P2.4 billion a day in 2012, and this will rise to P6.0 billion in 2030 if nothing significant is done. File
However, if there's one issue that has really exasperated Filipinos and festered over the years, it would surely be traffic.
Saying that traffic in Metro Manila has gotten from bad to worse is a gross understatement especially for the millions of its residents who wade through its busy streets regularly.
According to a joint study by the Japan International Cooperation Agency and the National Economic Development Authority, traffic cost Metro Manila residents P2.4 billion a day in 2012, and this is expected to balloon to P6.0 billion per day by 2030 if nothing significant is done.
This is not just confined to Metro Manila.
Neighboring provinces such as Bulacan, Rizal, Laguna and Cavite had a daily transportation cost of P1 billion in 2012, and this would increase to P3.5 billion by 2030, according to the study.
As recently as 2015, the Philippines has been voted as the city with the worst traffic on Earth, according to the navigational application Waze.
The linchpin of Duterte's approach to traffic in Metro Manila is the emergency powers supposed to be granted by the Congress, but he has not exerted the same vigor in pushing this bill as the effort he exerted in passing his other priority measures.
Duterte said last year that he would give the Department of Transportation extraordinary powers to "buy whatever needs to be bought" and expedite the bidding process.
However, the passage of the bill has been delayed at the Senate because many senators still would like to question DoTR officials about some provisions of the proposed law. A House of Representatives panel already approved its emergency powers in January.
For Santiago, brute force is not what is needed to address traffic problems. Applied knowledge and science would do the trick and would make emergency powers unnecessary.
"PRRD (Duterte) does not think you need emergency powers to address the traffic congestion," he said.
Santiago shared what he wrote in September last year: "EP (Emergency Powers) cannot substitute brute force for applied knowledge. There is science in traffic, as many other livable cities in the world who licked their gridlocks have proven. Without applied intelligence, however, an EP would be inutile. With a liberal dose of applied intelligence, an EP is unnecessary."
Reasons for traffic
The most obvious reason for strangling traffic conditions would be the increase in the number of vehicles on the road, which the previous Aquino administration tried to spin as a sign of economic growth.
In 2016 alone, 359,572 vehicles were added to Philippine roads, according to the Chamber of Automotive Manufacturers of the Philippines Inc., with very few infrastructures being built.
Assuming that 28 percent of these (based on 2011 statistics) were driven in Metro Manila, that would translate to more than 100,000 new automobiles in the capital region.
If neighboring provinces that comprise the greater Manila area are taken into account, the percentage will immediately jump to around 56 percent of these units.
According to the JICA-NEDA study, car travel accounted for 30 percent of person-kilometer, but accounted for 72 percent of road traffic in Metro Manila.
The study also said that Metro Manila's road network was already absorbing 80 percent of its vehicle capacity, with almost half of the road network operating at around 20 kilometers per hour.
The JICA-NEDA study said that in 2012 traffic demand in Metro Manila was already 12.8 million trips, and this is expected to rise to 14.5 million by 2030.
In 2012, 69 percent of these trips were done using public transportation.
A lesser share of these 12.8 million trips was done through private vehicles yet they took up more than 78 percent of road space, according to the study.
Aside from the rising rate of car ownership, declining occupancy rates for vehicle types also contributed to traffic, according to a transport demand analysis done by NEDA and JICA.
From 2.5 persons in 1996, car occupancy declined to 1.7 in 2012. Similar dips were also seen among jeepneys (from 15.1 to 10) and buses (from 46.5 to 35.3).
This has resulted in heavy traffic almost all throughout the day as vehicle numbers continue to climb.
As shown below, congestion is already felt almost all throughout the day, with respite being felt only in the wee hours of the morning.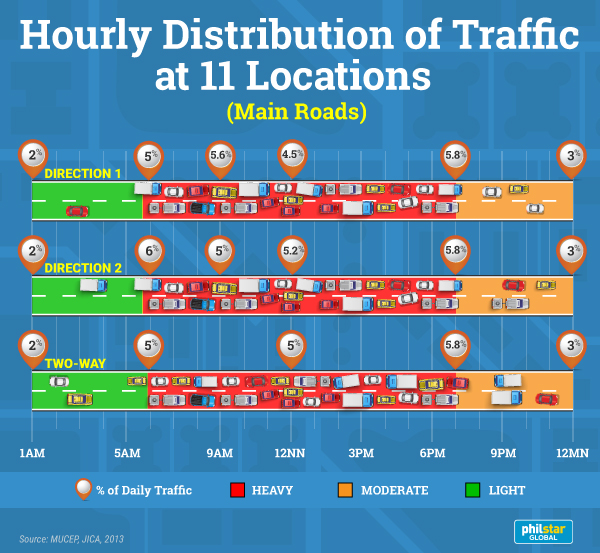 Compounding this problem is the Manila's decrepit infrastructure that has left an inadequate network of roads for the capital's fast-increasing vehicle population.
Most of the more than 5,285 kilometers of roads were already at saturation levels as vehicle volumes were exceeding road capacities, according an article by Santiago.
Not only is the number of vehicles in Metro Manila increasing but also the number of its population.
Based on a 2015 survey, the National Capital Region already had a population of 12.88 million or around 12.75 percent of the total national population despite having only 620 km.2 (0.18 percent) of the Philippines' 343,448 km.2.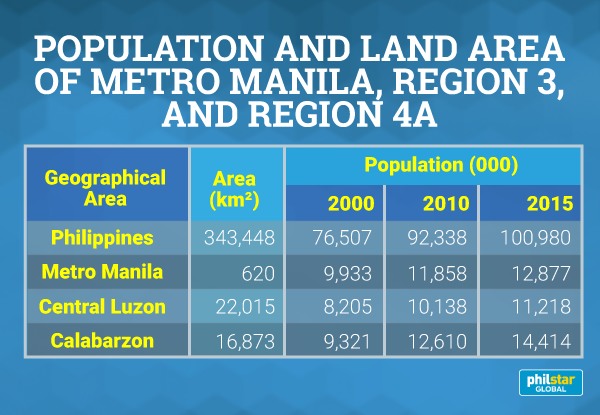 The allure of the National Capital Region and its regions is unsurprising considering that it accounts for the largest share of the country's Gross Domestic Product, according to the Philippine Statistics Authority.
In 2016, NCR's share of the GDP was at 36.6 percent followed by its neighboring regions CALABARZON at 16.8 percent and central Luzon at 9.5 percent.
NCR also had the biggest contribution to the GDP growth rate of 6.9 percent in 2016.
It contributed 2.7 percent and was followed by central Luzon at 0.9 percent. CALABARZON's contribution was at 0.8 percent of the GDP growth.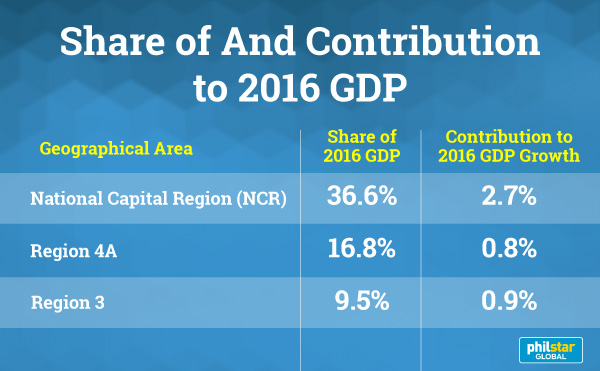 'Miracles can happen'
Funding certainly is not the problem as the government has the money to finance these ambitious projects.
"The money is still there, private savings, public sector funds, grants and loans from bilaterals and multilaterals. They are all there. What is being awaited is the decision," Gil Beltran, chief economist of the Department of Finance, said.
However, the availability of money is not an assurance that projects would be delivered, as can be seen in the experience of the previous dispensation.
Despite having money, the Aquino government got engrossed with procedures that it forgot its policy objective, something that Duterte's administration is not suffering from, according to Beltran.
Coronacion said that aside from bureaucratic red tape and lack of expertise Aquino's government also had a "policy of frugality" on infrastructure in its initial years, in line with the former chief executive's campaign to rid the government of corruption.
"Experts attribute the delays in the implementation to bureaucratic red tape and lack of technical expertise. However, it's not right to put the blame entirely on the bureaucracy since the amount of infrastructure projects is determined by the policies of the government," he said.
The more pressing issue any government, even if awash with money, faces is its ability to deliver.
According to DPWH Secretary Mark Villar, the government has allocated P107.8 billion for its nationwide traffic decongestion program which includes roads and bridges. NEDA meanwhile is already set to approve P738 billion worth of transportation projects by the end of June.
"NEDA approval makes for good sound bite. But are they implementable?" Santiago asked.
He added: "Many of the big-ticket rail projects - such as Mindanao Railway - are in early stages of preparation, not yet low-hanging fruits but buds still to flower. The low-hanging ones like Clark Airport and N-S commuter railways got modified."
Coronacion said that however impressive the government's projects were they were still subject to the same "constraints and limitations" to any government endeavor.
"For instance, infrastructure funds that are sourced from the national budget would be affected by the success or failure of the government to meet its revenue collection targets. Also, the ODA from China would be determined and affected by the country's foreign relations. Meanwhile, PPP projects would depend on their attractiveness to private investors," he said.
Short-term, long-term solutions
Portelo is optimistic that situation will somehow ease as she sees small measures being implemented to address traffic congestion along her way.
"I think so somehow because they are trying to widen the road. Sometimes they allow vehicles to counter-flow. That helps but not all the time. If they would do something in that area, yeah. In areas like Countryside, they are doing something, so I think yeah, that helps," she said when asked she was optimistic that things would be better a year from now.
For Coronacion, both long-term and short-term solutions are needed.
He said that the success of East Asian countries in their transportation plan could be attributed to long-term, comprehensive and meticulous planning.
However, to address the growing impatience of the public, stop-gap measures were also needed, he said.
"Based on the experiences of the wealthy East Asian countries, long-term solutions and comprehensive and meticulous planning are among the key ingredients in solving the problem of traffic congestion," he said.
The government unveiled many projects and gave assurances for their delivery.
"Can they deliver on promised timetable? Doubtful, but a miracle can always happen," Santiago said.
ALSO READ:
A year of Duterte's dystopian vision
A year of accelerated spending—or so they say
A year of hits, misses and postponed promises
A year of consistent inconsistencies
A year of fighting and talking (Part 1)
— Graphics by RP Ocampo