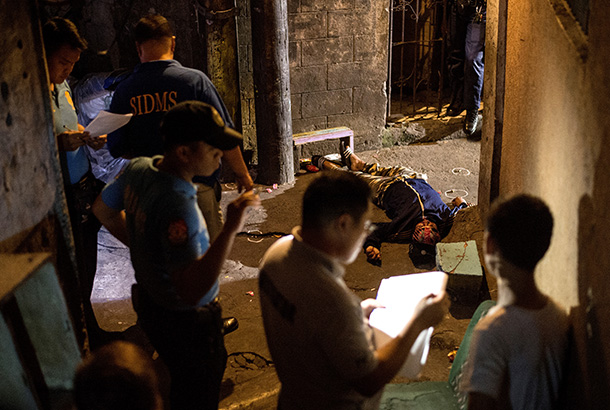 Other Southeast Asian nations can follow the template of the Philippines in fighting illegal drugs, according to Rep. Robert Ace Barbers. Noel Celis/AFP, File
ASEAN can use Philippine drug war as a guide, solon says
MANILA, Philippines — The Philippines can serve as a model for neighboring Southeast Asian nations in fighting illegal narcotics, according to a congressman, despite accusations of human rights violations in the key government campaign.
Surigao Del Norte Rep. Robert Ace Barbers said that countries in the region could use the Philippines' "aggressive" campaign against illegal drugs as a template in their own battle to rid illicit drugs in their respective territories.
Barbers, chairman of the House Committee on Dangerous Drugs, said that Southeast Asian nations could do this despite allegations that the Philippine government and national police has committed cases of human rights violations usually targeting poorer segments of urban areas.
Barbers was speaking at a media conference announcing that the country is hosting the 13th ASEAN Inter-Parliamentary Assembly Fact-Finding Committee to Combat the Drug Menace to be held in Manila on July 4 to 8, 2017.
"Yeah, I think so," the Surigao Del Norte representative said when asked if the Philippine approach could be adopted.
Since President Rodrigo Duterte assumed the presidency a little more than a year ago, the government has taken a very tough stance against illegal drugs.
Police have been aggressive in their anti-narcotics operations, and as the months dragged on the number of deaths have escalated.
Rights watchdogs have said that more than 7,000 deaths have occurred. The national government disputes this and says that only 3,200 drug suspects have been killed in police operations.
The government also said that only 2,098 of 12,833 homicides since July 2016 are related to drugs. Another 8,200 are still undergoing investigation and authorities have yet to determine motives for those killings.
Here is the #RealNumbersPH monthly update, covering numbers from July, 2016 to June 20, 2017. (1st update of 2) pic.twitter.com/0L7jNK1QAW

— Presidential Comm (@PresidentialCom) June 30, 2017
Other countries could name judges, politicians and generals involved in the illegal drug trade, similar to what Duterte did in the past, according to Barbers.
"Well, so far for the first year, the naming of all these narco-generals, narco-judges, narco-politicians are products of intelligence gathering, and we have been addressing that," he said, referring to the sensational list of the president containing names of government, police and military figures allegedly benefiting from the illegal drugs trade.
However, months after the chief executive bared the so-called "narco-list" few of those on it have been apprehended, jailed and sued. Some of the names have also been proven to be dead or not at all connected to drugs.
'Be aggressive, bold and brazen'
Barbers said that other countries could be "aggressive, bold and brazen," too, in their campaigns and to be ready to face the problem "head-on."
He however clarified that he was not advising other nations to kill when needed as he admitted that the government's local campaign had been marred by rights abuses.
"Well, I'm not going to advise them to kill if needed, but what perhaps I will advise them is that to be aggressive and bold, and brazen in the fight against drugs," Barbers said.
"The enemy here is not an ordinary enemy. They (sic) will kill you. They are more aggressive than any law enforcement agency in the country. So we have to fight them head-on," he said.
Thailand launched a war on drugs in 2003, where 2,500 were killed in the span of three months. That campaign included the use of lists of supposed drug personalities who were arrested and killed. A government investigation years later found that more than half of the 2,500 who died had nothing to do with the drug trade, according to Australian news website The Conversation.
The rights violations that critics say have attended Duterte's drug war may have been committed by "corrupt" law enforcement officials "eager" to run after drug lords and pushers, according to Barbers.
He also defended Duterte against criticisms that he had been tolerating and enabling extrajudicial killings in the conduct of his campaign against illegal drugs.
"The human rights violations is (sic) definitely not coming from a direct order coming from the president," said Barbers, ignoring the results of the investigations of both rights groups and media finding that the president's words and actions may have led to the rising number of killings.
He added: "This is probably the result of some eager beaver PNP officers running after all these drug lords and drug pushers."
One thing that ASEAN countries could do in their reinvigorated campaign against illicit drugs was the sharing of information about drug lords and suspects with local enforcement agencies, Barbers said.
"We share information with the local law enforcement agents in other ASEAN member countries," he said.