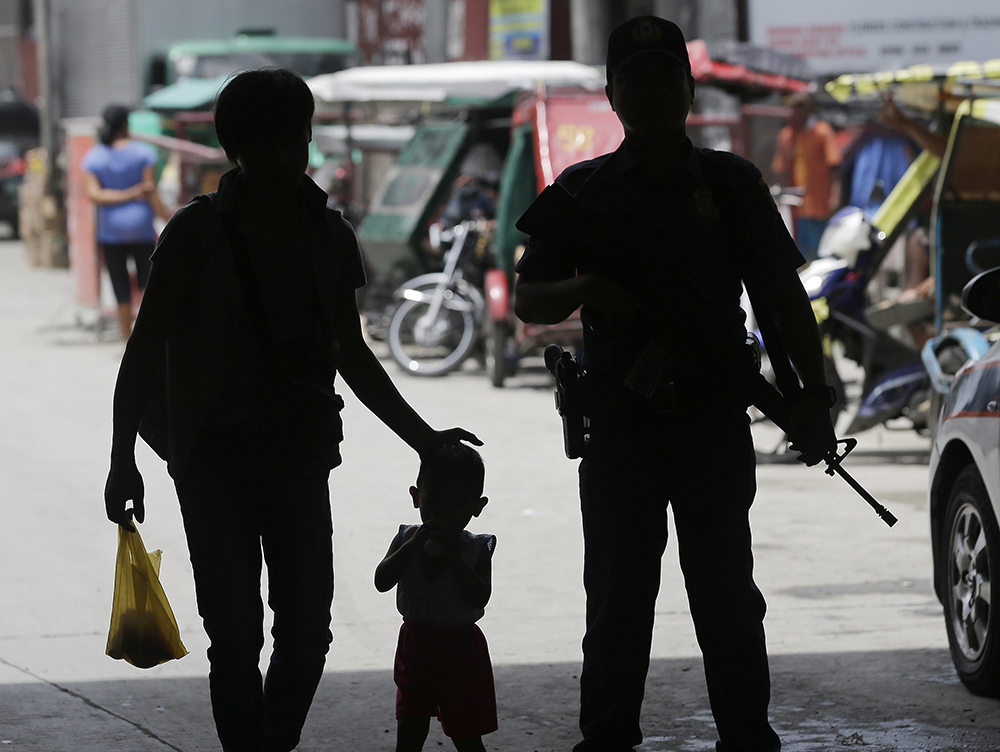 A policeman stands at a checkpoint in Manila, Philippines, Wednesday, May 24, 2017 as the Philippine National Police is placed under full alert status following the declaration of martial law in Mindanao southern Philippines. Philippine President Rodrigo Duterte warned Wednesday that he'll be harsh in enforcing martial law in his country's south as he abruptly left Moscow to deal with a crisis at home sparked by a Muslim extremist siege on a city, where militants burned buildings overnight and are feared to have taken hostages. AP/Aaron Favila
Rights activists detained for hours at Davao City checkpoint — Karapatan
(Philstar.com) - June 29, 2017 - 7:50am
MANILA, Philippines — Four human rights activists were temporarily detained on Wednesday night at a military checkpoint in Davao City.
Lito Lao, Pedro Arnado and Jerry Alborme from Kilusang Magbubukid ng Pilipinas-Southern Mindanao Region and secretary-general of Karapatan-Southern Mindanao Region Hanimay Suazo were accosted yesterday at 7 p.m. by Task Force Davao in Lasang, Bunawan District, Davao City while on their way home from a meeting with Madaum Agrarian Reform Beneficiaries members.
The four were released after about five hours.
According to Karapatan, Suazo sent a text message saying that members of Task Force Davao refused to release them as it was a command given by their superiors.
The four activists were held by soldiers after being told that they looked suspicious.
"TF Davao soldiers were supposed to bring them to a nearby military camp, but the four stood their ground, asserted their right against warrantless arrest and illegal search and insisted on staying put inside their vehicle, until a Karapatan quick reaction team came," Karapatan said in a press release on Wednesday.
Karapatan expressed its concern on such acts toward human rights advocates who have received multiple threats and faced charges in their work while defending the rights of the people.
Arrests amid martial law in Mindanao
Following the release of the four activists, Karapatan condemned what it called as the groundless act of Task Force Davao. The group said it was a form of harassment against civilians which, it argued, became overtly legitimate after the martial law declaration of President Rodrigo Duterte.
Karapatan said that since the all-out-war declaration of the president last February, illegal arrests rapidly increased. It added that the declaration of martial law last May 23 further legitimized this.
"Clearly, Proclamation 216 is being used for counter-insurgency purposes, affecting civilians, including activists, who the military arbitrarily tags as "enemies of the State,"" Karapatan said.
Since martial law was imposed, at least 14 peasant activists in Mindanao remain detained after being illegally arrested, the rights group said. Meanwhile, at least 260 Moro youth were questioned by the police and some 30 Christian women and members of the Lumad community were harassed at a checkpoint, it added.
The human rights group called on the government to lift martial law in Mindanao and revoke the suspension of the privilege of the writ of habeas corpus.
"We call on Duterte to rescind his counter-insurgency program and his orders to conduct aerial bombings, especially those in Marawi and Mindanao," Karapatan said.
"Ultimately, it is through the decisive scrapping of the US-directed and anti-people counterinsurgency program that human and people's rights can be fully realized, and human rights defenders can be free to continue their work," Karapatan added.