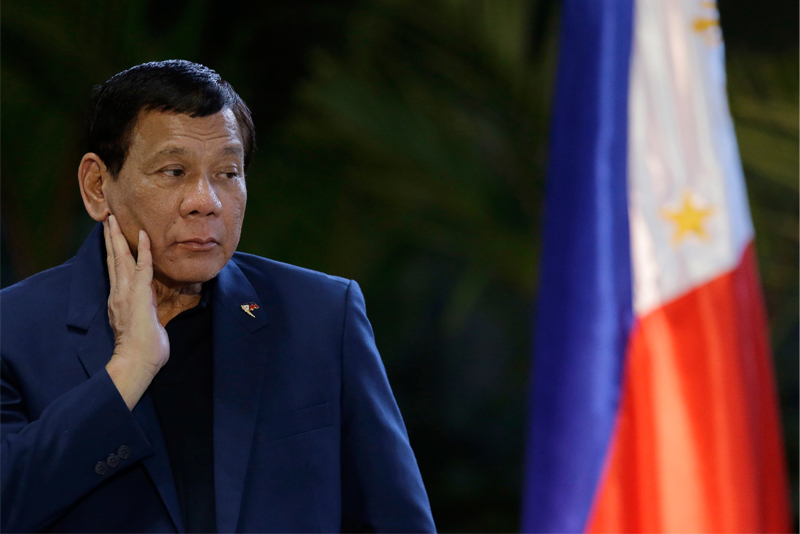 Philippine President Rodrigo Duterte listens to questions from reporters as he arrives at Manila's international airport, Philippines, Wednesday, May 24, 2017. Duterte warned Wednesday that he'll be harsh in enforcing martial law in his country's south as he abruptly left Moscow to deal with a crisis at home sparked by a Muslim extremist siege on a city, where militants burned buildings overnight and are feared to have taken hostages. AP/Aaron Favila
Vast scope of Duterte's martial law powers alarms petitioners
MANILA, Philippines (First Published June 14, 9:35 p.m.) — Petitioners are wary the broad powers extended to President Rodrigo Duterte under martial law may be abused, citing alleged extrajudicial killings in the administration's drug war and reported violations documented on the ground in Marawi City.
On the second day of oral arguments at the Supreme Court on Wednesday on Proclamation 216, which imposed martial law and suspended the privilege of the writ of habeas corpus in Mindanao, questions revolved around the scope of the president's powers under martial law.
READ: SC justices seek proof of rebellion outside Marawi City
Senior Associate Justice Antonio Carpio asked Albay Rep. Edcel Lagman, House opposition leader and a counsel in one of the petitions, what powers the president acquired under martial law.
Lagman was unable to delve into specifics but explained his understanding of military rule, where the Armed Forces could exercise extraordinary powers that might affect human rights and civil liberties similar to what happened under dictator Ferdinand Marcos.
Lagman's brother Hermon was a labor lawyer and founder of the Free Legal Assistance Group. He was abducted in 1977 during Marcos' martial law and was never seen again.
LIVE: Oral arguments on Mindanao martial law
Setting limits on martial law
Lagman said the Integrated Bar of the Philippines chapter in Lanao del Sur, which initially backed Duterte's martial law, expressed shock over accounts of lost valuables after forcible and unauthorized entries into residential and commercial establishments by troops.
Lagman added Duterte's quip that he would take responsibility if soldiers rape, could embolden them to commit crimes. The president has explained that he was being sarcastic when he said that.
Human rights watchdog Karapatan last week said it has documented four incidents of killings and thousands of civilians being displaced due to military airstrikes. "Martial law does not mean security and safety. Rather, it makes people's rights even more susceptible to violations," the rights group said, urging Duterte to lift martial law.
READ: Leonen: Gov't has 'expanded' martial law, suspension of habeas corpus
Christian Monsod, one of the drafters of the 1987 Constitution, warned against possible rights violations upon the declaration of martial law as the powers granted to the chief executive are extraordinary.
Chief Justice Maria Lourdes Sereno also said on May 26 that martial powers are expressly granted to the president by the constitution, but how those powers are used are so far a matter of discretion. Sereno during the oral arguments Wednesday raised that it is a duty of the high court to define the limits of martial law not only to shield the public from abuses but also to protect troops who may be civilly and criminally liable if found to have followed a "misdirected order."
READ: Supreme Court faces 'complex' job over martial law
"So we need to find out how we can get out of this emergency situation by trying to define for the president, with all due respect, what can be done and what cannot be done," Sereno said.
'Veiled censorship'
Justice Marvic Leonen highlighted General Order No. 1, pointing out that it would help in understanding the extent of martial law as it puts into effect Proclamation No. 216.
In particular, Leonen pointed at Sections 3 and 6 of the order. The justice has raised concerns over the contents of Section 3 since the first day of oral arguments, Tuesday, as it states that the Armed Forces have the authority to "undertake all measures to prevent and suppress all acts of rebellion and lawless violence in the whole of Mindanao."
READ: No more deadlines for military to retake Marawi
Leonen called the inclusion of lawless violence an "expansion." Wording used in the 1987 Constitution only states "invasion or rebellion, when the public safety requires it," as cases when martial law may be imposed. "More disturbing," according to the justice, is the second paragraph of Section 3, saying the Armed Forces can arrest persons in relation to the first paragraph "which can be lawless violence."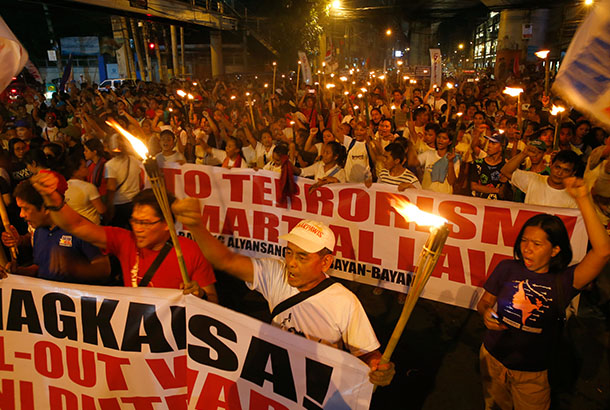 Protesters shout slogans during a rally near the Presidential Palace to denounce the Martial Law declaration of President Rodrigo Duterte after Muslim militants laid a siege of Marawi city in Mindanao for three weeks, Monday, June 12, 2017 in Manila, Philippines. The protesters also denounced the killings by Duterte's anti-drug crackdown. AP Photo/Bullit Marquez
Meanwhile, Section 6 was tagged as unconstitutional and a "veiled media censorship" by Lagman. Section 6 states: "The role of the media is vital in ensuring the timely dissemination of true and correct information to the public. Media practitioners are therefore requested to exercise prudence in the performance of their duties so as not to compromise the security and safety of the Armed Forces and law enforcement personnel, and enable them to effectively discharge their duties and functions."
READ: Calida defends Duterte: Defense advice not required to declare martial law
Lagman reiterated that the president did not need to declare martial law as the threat could be quelled by the Armed Forces. He added that "the channels of civilian and military command have not been broken" as the local government of Marawi City is still operational.