Russia asks Philippines to submit shopping list of defense equipment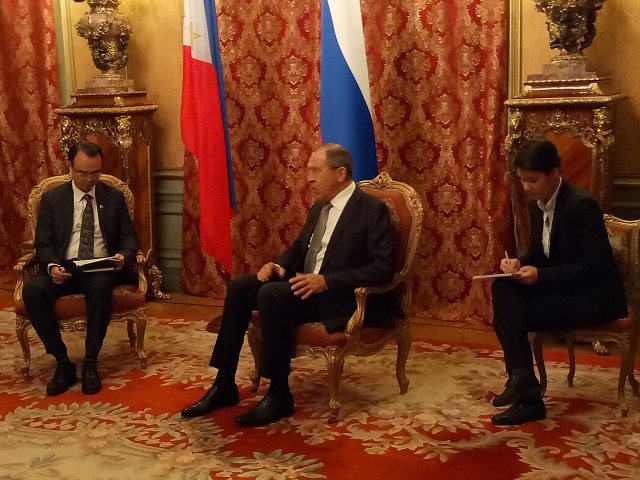 MOSCOW – Russia has asked the Philippines to submit a shopping list of defense equipment after President Rodrigo Duterte urged Russian President Vladimir Putin to provide him with a loan to buy firearms.
Foreign Affairs Secretary Alan Cayetano said the Russian government was willing to "do all efforts" to accommodate Duterte's request.
"The response of the Russian Federation through President (Vladimir) Putin was very, very generous. So they said, well, we have the framework in place through our agreements to cooperate," Cayetano said in a press briefing Wednesday night here.
"They have showed us what is available to us. I'm not at liberty now to discuss that…but they are awaiting our proposals," he added.
While there was no decision yet on the loan being sought by the Philippines, Cayetano said Russia has provided help to countries that it considers as friends.
"It's nothing new for the Russian Federation to lend a helping hand to countries that are their friends," the Foreign Affairs chief said.
Duterte asked Putin for a soft loan during their bilateral meeting in Kremlin last Tuesday, hours before the Philippine leader left for Manila. Duterte said he needed money to buy firearms as the Philippines' rifle deal with the US had been scrapped.
The US State Department halted the sale of some 26,000 rifles to the Philippine police last year after Democratic Sen. Ben Cardin had raised issues about the Duterte administration's human rights record.
Cayetano said the loan may be used to buy not just firearms but to acquire equipment that would improve the chances of survival of government troops.
"These are really modern equipment that can be used to fight terrorist that will avoid injuring or causing deaths or damage or deaths to innocent bystanders or people in a community and also to prevent collateral damage," Cayetano said.
"That also goes, for example, for our police and our military. You know, they're suffering. They're getting hurt. They don't have the best hospital equipment. Sometimes, the Abu Sayyaf have better equipment than they do," he added.
Duterte also invited Putin to visit the Philippines during their bilateral meeting.
Cayetano said Putin had expressed his gratitude to Duterte for the invitation. It was unclear whether the Russian leader accepted the invitation but Cayetano said such invitations do not usually get immediate response.
Russian Prime Minister Dmitry Medvedev is expected to come to the Philippines in November to attend the Association of Southeast Asian Nations summit and related summits.